India Inc wins over Ďoutí patients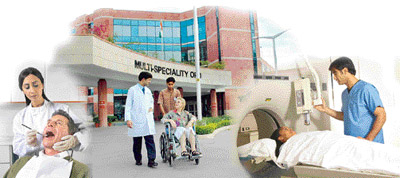 More and more overseas patients are coming to premier hospitals in India.
Komal Vijay Singh finds out that the package of top-of-the-line treatment, relatively lower costs, no waiting period and excellent hospitality is a big draw for them.

Fertile ground
Nailed on the NET
John Doe can run, but he canít hide for long in the cyber jungle, says Roopinder Singh
You sit behind a computer and send a message to someone far away, feeling securely anonymous. You feel the urge to do a little mischief, believing that anonymity is assured. You browse, may be send a few nasty messages and, if you really have a criminal bent of mind, you may try your hand at some illegal activities.
Toast of the í90s
In a poll commissioned by Trivial Pursuit on 1,000 people as it launched a 1990sí version of the game, the Spice Girls have been voted as the biggest cultural icons of that decade. Eight out of 10 Brits questioned in the poll put Girl Power top of the list, edging out rock guru Kurt Cobain, who killed himself in 1994, and Liz Hurley, rocketed to fame by "that dress".
Canít beat good old talking
E-mailing and sending text messages may be the latest craze, but a new survey has found that most people still find a good face-to-face chat the most popular way to communicate. The survey by Glenfiddich, found that while 83 per cent of the British population use e-mail on a weekly basis as a way to keep in touch with their near and dear ones, and 68 per cent of the people use text messaging, 95 per cent of the surveyed people still prefer a good, old-fashioned chat.