India Inc wins over 'out' patients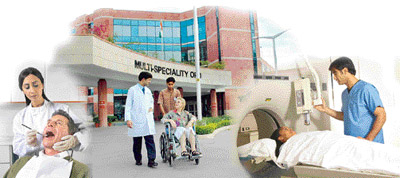 More and more overseas patients are coming to premier hospitals in India. Komal Vijay Singh finds out that the package of top-of-the-line treatment, relatively lower costs, no waiting period and excellent hospitality is a big draw for them.
Things are hotting up in India. And the heat generated is not the outcome of seasonal or climactic changes. With the Indian tourism industry growing by leaps and bounds, the visitors include not just those desirous of seeing the Taj or the Ajanta-Ellora caves, or experiencing the Goan beaches or the Kerala countryside. Tourists from abroad are coming over in droves as India is set to become the healthcare destination of the world.
Last year, one of the notable arrivals at Apollo Hospitals, New Delhi, was 14-year-old Elliot Knott. In December 2004, the boy had a fall while ice-skating and was bed-ridden due to a major spinal injury. The doctor gave him an appointment in June 2005 and then told him that his surgery could only be possible in December that year or early 2006. The family decided to come to India and within two weeks of his arrival, Elliot was walking. He rejoined school as soon as he went back to the UK.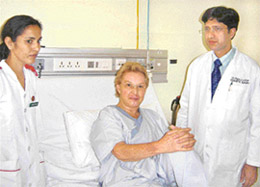 Dr A. K. Singh, Director, Neurosciences, Fortis Hospital, Noida, recently operated on 62-year-old Charles Keiser, a sociology professor from New Mexico, USA, for lumbar and cervical spondylitis. An ecstatic Suzane, the professor's wife, recalls how they were made to feel special and comfortable. Six months back, when Charles found he was unable to walk after suffering from neck constriction for five years, doctors in the US suggested surgery in India.
After two neuro-surgeries, which cost one-tenth in India, he and his wife were off to the vibrant Rajasthan as part of his medical package. His wife can't get over the hospital's nine-dish fare and three nurses in attendance all at the same time. The professor, who landed up practically immobile in India, wants to trek in the Himalayas on his next visit.
Dr K. M. Kapoor, Head, Department of Plastic and Cosmetic Surgery, Fortis Hospital, Mohali, says the profile of those seeking medical treatment in India is varied.
Medical tourists
In Punjab alone, more than five lakh NRIs make annual visits home. This single largest group of visitors is a big source of revenue, especially for the dental treatment and cosmetic surgery market. The cost of a tummy tuck in the UK is about £ 7000-10,000, while in Fortis it costs approximately £ 1500. Add £ 300
(Rs 24,000) for the round trip airfare on a Sahara flight and you have a deal!
Also, every year half a million Britons and an equal number of US citizens visit India for vacation and sightseeing. They comprise the other large group of medical tourists which combines a vacation with low-cost cosmetic surgery or dental treatment.
Dr Kapoor informs that the third group of patients is from poor African nations or SAARC countries where the medical facilities are not developed. For them India is the best bet.
Cost-effective
Indian corporate hospitals are conforming to international standards, but the cost of treatment is about one-eighth to one-fifth of that in the US or the UK. Heart surgery in the US costs $30,000. In India, a top-of-the-line healthcare facility would charge about $6,000. Advanced orthopaedic surgery at a top tertiary care hospital in India costs around $6,000 as against $20,000 in the West.
The treatment cost includes the cost of medicines and healthcare delivery. Also included are the hospital bed charges per day and the doctor's fee. Room charges for a day in a top Indian hospital are Rs 3,000-Rs 5,000, whereas they come to $1000-1500 a day in the US.
Most of the major hospitals and clinics list their prices on their websites. These are even 25 to 30 per cent less than those in Thailand. To ensure almost similar prices for overseas patients, the Indian Government is planning to achieve a uniform price band for top corporate hospitals in the country. The Confederation of Indian Industries (CII) has also suggested a price band for overseas patients that would leave little scope for fleecing or price-cutting.
The commonest treatments for which medical tourists from all over the world are flocking to India are cosmetic procedures like liposuction, tummy tuck, breast implants and breast reduction, nose reshaping, facelift, Botox injection, filler injections and dental treatments which cannot be covered under insurance anywhere in the world and people look for places with good facilities and low cost.
Toni Wildish's world collapsed around her when a breast augmentation in Prague went wrong. With a bleeding, infected implant, doctors back home in the UK told her she could have died of septicaemia. After one implant was taken out, she arrived in India with skewed breasts. Her search for health and beauty brought her to Fortis Hospital, Mohali. The surgery and hospital stay cost her £ 1,500, while in the UK it would have between `£ 3,500 and £ 8,500.
Her compatriot, Anne Marie, a mother of five, came over for a tummy tuck and liposuction of thighs and flanks. After the surgery, she plans to come back for a vacation and breast reduction.
Another large group of patients who come from the UK are covered by the National Health Service. They do have an insurance cover but they encounter long waiting lists. The wait for surgeries can be even as much as two years. These patients come for mainly joint replacement and spine surgeries. Another huge group comprises about four million US patients, who do not have insurance cover. And they mostly get heart and orthopedic surgery done.
Dr Kapoor, who successfully operated on Toni Wildish last month, declares, "Our satisfied patients are our best advertisers and they are sending in more patients. We are promoting Fortis Hospital, Mohali, and our state-of-the-art facilities at different levels and for a. Worldwide, the Joint Commission International (JCI) accreditation is considered the gold standard for hospitals. With this accreditation, a hospital can also get overseas insurance patients. We are trying for it."
Dr Karan Thakur from the Apollo Group of Hospitals, New Delhi, says that on an average they get about 1,000-1,200 patients a year. The Apollo Group gets at least 5,000 overseas patients every year.
Clinical expertise
He asserts that besides the cost factor, a number of reasons have contributed to the increase in the number of patients coming to the country: the health delivery systems in many western countries are overburdened as patients face long waiting periods just to see a specialist.
Also, a number of uninsured patients find the medical costs in their parent countries very high and hence prefer coming to India. The latest infrastructure and medical technology are now available in India and hospitals now offer surgical techniques similar to those carried out in the West.
"Indian doctors are widely recognised as being among the best the world over. Many Indian doctors practising in the West have actually come back to practise in hospitals like Apollo," he reveals.
Indraprastha Apollo Hospitals, New Delhi, can boast of being India's first JCI-accredited hospital. JCI (the international arm of the Joint Council on Accreditation of Healthcare Organisations) is considered the gold standard in healthcare and only 46 hospitals in the world have got this accreditation.
Jasbir Grewal, Regional Director, Fortis Hospitals, feels that over the last few years India has emerged as a major value travel destination for medical tourists. "Home to the best and brightest surgeons in the world, we have witnessed a steady stream of patients from abroad. A majority of these patients travel from the most developed countries in the world."
Grewal adds, "In recent years, many countries have experienced a shortage of specialty care providers. In sharp contrast, India has concentrated on increasing the availability of specialty care, thereby preventing the shortage of medical professionals. In fact, the availability of clinical expertise— internationally trained and educated medical professionals—is a major factor in the growth of foreign patient procedures in India."
The combination of high-quality, world class and affordable cost healthcare services is attracting a regular stream of foreign patients to India. Our healthcare industry is growing at 30 per cent annually. A CII-McKinsey study estimates that medical tourism alone could bring $2.2 billion revenue for Indian hospitals by 2012.
Growth potential
We have well-equipped, state-of-the-art hospitals. In fact, once you enter a corporate hospital's portals, you could well be in the US. With Indian doctors being feted worldwide for their skills, it is hardly surprising that a lot many multinational medical equipment companies now prefer to launch their high-end equipment in India because of the sheer size and growth potential of the healthcare market here. In fact, the healthcare sector is replicating the software sector's fast track success.
Knee and hip replacements, shoulder surgery, heart bypass operations. Name the problem and there is a solution to it in India, thanks to the super-specialty hospitals and clinics.
A number of private hospitals offer packages designed to attract foreign patients with high net worth. These packages often include airport pickup, hospital bed care services, in-room Internet access, multi-cuisine meals to suit the palate and a post-operative vacation or, at the very least, a trip to the Taj Mahal.
With a marketing strategy that declares its resolve to excel, medical visitors from abroad go back singing paeans to the skilful doctors, the meticulous diagnostic procedures, the faultless nursing care as also the eager-to-please food and beverages personnel.
With testimonials from satisfied patients across the globe piling up fast, it is clearly Advantage India.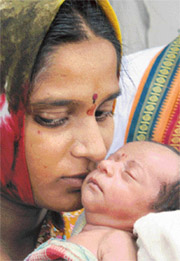 Several British couples keen to have children have been travelling to India for fertility treatment, lending a new dimension to medical outsourcing.
In what is called "reproductive tourism" in India, the couples—many of them of Asian origin—find arranging for surrogate mothers in India far cheaper than the thousands of pounds they spend on fertility treatment in Britain.
British patients waiting in long queues for normal operations travelling to India for speedier treatment is no longer news. But reports say that the Indian medical infrastructure is now being increasingly used by British nationals for reproductive purpose.
The Guardian recently reported the case of a couple from Leicester, Ajay and Saroj Shah, who used the services of Daksha, a 31-year-old surrogate mother in Gujarat. She is loaning her womb for Rs 150,000 ($3,300).
The Shahs reportedly spent £ 60,000 on fertility treatment in Britain, with little success. The newspaper report said: "The British couple appear to be part of a flourishing trade in reproductive tourism in India, which has a more relaxed attitude towards paying women for pregnancy, a practice prohibited in many other countries. "Indian clinics report that the incidence of surrogacy has more than doubled in the past three years, with the demand driven by fertility requests from abroad and the decision by some professional women to delay trying for a family until their late 30s".
The report claimed that such treatment had become big business in India and was now worth Rs 20 billion ($450 million). "The increase in requests from abroad is partly fuelled by the relatively cheap costs. At about £ 3,000 in Britain, an IVF cycle costs five times what you might pay in India," the report said.
Campaigners in Britain have reportedly questioned the ethics of such businesses. "What is missing here is a debate about not protecting the rights of the surrogate mother," Susan Seenan of Infertility Network UK told the newspaper. "It does not matter where you are—in the UK, US or India— giving up a child is a terribly emotional issue. We have seen that here in Britain and I am not sure whether the Indian system has addressed that." The report claimed that the Indian council for medical research did not have any guidelines to deal with foreign clients using Indian surrogates but added that a study was being prepared to assess the issue.
It added that any child born to an Indian woman through such a process would not automatically get a British passport. — IANS