On the sack track
The removal of chief coach Rajinder Singh Jr has added another inglorious chapter to Indian hockey's recent history,
writes Prabhjot Singh
Indian hockey badly needs a Perestroika to regain its former glory. Many would ask what the economic policy adopted in the former Soviet Union has got to do with India's national sport. If Mikhail Gorbachev's step in 1986 became the unintended catalyst for dismantling of the totalitarian state, why can't Indian hockey's system of governance be reformed?

Vasudevan Bhaskaran (left) has replaced Rajinder Singh Jr at a time when the team is going through a particularly bad patch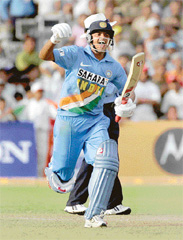 Young gun with ammo aplenty
Ivninderpal Singh
At the highest level, it is temperament that separates the men from the boys, and today a 19-year-old became a man at the one-day level," said Sunil Gavaskar about Suresh Raina, the doughty teenager from Ghaziabad, after he scripted India's victory against England at Faridabad. Raina, who made his debut against Sri Lanka in July last year after good performances in the 2004 Under-19 World Cup as well as in domestic cricket, won applause from former England players like Nasser Hussain and Graham Gooch, besides the British media.

With his superb knocks at Faridabad and Goa, Suresh Raina is all set to become a vital member of the Indian one-day team.
— Photo by Reuters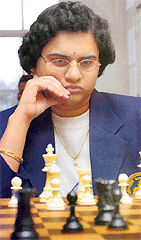 IN THE NEWS
Humpy's moves
If Viswanathan Anand is the king of chess, she is virtually the queen, or to be precise, the princess. In the latest FIDE rating list, 19-year-old Grandmaster Koneru Humpy has maintained her position as the world number two among women and the world number one among junior girls. Despite her unexpected failure in last month's Women's World Chess Championship in Ekaterinburg, Russia, where she was knocked out in the second round, Humpy gained 11 Elo points which took her tally to 2,548.




Koneru Humpy has maintained her position as the number two
chess-playing woman in the world. Photo: Sportstar

Super runner
Ethiopia's Kenenisa Bekele completed a historic double by winning the men's 12 km title at the World Cross Country Championship in Fukuoka (Japan) on April 2, only to announce he won't be back.