Living history
Gayatri Rajwade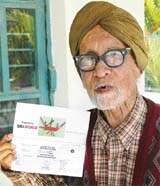 The memories are vibrant and he recites long verses from Heer Ranjha in Farsi. He even remembers the four lines written by poet Iqbal for the anthem Saare Jahan Se Achcha, which were removed by the British, "because they did not approve." Ae England waalon, jo aaj taajwar hain, Kal usko dekhna tum, na taj hai, na sar hai, Na Taj Mahal tumhara, na caravan tumhara, Hindi hai hum watan hain, Hindustan hamara.

The strike notwithstanding, the State Bank of India conjures up fond memories for this 95-year-old venerable and devout man and it all started a long time ago. His stories are captivating, enchanting and he remembers them clearly, eloquent in their detail. At the opening ceremony of the State Bank of India in a little niche in Sector 22, then Governor of Punjab C. L. Trivedi was offered the first public account number to commemorate the event.

"I am a poor man," he said smiling, "give it to my secretary," and Sardar Mehr Singh got number 33, the first 32 numbers belonging to the bank employees. This was in the early 1950s he recalls.
"Earlier when I used to go to collect my pension, everyone looked at me curiously, inquisitively," smiles this gentle man.
Born in 1911, Sardar Mehr Singh completed his matriculation in Lahore and joined the Police Department in 1929.
He had an account then with the Punjab Bank which was later named the Imperial Bank and which after the Partition became the State Bank of India, so the association goes back a lifetime.
"At a felicitation ceremony some time back the bank employees asked me what I would like to name the bank, if I got a chance to change it, my suggestion was My Bank of India."
The stories flow and time meanders.
After the Partition, Sardar Mehr Singh moved to Simla, "leaving Lahore on August 14, 1947, on the first train out of there". Wanting to get into the civil services he got an opportunity to work with Governor C. L. Trivedi, as his secretary.
When the seat of government shifted to Chandigarh, he moved too, in 1953, working with the ministers in Chief Minister Pratap Singh Kairon's ministry thereafter. "There were just a few houses in Sector 22. Otherwise all one saw were sand-dunes and the wind blowing."
The tales are quaint, picturesque and suffused with the will of God. "Guru Rakha"—may the Lord protect you. "Every thing happens because He wills it so. Never forget the name of God," is his earnest advice.
For a man who has seen almost a century of ups and downs and has gone through a series of personal tragedies from a young age, there is a compelling optimism in his words, his attitude.
With two of his three children near him—he lives with his son Dr D. S. Arora, retired professor from Guru Nanak Engineering College, Ludhiana and with his younger daughter Amarjeet Kalra, Head of the History Department at Guru Gobind Singh College for Women, Sector 26, is close by— the days are spent in tranquil prayer, in quietude with his family, his favourite being his grand-daughters because, "girls are cause for celebrations."
Up at four every morning to listen to the Gurbani on the radio, he moves around slowly but surely, with his walker, his "limousine", selfless and independent.

Ice scream
It's time to forget gulab jamuns and go in for new ice cream flavours like Banana Walnut and Almond Kulfi, says Saurabh Malik


Self-help guide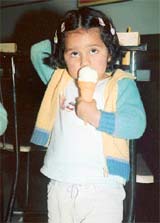 You have been savouring the creamy delicacy, but know little about its history. Well, here's something to add zing to your knowledge. In India, ice cream was initially made at home from pure buffalo milk. By the turn of the 18th Century, an ice cream machine was developed for home use. You can still buy the stuff. It's a wooden bucket with a central aluminum jar and a churner. For preparing ice cream in the machine, you have to put milk, essence and sugar in the jar. This container is then placed in the bucket full of ice and a little salt. After churning for about 45 minutes, the ice cream is ready. Though not as smooth as the one available in the market, it is delicious.
Frozen desserts topped with cherries, strawberries and wee bit of excitement are adding flavour to the lives of so many city residents. Go to Sector 17 piazza — or as a matter of fact any other market in the city — and you will find fragile hands delicately holding soft twirls oozing with rich cream and delight. And it's just not chocolate, strawberry and vanilla that the happy crowd is licking. Alphonso mango, date with honey, fig, cheese with almonds and even rajbhog are some of the varieties that are cool in the spring of 2006.
So folks, forget about savouring those hot gulab jamuns and counting those loathsome calories. Just hop into your car and drive down the road to the nearest rotary and savour delight in cone from the roadside vendor selling branded ice cream.
You see, the weather with the day temperature rising steadily is just right for you to savour the summer delicacy, not just after a heavy dinner, but anytime during the day. For, you can scream for ice cream just anytime.
A word of caution here: Be sure of the source before you pick up water ice. In fact, you should go in for the renowned brands only. For, ice cream prepared under unhygienic conditions can result in water-borne diseases. That's exactly the reason why the Chandigarh Health Department authorities impose a ban on some local brands during the summer months.
Deliciously, some of the branded ice creams are costing as less as the local makes. For instance, you can buy ice dollies by Verka and Amul for less than Rs 6, depending upon the flavour. Even the local ones are costing the same.
If you are going to the KFC, remember to go in for soft twirl. It's scrumptious, nicely filled and is costing just Rs 7, plus taxes. Their hot fudge, strawberry and blackcurrant sundaes are worth tasting. For medium helping, you will have to pay something like Rs 22, while you will have to pull out another Rs 10 for large helping. Also try their Brownie sundae costing Rs 37. Again, taxes are extra on all the items.
Hot Millions is offering yummy strawberry sundae and fresh mango ice cream, along with other lip-smacking flavours. "Hot chocolate fudge is the favourite," says senior manager Jatinder Kiwi. "Small helping is costing approximately Rs 55, while the large one is priced at Rs 80."
Every month new flavours are added to the ice cream menu at the Nirula's. You can try their Banana Walnut, Elachi Pista and even Thandi. "Viennese Coffee is another good option," says assistant manager Manish Sharma.
Go in for Badami Kulfi at Aroma's Eating House. It's good. Or else, you can try Tutti-Frutti. You do not have to worry about the hour. For, the parlour functions round the clock. At Red Skewers in Sector 8, you can go in for tropical fruit flan or Swiss tropical flan. Both the dishes are costing less than Rs 40.

Khayi ke paan Banaras wala
The tradition of paan unites the gods and the devotees alike in a fragrant mouthful. Gayatri Rajwade checks out the special betel-leaf flavours in town


Paan khaen saniyan hamaar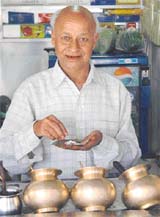 In India, paan plays an important part in social life, customs and traditions. There are references to it from the earliest times possible. In fact its basic quality is best described in a stanza from the Kamasutra of Vatsyayana. "After cleaning the teeth and having looked into the mirror and having eaten a tambula (betel leaf) to render fragrance to the mouth, a person should start his day's work."
There is immense religious significance attached to paan too. In the temple of King Rama at Orcha, the pan is given out to devotees as prasad or offering from the Lord since the temple is built as the court of Lord Rama and not as his shrine.
At Lord Venkatesa temple at Tirupati the butter from the forehead of Lord Venkatesa, wrapped inside a paan leaf, is given to devotees as a special blessing from the Lord.
This is a peerless leaf indeed. Can you imagine putting something in your mouth that tinges it a bright red and assail your senses simultaneously! Ah the wonders of paan! This wondrous heart-shaped betel leaf is indeed peculiar, it can be offered at any time of the day or night and while the betel plant is an attractive, aromatic slender creeper, its leaf is a byword in zest!
The paan is an art no less and testifying to this is one of the city's oldest paan shops, Chaurasia, in Sector 18D. "It is a kala, like a painting, you need to refine your skills to know just how to do it," smiles soft-spoken proprietor Rajkumar Chaurasia.
More than 40 years in the business, Chaurasia came to Chandigarh in 1964 from Pratapgarh district in Uttar Pradesh and set up shop in 1970.
"My older brother was doing his MA here at Panjab University at the time and went on to do his PhD and become a professor while I set this place up," he reminisces with pride.
In all these years, the routine has remained unaltered opening shop at 9:30 am wrapping up at 11:30 pm at night.
Now with three shops, Chaurasia has seen the city grow, people change, tastes alter but the essence of the paan, he believes, has remained the same. "It is a proper mix that must be achieved, consistency is the key."
What used to sell for 25 paise is now available for eight, twenty-five and even one for a princely sum of forty rupees here! "I use the Nauratan Qiwam 600 for the most expensive paan, the bottle costs me Rs 250 for 10 grams."
With six to eight different pattas including the Maggai, Kolkata and Benarasi, there are subtle flavours to choose from. He recalls a time when a friend asked him to make a paan the likes of which he had never eaten before. "There was a money plant growing in my shop at that time, I pulled out a leaf and made a pan on that," he laughs.
Indeed, the stories flow for his memory is his greatest companion. Rummaging in a corner, he pulls out a photograph of actor, late Om Prakash, striking a pose at the shop. The other names flow, Shashi Kapoor, Mumtaz and Sunil Dutt, who incidentally never ate paan!
With his son now working alongside there is an a ire of contentment. "This profession has given me everything, from a cycle to a home, I need nothing." Paan is, after all, tradition and hospitality at its best, from times immemorial.


Chatpata churan
Gayatri Rajwade
As you wander through the aisles of lovely handicrafts on offer, this little stall pops up deliciously, innocuously! One look at the mouth-watering array on offer and the hand reaches out for a nibble. Do you know of someone who can resist the temptation of churan? Sweet and sour, pungent and piquant, each one has a distinct flavour to offer, a zesty tang that tickles your wits!

This churan bhandaar—Surbhi—at the Kaarigari Crafts Bazaar at Lajpat Rai Bhawan is here with 40 delightful varieties of churan and supari.
Permutations and combinations galore, there are seasoning and spices to appeal to every palate.
From the ever popular anardana churan (Rs 20 for 100 gms) for getting those digestive juices going to ajwain churan for flatulence to methi dana churan supposedly beneficial for diabetic patients to lemon and ginger for that sore throat, aam papad (Rs 30 for 100 gms), hing goli, shodit harad churan (shaped liked rather dubious looking black pellets!) there is a rather delectable range on offer.
Some of the more unusual recipes include honey coated amla (Rs 30 for 100 gms) which comes highly recommended by the owner Ramesh Kumar for it possesses a virtuous blend of vitamin C to help prevent hair loss and strengthen eyesight!
The process of making this concoction is a tedious one explains Ramesh. "Each amla is peeled and dried. Then it is dipped in honey and dried again in the sun. All this without adding any chemicals," he insists.
Every the suparis come in an assortment of colours and can give fashion pundits a run for their money in terms of hues! Kishmish mawa mix, chocolate mix, tarang mix (a virtual rainbow!), three varieties of gaudy saunf for children, soft supari made from raspberries (Rs 30 for 100 grams), imli sweets in crinkled wrappers, the mixtures are displayed in steel bowls ready to be picked.
Ramesh Kumar, having completed his 12th class, decided to get into the churan business in his hometown Jaipur, "because this is what people do there." Having appointed someone to man his little outlet in Dinanath Bazaar, Ramesh spends his time going from melas to exhibitions spreading his labour of love.
While the churans are made by him, the supari is sourced from other makers.
"I make enough to get by" he says but when it comes to his child, "I don't know if I want him to do this, let him choose his own life" he smiles.
In the meantime, this little outfit, registered with the Khadi Gram Udyog for that stamp of authenticity, travels from city to city popularising its little 'handicraft'.
The Kaarigari Craft Bazaar at Lajpat Rai Bhawan, Sector 15-B is on till April 10. Check it out.

YOGA
Defy gravity
Jyotii Subramanian


Upside down
Lie flat on your back across on the bed. Gently shift your body up to align the shoulders with the edge of the bed. Straighten the legs and lower the head down so it hangs over the side of the bed. Feel the gentle stretch of the spine and compression in the neck. This posture is a natural traction for the back and called the merusankarshasana. Hold the posture for a few minutes and keep the eyes open. Remember at any discomfort release the posture immediately.
We spend most of our time feet down and the gravitational pull is directed accordingly. Reversing this posture makes the circulatory system more efficient by allowing the venous blood to flow easily to the heart and the cleaner blood to course through the regions above the heart. The inverted postures have a special effect by facilitating the blood to flood the upper body.
When preceded by pranayama exercises, the freshly oxygenated blood improves circulation and helps flush out toxins. All organs benefit with this opposite movement but the endocrine organs, the heart, the lungs, the thoracic region, the face, the eyes, nose and ear and the brain are especially effected with this fresh inflow of blood.
The following postures are to be done under the guidance of a yoga teacher since wrong misguided efforts can cause more harm than good. Sarvangasasana: This posture is called the 'mother' of all asanas, credited with exercising the limbs, muscles and organs- Sarva meaning whole, entire and anga meaning body, asana is posture. It can be done with or without support. The inflow of blood energises the thoracic region and benefits all throat, nasal and bronchial problems, the thyroid and parathyroid glands are rejuvenated; as the 'jallandar bandh'- chin lock by pressing the chin to the base of the throat- occurs simultaneously, blood flow to the brain is regulated giving relief from headaches, negative thoughts, hyper activity and nervousness. In the lower body as the organs shift circulation improves and urinary problems clear and bowel movements improve as does menstrual problem in women. From the toe to the head every part of the body is positively benefited by this posture.
Halasana: Hala means a plough and here the body is moved into the form of a farmers plough. In addition to all the benefits of the sarvangasana, the halasana is credited with removing tiredness and increasing energy levels, since the spine gets an additional stretch the central nervous system is revitalised and chronic backaches are cured.
Keeping the eyes open during inverted postures will give the person practising new perspective, as one looks at surroundings from a different angle!

GARDEN TOOLS MADE AT HOME
Joyshri Lobo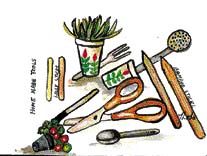 All amateur gardeners go hunting for tools, before starting their project. I did too and ended up getting stuff by post from a well known mall in Delhi. They were gleaming with handles of choice-Red!- with an exorbitant price tag attached. I spent a lot of time cleaning and polishing them, but the plants did not notice the difference.
Forty years into serious indoor gardening has convinced me that home made tools are as good and completely inexpensive. Of course, the out door garden does require larger and more professional implements. In any case, the "maali" will object to home made tools.
Start by getting a plastic, cutlery tray for your tools. It should have a mesh bottom so that water does not collect and the tools remain dry.
Manure and soil for starting the indoor garden, can be bought from a nursery in bags as per weight. It is quite cheap, free of bugs and fungus and pounded to perfection. To weed out unnecessary plants and grasses from the seedlings, we require ice lolly sticks. The wood is soft and does not injure tender, fresh roots. Save plenty of these sticks as they often break.
For "godi" or aerating plants, I'd suggest a blunt knife or fork. Both do not go too deep and are narrow enough to avoid injuring roots. As mentioned in earlier pieces, aerating is important to loosen the soil as well as to allow proper water absorption.
Scooping soil into a pot requires a larger tool. An old dal "karcchi" would do the trick. Even a broad, frying spatula can be used. If it has holes, it can be used for gentle watering by pouring water through it on soft seedlings.
For replanting and potting seedlings, we require broader, longer tools. An ideal option is a bamboo length with sand papered edges to avoid cutting your hands. It should be about 1 ½' long and 2" broad. This makes a perfect hole and keeps back the soil as you arrange the roots.
Pruning can be done with sturdy, tailoring scissors. I recommend the "desi" ones manufactured in Agra. They are heavy, with brass handles and are un-breakable but have to be oiled after use to avoid rusting. Fancy, plastic handled scissors will go with the first pruning session.
I have found no substitute for the watering can. You will have to invest in one, preferably a plastic one. A spray can is also required for misting purposes.
Wishing you all the best with your tool making session!

Chirpy like Birds
Ramesh K. Dhiman



Harjinder Mangat
It may not be a nice thing to mimic but when one is mimicking voices from the animal kingdom, it can turn into quite an art. Harjinder Mangat, who has just stepped into her twenty-first year, says: "Since my childhood I was fascinated by the music the birds made. I would try to sing like the birds do and later I even learnt to mew like a cat, roar like a lion and even writhe like a reptile."
Harjinder, in her final year of graduation at the B.Z.B.F.S. Girls' College Morinda, certainly has a passion for mimicking and continues to do so. Her final aim is to perfect the art and mimic all the sounds of nature to such an extent that she makes it to the Guiness Book of World Records on its strength. Well, this not to say that she does not have other talents. She won the Miss College title for her good looks and grace.
Besides, she is leading the gidha and bhangra team of her college. Gifted with a melodious voice, she has won several prizes for singing shabads. But she was certainly born with a funny bone at Todarpur, a dusty village in the Morinda sub-tehsil, and she says with a winsome smile: "I am looking forward to that day when Star Plus Channel will host a 'Laughter Challenge' hunt in the female category so that I too get a chance to show my talent for making laughter."

COOL STUFF
Added spice

Spice mobile phone adds yet another latest mobile phone to its existing range by announcing the launch of S-404 a trendy and distinctive metallic designed phone that stands apart from others. Retailing at Rs 2,899, S-404 is a compact and user- friendly handset targeting the professionals and offering them the convenience of enhanced memory. With its 500-phonebook memory and 200 SMS memory, all your friends will be merely a press of a button away. While weighing in at only 65 gm, it slips easily into any pocket, or purse with its slim profile.

Assuring the best quality with desirable features, Spice mobile phone offers its customers a phone with clear polyphonic melodies with 16 polyphonic features and with a state-of-the art 'echo cancellation technology' that enables the users to speak clearly. S-404 also provides Hindi SMS feature.

Zaid addes zing to Mirinda: Mirinda, the best tasting orange drink brand in the country, has announced Bollywood's leading film actor – Zayed Khan as its new brand ambassador in India. Chosen as the face for the brand, he will promote Mirinda across the country. The occasion saw the launch of Mirinda's all-new look with a classy new round logo that highlights the brand's characteristic 'orange' color. Mirinda also unveiled its new positioning that highlights the brand's core character of self-expression and a distinct attitude. Coinciding with the new look and ambassador launch is the new television commercial with a catchy tag line – 'Karo mouth ka good use' or 'Use your mouth well'.

Complete experience: Advanced Medical Optics, Inc (AMO), known for complete moisture plus contact lens solutions, has unveiled the Complete Aqua Vision monthly contact lenses. With this, the company now offers a complete vision care package and unique complete experience to the Indian contact lens users. These lenses retain up to five times more moisture than other lenses, reducing dehydration by retaining approximately 99 per cent of its water content.

Nutrition for mothers:

Mother's Horlicks is here to take care of pregnant women and also for those who are brest feeding by supplying all required nutrients. It provides the correct mix of essential nutrients in the right amount, most importantly DHA from a vegetable source. It fulfils the nutritional requirements for the growth and development of the fetus as well as the health of mother to meet the increasing demand of motherhood.

Diamond to cost less:

The Orra anniversary sale is here. With up to 25 per cent off on exquisite diamond jewellery crafted with certified Belgian diamonds. The sale starts from April 7 and goes up to April 30.

There is a whole lot to choose from, pendants, rings, earrings, necklaces, which starts from Rs 2,500 onwards and available at the Orra diamond boutique in Sector 17.

Control the sun:

Garnier has launched Garnier Sun Control Daily Moisturizer with SPF 20 UVA+++ to protect your skin from the harmful UV rays. It also combines Mexoryl SX and natural extracts to moisturize skin, prevent skin darkening and delay the signs of ageing.

Get your double deference against the sun today. It is available in a pack of 50 ml for Rs 149 only.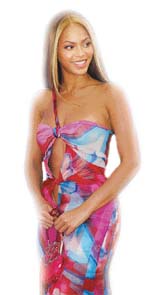 Beyonce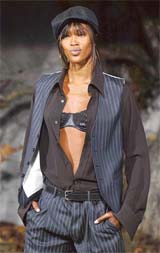 Naomi Campbell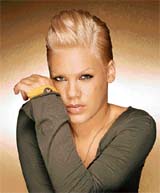 Pink
FILM & FASHION
Beyonce's dad challenges Simon
Singer Beyonce Knowles' dad has dared 'American Idol' judge Simon Cowell, who said his 'Bootylicious' daughter was not a great singer, to find a 'good' female group or solo artiste.
Matthew Knowles, who still seems to be miffed at Cowell for saying that his daughter was 'not sexy' and 'not a great singer', challenged the 'Idol' judge to either put together a female group or solo artist. "I challenge him to put together a female group or female solo artist, and I will do the same, and then let the audience decide which is better," the New York Daily News quoted him, as saying.—ANI
Campbell hits maid with mobile
Supermodel Naomi Campbell allegedly hit her maid Ana Scolavino so hard with a mobile phone that she is now suffering from a serious head wound, and blurred vision. Scolavino's lawyer Michael Block said his client had been hit hard on the head by a mobile phone that had left her with a serious head injury.
"Ana lost a lot of blood. She has a very serious head wound and still has blurred vision. She was hit hard on the scalp with a mobile phone. Naomi was physically and verbally abusive and Ana did nothing to deserve it. It was a vicious attack," Contactmusic quoted him, as saying.—ANI
Pink is a cry baby
Brushing aside her tough-girl image pop star Pink, confessed that she frequently bursts into tears for no reason. The singer is so sensitive that, even the simplest of things can prompt an outburst. "I'm quite an emotional person.
I can see a dog hobbling across the screen for a TV commercial and bawl my eyes out. I don't need sad triggers - anything will make me cry if I feel like it," Contactmusic quoted her as saying.
Sienna Miller target of fundamentalists
Hollywood actress Sienna Miller will be under high security protection on the set of her new movie, as filmmakers fear that she may be targeted by fanatical Muslims.
The actress is to star in "Interview," a remake of a 2003 thriller by Dutch director Theo van Gogh, who was brutally murdered by Mohammed Bouyeri in 2004 for making a film about Islam and women, which sparked anger among the Muslim community and led to many controversies.—ANI