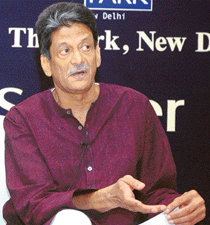 'The terrorist is inside us'
Kiran Nagarkar tells The Tribune's Charu Singh that he does not see a terrorist in isolation but as part and parcel of evil in society
Author Kiran Nagarkar is a man of many colours with a rare genius for literary craftsmanship. Not only does he write with concern, pathos and a rare understanding about the condition and tragedy of today's violent and selfish society but he also gets down to the root of all human need: love. He explores the social milieu and the underlying tensions with boldness, imagination and a rare humour. Nagarkar, a Maharashtrian, was born in Mumbai. His first book was written in his mother tongue, Marathi.
The passion of Christ
Thomas Anchanikal
Good Friday Prayer Service and Passion Narratives hold great appeal for devotees. Ever since the Crucifixion, Christ's passion and death have been the subject of Biblical research, critical studies and analytical conclusions for many. For Christians, it is the core of their worship.
For soldiers' sake
The Fauji Mela organised by AWWA in the Capital drew large crowds. Vijay Mohan on the fair that showcased arts and crafts from different states
It was the Army Wives Welfare Association's (AWWA) maiden attempt to showcase its vast and varied socio-economic activities before a wide audience. And it proved to be a resounding success.
Super surfers
A study commissioned by web giant Google in London suggests that Britons are increasingly abandoning their traditional relaxation in front of the idiot box to explore the delights of cyberspace.