ĎThe terrorist is inside usí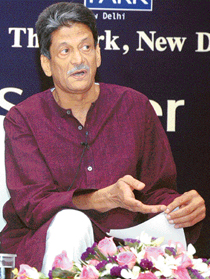 Kiran Nagarkar tells The Tribuneís Charu Singh that he does not see a terrorist in isolation but as part and parcel of evil in society
Author Kiran Nagarkar is a man of many colours with a rare genius for literary craftsmanship. Not only does he write with concern, pathos and a rare understanding about the condition and tragedy of todayís violent and selfish society but he also gets down to the root of all human need: love. He explores the social milieu and the underlying tensions with boldness, imagination and a rare humour.
Nagarkar, a Maharashtrian, was born in Mumbai. His first book was written in his mother tongue, Marathi. Writing it was a challenge and it completely overturned writing precedents. The first book, Saat Sakkam Trechalis or Seven sixes are forty three, was followed by the extremely controversial play Bedtime Story. After a long break of more than 10 years, Nagarkar came out with his masterly novel in English, Ravan and Eddie. This was followed by a rather erotic, unusual historical Cuckold. Nagarakarís novels are much awaited by many.
Godís Little Soldier, Nagarkarís latest book, has just been brought out by HarperCollins. Nagarkar says this was an extremely challenging work and he struggled with it for nine years. The book explores violence in contemporary society both in its outward manifestation in the form of global terrorism and its inner existence in the minds of todayís restless and violence-prone generation.
Nagarkar says that he does not see a terrorist in isolation but as part and parcel of an evil that exists in society as a whole. Charu Singh met Kiran Nagarkar at the India International Centre in New Delhi recently for a tete-a-tete on his career as author and his latest novel, Godís Little Soldier.
How did you begin writing in Marathi?
Well, my writing in Marathi was not because of a dare but it was something very similar. Way back then an author and a friend, Dilip Chitre, had been given the responsibility for editing the issue of a Marathi magazine. After my chat with him, I went home and asked myself that why donít I give it a shot, that is, writing in Marathi.
I followed up this resolve by writing a short story in Marathi and then started writing a novel, which was serialised in the same magazine. This was a memorable experience and I thoroughly enjoyed writing in Marathi. It was almost a romantic exercise.
Could you describe this experience in more detail?
I was very satisfied writing in Marathi and at that time, I was experimenting with form, with language`85 The novel (Saat Sakkam Trechalis) was a very fragmented novel, very elliptical, condensed and, up to a point, minimalistic. It was given to black humour`85
There was lots of lust as well lots of compassion in this book. In this sense, it was described as a revolutionary first novel in literary style in Marathi and it set a new precedent for writing in the language. It was fine till this point, trouble really came with my next venture.
What was your next venture and why did you switch over to English?
Then, I wrote Bedtime Story in Marathi as well as English. In fact, the first 60 pages of this play were written in Marathi and then I switched to English. Now, I turned to English as it was the more practical thing to do and I had to think of making a living. In Marathi, I had a very limited readership and the number of copies sold was extremely small. It was this fact that counted towards the decision to switch over to English. This play got into tremendous trouble.
I wrote this play as I was deeply concerned about the fact that we donít take responsibility for our actions. Anything that happens anywhere in the world is our responsibility. The world is our responsibility and the world is our problem.
However, this was in some ways a very difficult, even traumatic, period. The play took me completely aback and it set me back a hell of a lot. With all this criticism, one got extremely discouraged.
Would you like to share a bit more about this period?
Making the switch to English was not easy. It took me 12 to 15 years to accomplish it. In this period I did little to no writing, just wrote a couple of screen plays and worked like a dog to earn a living. I worked at advertising and ran around just making ends meet.
With the play done after your long break from writing, how did you get back to it?
After a gap of over 10 years, I wrote Ravan and Eddie. In the intervening years I did no creative writing just advertising. I got back to writing when I went on a scholarship to Chicago where I got an appalling amount of money which required little to no work. It was at this time that I went back to writing and madethe switch to English.
I had very clear images in my mind when I sat down to write, Ravan and Eddie, one of which was of a child falling from the roof of a building and the other was of a lunch at a colleagueís place in a chawl.
I reached this chawl one steamy afternoon and found four storeys occupied by Hindus and the last one by Catholics. This made me think of religion, of division and this book slowly came together.
What about Cuckold, which followed immediately after Ravan and Eddie did it not?
I got the idea for Cuckold primarily when I was in Delhi and was travelling in a rickshaw and shivering with cold. The thought fascinated me that there was this woman from the medieval period, Meera Bai, about whom so much is known yet no attention is paid to her husband, the Rana. After this I researched the book and then wrote it.
Could you share with us something about the book that youíve just brought out, Godís Little Soldier?
Like most sentient people, I am deeply bothered about the violence that afflicts the world today, especially terrorism. We make out that terrorists are other people but this is not really so. I do not believe in this division of Ďthemí and Ďusí.
I believe that any of us is capable of becoming a terrorist. One of the reasons why I write is to eliminate the distance between Ďthemí and Ďusí and we forget that a terrorist can be very gifted and this was the genesis of the book.
But, Iím not in the least trying to justify or condone what they do`85 but if you want to tackle the problem then you have to understand them. If possible, you have to grasp that they might have genuine grievances that should be addressed.
In this book, Iíve really looked at faith and its perversion. Iím looking at betrayal and I really think that a terroristís religion is not Islam or Hinduism, their religion is extremism. Itís a book that encompasses extremism in all its varieties.
EXCERPTS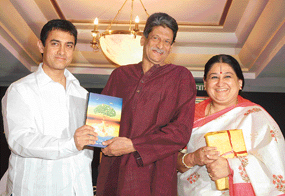 The novelist with Aamir Khan and Shubha Mudgal at the release of Godís Little Soldier

Zia looked at his companion, the beauteous princess, the darling of millions, the witch of Rasleela. What spell had she cast on him that, even as he called her idolator, he put his hand in hers and pressed the bell without letting go so that Yaqub, the servant, opened the servant opened the door yelling at him to stop that infernal noise and keep the dogs out, and Zia giggled and raced past him romping through the house with Sagari until he was standing in front of the dancing Ganesh from Tanjavur with Sagari pouring flowers at the feet of the auspicious God, the God his Hindu friends Rajan and Kumar invoked before starting a new term, and here is Sagari joining her palms and closing her eyes and saying a prayer and laying her head at the feet of the God and everything she does, Zia did too, except that he says his own Islamic prayers before bringing his head to rest on the dancing feet of the Ganesh and he is aware without looking behind that his aunt is watching him, with incredulous eyes, and so is his God whom he has shamelessly betrayed.
"Zia, Zia-ul-Haq, dictator of Pakistan, and Master of all he surveys, archrival and nemesis of the Bhutto family, son of Zafar and my sister Shagufta, jewel and hope of India, where art thou?" Altaf Mamoo. Who else would call out so many variations of his name? His uncle Altaaf was standing in the drawing room with Abbajaan. "Behold the heavenly houri, of Ďoh, grow upí fame. What incredible fortune that one gets to see not one but two id ke chand simultaneously."
Why are we killing each other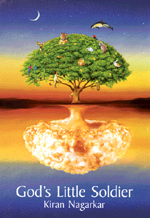 Looking fresh in a blue kurta, Kiran Nagarkar spoke with a mischievious glint in his eyes explaining his recent book to a packed room on the occasion of its release in New Delhi. "For years you know Iíve been completely irreligious. However the truth is I havenít escaped religion at all and am thinking of it all the time," the writer said in an honest vein, "the image that was most prominent when I was writing this book was that of Gulbadan, Akbarís daughter. She remained in my mind fresh and unstained. The question that arises naturally is why are we killing each other. Our worst fears have been realised in international terrorism."
Nagarkar adds, "Iím a story-teller and while looking into why a terrorist does what he does, I reached a pertinent conclusion that for a terrorist their religion is terrorism.
"The book has no message and if there is any endeavour in my story it is this desire to eliminate the distance between us and them (terrorist) Ė the terrorist is really inside us."
ó C.S.
Photos: Mukesh Aggarwal