Reliable as ever
Despite the emergence of some young players, Leander Paes remains Indiaís trump card in the Davis Cup, writes Ivninderpal Singh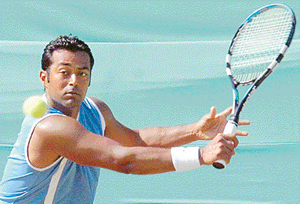 Leander Paes has done it yet again. He won the battle for India against Pakistan at the Brabourne Stadium. The stage was set for the crucial rubber when Pakistanís number one player Aisam Qureshi downed Indiaís Prakash Amritraj to restore parity at
2-2 in the Asia-Oceania Group I Davis Cup tie. So the tie between rivals India and Pakistan went into the final match.
Paes braved cramps to see India through against Pakistan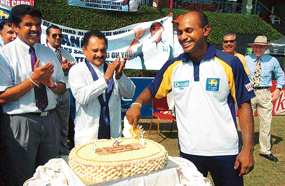 Tried and Tested
Ramandeep Singh
Sanath Jayasuriya (36), one of the most fearsome strikers, has called it quits as far as Test cricket is concerned, though he will continue to play one-dayers. In a career spanning 15 years, he was one of the players responsible for Sri Lankaís ascent in world cricket, lifting it from the shade of subcontinental superpowers India and Pakistan.
Sanath Jayasuriya bid adieu to Test cricket during the Kandy match against Pakistan last week.

IN THE NEWS
Right on cue
Indiaís new world ladies billiards champion Chitra Magimairaj is concentrating on the Doha Asian Games to pocket a medal for the country. Following her title win at the recent World Ladies Billiards Championship in England, she would focus on both snooker and billiards.