Neeta Lal says the anti-ageing formula is a fibre-rich diet, strength-building exercises and a positive attitude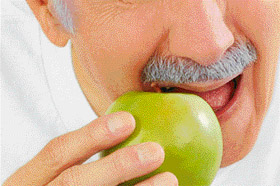 Conventional wisdom tells us that creaky joints, lack of appetite and a closet full of medicines are an inevitable part of ageing. But an increasing number of health professionals across the globe are endorsing the view that a prudent diet and exercise programme can help the elderly sail through their golden years. In other words, many of the degenerative changes that plague old age—cardiac ailments, diabetes, osteoporosis, blood pressure—can be easily reversed or prevented by following an 'age well' plan.
Dr Smriti Vyas, Consultant General Physician of Max Hospital explains the concept: "An age well plan is a long-term, holistic look at an elderly person's diet and exercise regimen to help minimise her/his chances of falling ill, while simultaneously maximising physical and mental productivity." Since a person's body composition changes with age, adds Vyas, muscle mass decreases due to disuse; and fatty tissue increases due to a decelerated metabolism. Hence, nutritional and exercise requirements for the elderly are totally different from that of a teenager or a 40-year-old. They need to consume extra doses of certain nutrients and totally avoid the others.
So what are the foods that one needs to focus on? "Calcium and Vitamin D are crucial for the elderly," advises Dr Ravinder K Tuli, Senior Consultant, Apollo Indraprastha Hospital, New Delhi. "Calcium is imperative for the prevention of osteoporosis (porosity of bones leading to brittleness) and maintenance of healthy bones, while Vitamin D helps absorb calcium into the system. Vitamin B12 is needed to build red blood cells and maintain healthy nerves. Similarly, zinc helps shore up one's immunity while potassium maintains blood pressure."
In addition, doctors advocate that folic acid and B vitamins help lower levels of homocysteine, a compound found in the blood that causes cardiac disorders. "Bowel disorders are also quite common in old age," elaborates Dr Ishi Khosla, a nutritionist, "so one should increase one's intake of fibre to prevent constipation." Ergo, five servings of fruits and vegetables per day, like carrots (provides beta-carotene for better vision), peppers, melons, cabbages, tomatoes (contains lycopene that inhibits cancers), berries and at least a cupful each of wholegrain flour and cereals must be consumed. Also, Omega 3 fatty acids—found in certain types of fish, flax seeds and canola oils—are important.
"Also," exhorts Khosla, "remember to replenish your system with at least 12 glasses of water. This not only prevents dehydration but also keeps your kidneys in great working order, detoxifies your system and lubricates the joints to improve mobility." The nutritionist also advises opting for foods of varied and contrasting colours, textures and flavours. "Remember," she says, "to stick to original foods and not supplements. Cut down on refined sugars (jaggery is better) and salt. Spice up your food with herbs and healthy flavourings rather than oil or ghee, salt and red chillies, which may provide taste but are harmful for the body."
Apart from the right intake of nutrients, a well-balanced health plan also factors in the right kind of exercise. Although cardiovascular and aerobic exercises work best for all age groups, it is best that the elderly do not overdo the exercise bit, cautions septuagenarian fitness trainer Rama Bans, who trains Miss India beauty contestants. "You are not aiming to be a marathon runner at this age," says Bans. "The idea should be to keep moving—a walk in the nearby park, a climb up and down the stairs four-five times in a day, gardening, vacuuming the house, walking your dog, playing with your grandchildren are all wonderful and potent ways to stay active."
Also, doctors believe that improving the strength of core muscles (abdomen, trunk, pelvis and buttocks) goes a long way in improving bodily balance, motility (spontaneous movement) and posture. "As people age," elaborates gym instructor Ashwini Kolhapure, "the nerves in their cerebellum - the command centre for movement - begin to lose their waxy myelin coatings and wither. By activating these neural centres through a series of movements, people can keep these nerves activated longer."
Yoga, tai chi (all different exercise regimens), says Kolhapure, help enormously in building 'core strength'. Not surprisingly, when clients visit Phyllis Douglas, owner of Equilibrium Fitness in La Verve, California, a gym that specialises in elderly rehabilitation, her thrust is always on building the person's core strength first.
Says Douglas Vetter, Assistant Professor of Neuroscience at Tufts University School of Medicine, US, in Newsweek magazine, "Although core strength exercises are not a magic bullet, it is not a stretch to say that we may be able to put off some of the degeneration this way."
The right mental attitude—building a close circle of friends, cultivating hobbies and generally keeping busy—is another way to promote well-being in old age, say psychologists. Japanese wellness guru, Dr Shigenki Hinohara, 94, author of How To Live Well, for instance, eats frugally and sleeps little but feels the right mental attitude is the key to his longevity.
The million-plus sales of his book have consolidated his position as Japan's guru of healthy ageing. "If you keep learning something new, keep working even after 75, you'll never get old. When I get to 95, I think I'll take up golf because then I'll finally have time for it," he says.
Dr Andrew Weil, the celebrated Professor of Medicine at the University of Arizona stresses minimal alcohol/tobacco/drugs consumption over and above meditation, touch, massage, walking, yoga, good food, productivity and adequate rest. Desi new-age spiritual guru Deepak Chopra too considers creative pursuits as the best "anti-ageing pill". "Maintain old friendships, build new ones and, apart from physical and mental well-being, try to develop your spiritual side too. This can act as the wonder drug for many of your age-related problems," is his advice. — WFS