Get skimpy
Anandita Gupta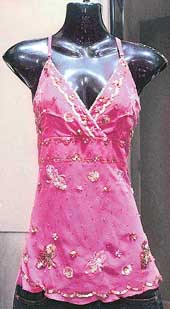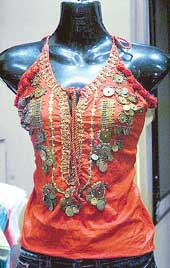 COOL STUFF: Embellished spaghettis are much in demand as the mercury soars. — Photo by Pradeep Sharma
As the sun decides to flash its rays full on, it seems like the right time to turn our backs smartly at the sun. Backless blouses, however, are an absolutely no-no since they're likely to tan those ice-rink-smooth backs badly. So what do we wear to take some weight off our shoulders?
Something that takes a break from those oh-so-tight, can't-breathe outfits. Something that's jazzy and yet, absolutely wearable. And when it comes to picking up bits and bobs for that breezy summer look, what else can it be but skimpy spaghettis. Lest you miss playing a peak-a-boo with the devious allure of this lil' garment, here's some juicy info on the kinds of spaghettis available in town.
Spaghettis are sizzling the City Beautiful by their sensual cuts and fabrics. While the casual ones are available in fabrics like regular cottons, Matka cottons and Tusser cottons, more formal ones crowding the city store shelves are in Georgettes, Chiffons, Lycra and Linen. The party wear has glamorous spaghettis embellished with rhinestones, coins, beads and sequin work. Even the traditional Dabka work is adorning some spaghetti available in town. The casual ones sport floral and zig-zag prints.
Opines Salil Gulati of Salil Studio, sector 22,Chandigarh, "With the temperatures soaring and heat setting in, we are designing even suits with spaghetti-like straps and noodle straps. Our suits sporting noodle-doris are selling like hot cakes. Most of them are in lycra, linen and matka cottons and are priced from Rs. 1500 onwards.
Informs Neha from Ten West, Sector 10, Chandigarh, "We are stocking lots of sprited spaghettis this summer in all kinds of motifs and embellishments. Ranging from Rs. 295 to Rs. 695 onwards, our spaghettis are available in all colours, right from the wispy pastels to shocking pink and turquoise. And we've got lots of accessories to team them up with—scarfs, shrugs and chunky loops."
Adds Ranjan from Incense designer studio, sector 35-D, Chandigarh, "My range of spaghettis starts from Rs. 200 and goes on till Rs. 600.They sport sequins, beads, dabka work, stones and coins."
Then, there are some designers like Rashmi Bindra who've created hand painted spaghettis. Urban Rootz, Sector 10, Chandigarh is also stocking lots of hand painted spaghettis.
So girls, pick up these delightful lil' teeny-weeny spaghettis and get ready to set hearts aflutter.


Floral, abstract, plain or embellished, whichever spaghetti you pick up, here's a brief lowdown on snazzy things you can team them up with

Shrugs-Available across the city (Rs.395-495) in georgettes and cotton Lycra, these are mini-jackets that stop halfway between the shoulders and the waist. So, if your spaghetti is a little too deep backed, worry not. You can cover it up with a glamorous lightweight shrug

Slim pants-Cigarette pants are hot this season. Lean pants are ideal for that formal office look and also slim down your appearance. Team the cotton, polyester and denim slim pants with spaghettis to add some spunk to your outfit.

Wispy skirts- Flowing, wispy skirts are a rage every summer. Moreover, they are now coming in their Indo-western avatar. And what better way to blend Indianness into Western style by teaming a ghagra like flowing skirt with a fitted, skimpy spaghetti?

Scarfs-Let the oh-so-feminine scarfs twirl and twine around your neck along with that spaghetti that you wear. Not only will it add to your feminine appeal but will also cover up the deep-necked part of that otherwise just-perfect spaghetti.