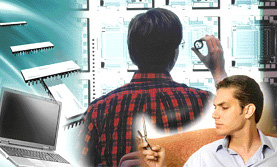 Chip in for work in embedded design
Traditionally acknowledged for its software development capabilities, India is now exhibiting its competency in the chip design sector. Its booming semiconductor industry promises 3.5 million jobs by 2015, writes
Aruna Padmanabhan
Our living environment is getting more intelligent and embedded systems are increasingly being used in our daily electronic appliances and gizmos. Mobile phones, PDAs, and digital home-security systems perform versatile functions and have shrunk in size because of embedded systems that control the functioning of these devices.


Careercature
Sandeep Joshi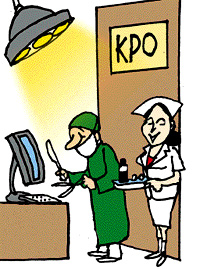 He's taking his job of offshore doctoring rather seriously.

Smart Skills
KPO opens new doors
Usha Albuquerque
Imagine sitting in an office in Gurgaon, designing a computer game for a client in Texas. Or you could be in Chandigarh providing legal services to a corporate firm in Birmingham. Whether it is building new malls in Philadelphia, or recruiting staff in Seattle, Indian companies are doing high-end knowledge-intensive work for organisations around the world."

Work wise
TCS to hire 30,500 employees
Tata Consultancy Services on Monday said it plans to hire 30,500 employees during the current fiscal. "We had a net addition of 21,000 during the previous fiscal (FY-06) and plan to recruit 30,500 employees in FY-07," TCS CEO and Managing Director S Ramadorai told newsmen in Mumbai. TCS also became the first company to cross 60,000 employees, he said, adding non-Indian nationals increased by 65 per cent in FY-06 to 6.5 per cent of the total base.


Career Hotline
More of maths
Pervin Malhotra
Q I have done B.Com and wish to do MCA. Can you please tell me about the eligibility criteria, particularly the level of mathematics required? — Neelam
A The eligibility for admission to MCA courses (as mandated by AICTE) is a Bachelor's degree in any discipline with maths in plus two OR a Bachelor's degree of minimum 3 years' duration in any discipline with mathematics as one of the subjects.