ĎMy next album will be in Punjabií
Minna Zutshi
Indians still retain their basic humanity, and it shows in their music, says Danish singer Anita Lerche, who cannot stop singing praises of her recent sojourn in the Himalayas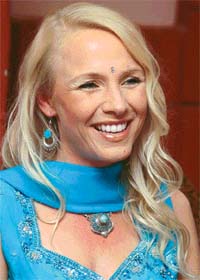 Anita Lerche
THE Himalayan peaks are forbiddingly inviting. They donít make for an easy ascent, yet their grandeur is inspiring. However, for young, glamorous opera singer Anita Lerche, who had come all the way from Denmark, the Himalayan tryst was not only about sky-smooching mountains, it was also about discovering the music in the hills.
"There could not have been a more harmonious play of elemental forces. Wind rustling its way through meandering pathways, dark sky hoarding clouds with abandon, the robust openness of the tribal culture, the rhythmic beauty of Nati dance ó it was as if I were swaddled in a rich tapestry of experiences. I had no choice but to go with its flow," says this alumna of the Mountview Academy of Theatre Arts in London.
The languorously rhythmical Himachali folk songs, peppered with interesting stories of valour, deceit and romance, fascinated her no end. In just a few days, she could sing some of these songs with practised ease. It was yet another addition to her recordings of songs in 13 languages (including Chinese, English, Italian, German and French). "Whenever I sing a song, I make it a point to understand the meaning of each word. You have to live the song to sing it," she says, rather passionately.
During her Himalayan journey, she could not have enough of the picturesque apple orchards and the quaint surroundings there. She was curious about the much-talked-about Indian culture, too. And her hosts, Anurag Sood and his wife Tracy from Hoshiarpur, who had also organised the trekking expedition to the Parvati Valley, afforded her ample opportunity to take a peep into the Indian way of life.
"I now knew for sure that Indian outfits are gorgeous. Women here dress like princesses on their day out. And the vegetarian dishes, cooked with a sprig of coriander or mint, are delectable," she sallies.
Her journey from the hills to Hoshiarpur gave her yet another musical high. She could not help being bowled over by peppy Punjabi music, particularly the song Lathae dee chaadar, playing in the car.
"I had already released my first solo album I Love a Piano in Denmark. Itís an album with all my favourite songs from musical theatre and pop music. But the music that was playing in the car was something very different. It had a kind of magical appeal. My decision was made there and then ó my next album would have a mix of western and Punjabi music, with almost all songs in Punjabi," she says, humming a folk tune unselfconsciously.
As a foreigner, she had heard that India was a colourful, exciting country teeming with spiritual gurus. But post-Himalayan sojourn, she knows itís much more than that. "Indians are so warm and receptive that even their songs are suffused with this warmth. Unlike the people of many other countries, they still retain their basic humanity. They have not become emotionally iced up. And it shows in their music," she signs off.