stamped impressions
Armed with a mission
Reeta Sharma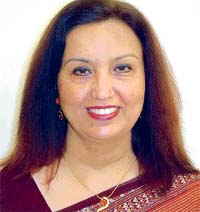 Mohini Daljit Singh
SHE appeared for Master's in English when her two children were taking the graduation examination. Yes, this is exactly what Mohini Daljit Singh did. Surely, such examples are rare. If one were to trace the roots of her perseverance and courage, one finds that the seeds were sown in her early years. In school, Mohini had a passion for debates, declamations, sports, theatre, etc.
In 1955-56, Mohini got a chance to study in British schools when her father was posted to Camberley, UK, to do a Staff College Course. On his return, he was posted to Ethiopia (South Africa) to establish a military academy there on the lines of the IMA-NDA.
In Ethiopia, Mohini again got a chance to study in a convent being run in an orphanage for four years. Returning to India, she studied in Calcutta and then in Lucknow's Loreto Convent, where she became headgirl.
It was at Loreto that Mohini was drawn towards Mother Teresa's home, Prem Niwas, for social work. She also acted in plays like Jean-Paul Sartre's In Camera. Upon completing graduation, she married Captain Daljit Singh. When her kids, a son and a daughter, began school, Mohini too began school teaching. Once she realised that she needed a B.Ed degree to continue teaching, she soon acquired one.
Usually, those born in an affluent family are not likely to feel the pain of those who are not been as privileged. However, for Mohini, exposure to Army life was a learning experience.
"We have all received the legacy of the collective wisdom of the senior officers' wives. Everybody has added to the existing experience. Our AWWA (Army Wives Welfare Association) is the sum total of the experience handed down the line, over the years. We handle a variety of issues, be they pertaining to officers' or jawans' wives. In the Army we are like a family so anybody's problem is the problem of the entire Army. For instance, every widow has to be made economically independent as per her calibre. Each unit head's wife works as a leader and the chain goes up to the Chief of the Army Staff's wife," says Mohini.
At present, her husband Lt Gen Daljit Singh, VSM, AVSM, is posted as G-O-C- in-C at Western Command, Chandimandir. Mohini says the higher the rank of her husband, the greater her responsibility. She has been motivating jawans' wives to continue education and has created infrastructure for the same. Their health is also a priority with Mohini and she is also keen on improving the infrastructure for challenged children studying at Asha School run by the Army at Chandimandir.
Is it possible for Army wives to pursue demanding careers, keeping in view the frequent postings of Army personnel, I ask Mohini.
"I think the situation is changing slowly and now more women are pursuing careers of choice. One option they have is to remain stationed at one place while the husband is posted at different places. This will not only help the wives to provide stability to the children but also enable them to pursue their careers. But it certainly will be tough for them.
Meanwhile, we have started paying wives who have the requisite qualifications for any professional job they chose to do for our association. Some are even willing to upgrade their qualifications so as to remain gainfully employed.
Her husband's last posting was in the North-East. How was her experience? "It was an opportunity to become sensitised not only to their culture but also to their pain. While Manipur is shackled by drugs, the younger generation of Nagaland is extremely talented. Now that they have tasted peace, they are keen to preserve it.
Many Naga women have married Army officers. I am going to hold a series of shows of Naga pop groups. I have also promised the CM of Nagaland to help him build a hospital for HIV patients. We will collect funds and make sure that this hospital comes up fast," she says resolutely.