COOL STUFF
New showroom in city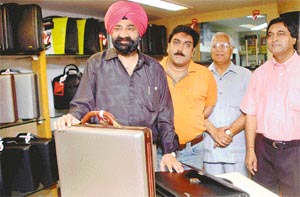 TRENDY TRAVEL: Jaspal Bhatti inaugurating Bharat Stores at Sector 22-D, Chandigarh. — Photo by Manoj Mahajan
On the onset of this marriage and festive season, a new "VIP" exclusive showroom "Bharat Stores" opened at Sector 22-D, Chandigarh. The showroom was inaugurated by the renowned film and television artist "Shri Jaspal Bhatti". The showroom presents exclusive ranges of all travelling solutions.
The showroom has an exclusive variety of travel products featuring from all convenient, lightweight, multi-purpose trendy luggage's as well as traditionally designed products for marriage season. The showroom displays a whole new range of eye-catching, good looking, sleek, functional, stylishly designed, multi-purpose bags, strolleys and suitcases. We have beauty cases to pack in the glory as well. As office bags to carry your attitude up your sleeve.
The showroom has a complete variety of brands marketed by 'below plast limited'. These are "VIP" — The evergreen market leader in luggage industry: "Delsey" — the designer range of trendy luggage from France to match your personality; " "footloose" — for the youth; "VIP professional — for the professionals and business class people.
New soap
VVF Limited, a leading manufacturer of personal care products has recently launched revolutionary skin care soap — Shiff, with skin nourishing moisturizers and anti-bacterial properties.
A regular bathing with this soap is the most inexpensive and natural way of achieving and maintaining a glowing and healthy skin.
The 75 gm Shiff pack is reasonably priced at Rs 12. It contains NO Animal Fat and is not tested on animals.
Shiff is available across the country at all retail outlets.
The ice age-2 adventure
The Meltdown have found their way into their favourite cereal box! This March, get ready to have lots of fun on your breakfast table with Kellogg's Chocos Ice Age Adventure—India's leading manufacturer of breakfast cereals. Kellogg's is introducing its limited edition pack featuring the popular characters. Moreover, with every 700 gm pack of Chocos, kids will get the exclusively designed Ice Sliders of their favorite characters — Manny, Scrat, Sid, Diego and Cretaceous and with every 375 gm pack cool Ice Candy makers to beat the summer heat! This promotion which is part of the global association between Kellogg and the season's coolest adventure movie — Ice Age 2 — The Meltdown will be leveraged across most countries in the world through local promotions and products.
Support Shiksha
P&G has started a program called Siksha to help children across India achieve their right to education, in association with India's premier child rights organisation Child Rights and You (CRV) and Sony Entertainment Television. As Shiksha entered its second year, actor Mandira Bedi, Rang de Basanti director Rakeysh Mehra, actor Rahul Bose, and former University Vice Chancellor — Dr Snehalata Deshmukh are appealing to consumers to support Shiksha, by buying large packs of Tide, Ariel, Pantene, Head and Shoulders, Rejoice, Vicks Vapo Rub, Whisper, Gillette March 3 Turbo or Pampers during April, May and June, and lead a child to the path of education. Irrespective of sales, P&G has committed a minimum of Rs 1 cr to Shiksha, which will be allocated to education-focused projects.
Little Pump
Come summer and it is time to turn on your coolers to beat the heat. Serving as an air-conditioners for the middle class families, coolers have indeed emerged as a necessity in Indian households. However, the coolers have their own problems and most of these problems arise out of the substandard pumps. This is where Indoma Industries bring in the pioneering solution to those frequent breakdowns in coolers. Little Pump is not only your ultimate answer to those breakdowns but also a cost effective and efficient solution to the long hot summer.
Little Pump is actually a break through technology that helps your cooler run without any trouble nonstop. Its in built technology allows it to consume less electricity bringing valuable savings to your electricity bills. Using just 16 watts of electricity the pump can also be easily used on invertors or generators.
Yet the most attractive aspect of the Little Pump is its friendly price. Priced at just Rs 295, it costs much less than the conventional pumps that cost nothing less than Rs 450 to Rs 600, not to mention the money that goes into its troubleshooting. In addition to coolers, the Little Pump also works wonder in the interior decor as they serve perfect in fancy indoor pumps.