Look before you leap
From three-piece bikinis with wraparounds to single piece swim-suits in floral prints and stripes — you have so much to choose from in swimwear, says Saurabh Malik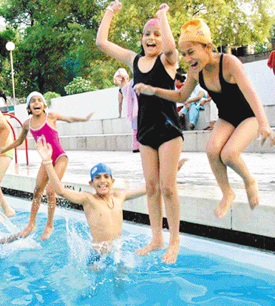 Climbing mercury is propelling you to take the plunge in the deep blue waters of excitement. But look before you leap. For, the market is actually flooded with teeny-weeny bikinis and swimsuits — some imported all the way from China.
Then you have all those chic accessories to choose from — right from sarongs and swim caps to sandals and thongs. Guessing what's cool in the summers of 2006 can actually boggle your mind. So before you go fishing for swim gear, remember to dive deep into these columns for a comprehensive guide.
Surfing for swimsuits
Pool your resources and go in for itsy-bitsy bikinis. Readily available in sport-shops across the city, they are flexible and mould according to the body contour, giving you that "ah" inspiring fit.
"Bikini tops with frills are the latest scream amidst teenyboppers," says Rajesh Bajaj of Prime Sports in Sector 7.
As some garments are "brief", the girls can cover themselves up nicely and properly with an oversized shirt or a tee till they actually take the dip, suggests Bajaj. "Even sarong wrap is a good cover up option," he asserts with a smile. "Tie it on the side, in front or around your body for full coverage. The choice is yours, entirely."
You can also go for three-piece bikinis. The enticing combo includes a top, a bottom and a wraparound In Lycra and other stuff, the bikinis are costing anywhere between 600 and Rs 2000. The Chinese ones can be had for as less as Rs 150.
In case the idea of slipping into a bikini is not appealing, swim in a "Tankini". A variation of bikini, it has a longer top that exposes only a small portion of your tummy, leaving you under-wraps mostly. Or else, swim with the stream in a single piece suit. Just don't be afraid of wearing stuff you feel comfortable in.
Another thing! Plain swimwear is out, for good. "So look for stripes or bold floral features," says young fashion designer Nidhi Kapoor. "They are in the swim. As for colours, basic black continues to dazzle the onlookers. But don't wash your hands off blues, reds and even whites. Even they are appealing".
A word of caution here: Swimwear in tan-through fabrics is available over the counters in so many shops. The stuff allows you to tan through the fabric without showing off your body. Sounds fine! But it's good only for the West. The stuff is certainly not recommended for the swimmers here. Also, make sure the fabric quality is good to avoid allergies and other skin problems.
Knick-knacks
In accessories, pick up cool glasses that not only look great, but also protect your peepers from pool infection like redness of eyes and conjunctivitis. Buy special "anti-fog" swimming glasses in cheerful hues like pink and purple. They are costing between Rs 60 and Rs 600.
In case you have an infective eye problem, avoid swimming completely even with the glasses on not only for your own sake, but also to prevent others from acquiring the problem, says city-based eye surgeon Dr Rajan Chugh. "In case of non-infective eye problem, you can swim after consulting an eye specialist. But in both the cases, avoid self medication".
Also remember to go for good trendy caps, especially if you have long silky tresses that tend to stiffen after plunge in a pool. The caps prevent the hair from turning rude. And also spare you the inconvenience of spending all those precious minutes shampooing your tresses. "Caps of Silicon quality are the most sought after," says Rajinder Kumar, also dealing with sports accessories. "You can have them by pulling out anywhere between Rs 80 and Rs 150 from your wallet". In the end, pick up special pool-side or beech sandals. They are available in almost all the shoe stores in the city.
Pooling around
Before you splash in a pool make sure that the water is certified safe and there are enough lifeguards around you. For availing swimming facilities that float good, you can go to the Lake Sports Complex, the Chandigarh Golf Club, Chandigarh Club, Chandigarh Press Club, Panjab University swimming pool, Nursery swimming pool in Sector 23, Kendriya Vidyalaya pool in Sector 29, the Mohali Club in Phase 11 and the Gymkhana Club in Panchkula's Sector 3. The swimming season has started, or is about to begin, here. The charges hover between Rs 400 and Rs 1500 for the complete season. Go ahead, jump for fun!