Making CVs for others
A write choice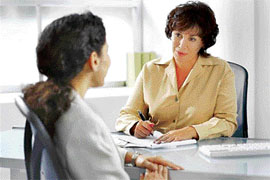 Corporate India is increasingly using the services of people who specialise in writing CVs as per the hiring trends in industry, writes Arvinder Kaur
A Curriculum Vitae (CV) is a personalised account of a person's work experience, educational background, and skills. If you are good at penning it, you can, in fact, make a career out of it by writing the resumes of other job-seekers. It pays to highlight others' skills: CV writing is the newest career option in India Inc, which is on a hiring spree and in most cases initial interviews are conducted through the Internet.

Careercature
Sandeep Joshi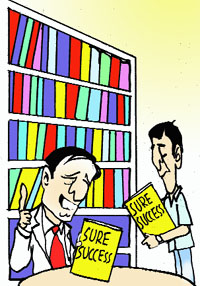 You did not succeed because you didn't read my other book, "How to read books on success".

Rid your resume of potential pitfalls
I.M. Soni
In a survey, more than 2,500 employers from a variety of organisations and industries were asked what they saw in resumes that they thought were pitfalls. They listed 20 major as well as minor ones. The major ones are given below. You should steer clear of them to make your resume effective and error free.

Delhi overtakes Mumbai as top job generator
Delhi has unseated Mumbai as the top job creator with maximum number of employment opportunities coming up in the IT and IT-enabled sector (ITeS), a study has revealed. Most work offers in IT, engg: An Eco Pulse study conducted by industry chamber Assocham tracked 6,175 job placements in the first two months of 2006 and found out that employers in Delhi advertised for 1,495 vacancies, followed by Mumbai with 1,344 placements. Mumbai generated maximum number of jobs in a similar study last year.

Aptech launches new course
Aptech Computer Education, an IT education brand, has announced the launch of its Power Packed Career Program - ACCP 2006. The programme, aimed at giving the students exposure to the latest and in-demand technologies, provides real life work environment exposure through the one-year internship programme.


Smart Skills
Venture into adventure
Usha Albuquerque
It's holiday time — and not just you, but many of the young people today want a different kind of a holiday. One that might include trekking and hiking, camping, white water rafting or even parasailing. The varied topography in India, from snow- capped mountains and fast-flowing rivers to deserts, thick forests and a long coastline offers immense possibilities for all kinds of adventure sports. The varied terrain and climatic conditions provides scope for developing a number of diverse sporting activities according to geographical conditions in different parts of the country.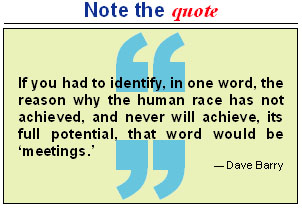 Career Hotline
Moving on in market research
Pervin Malhotra
Q I am an MBA working with a market research firm for the last one year. Though the job is good, I feel the gestation period for making it big in this field is too long. Any suggestions on how I can put my career on the fast track?
— Rishi Sharma
A With a couple of years of work experience in MR under your belt, you can easily leverage your knowledge and experience to bag a job with a KPO. Pay packages offered by these firms, starved of competent staff, is substantially higher — by at least 30-70 per cent.