Best of Bonsai
The city can boast of a large number of dedicated Bonsai artists and Gayatri Rajwade
looks into the beauty of their art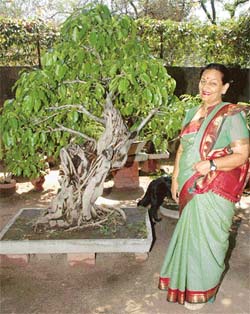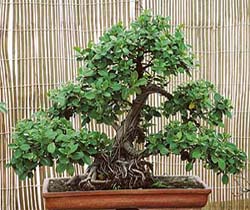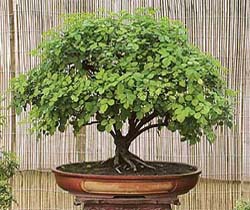 MINIATURE TREES: Rupan Deol Bajaj with her gnarled tree and prized bonsais.
— Photos by A.J. Philip and Pradeep Tewari
A living art inspired by nature and imbued with the spirit of trees, fashioned in miniature. While all God's creatures wither with age, Bonsai is the essence of longevity, for it flowers, bears fruits and continues to give joy year after year, budding towards perfection.
Not all bonsais have to be very old says Anil Kaushik, President of the Bonsai Club (India). "Relatively young plants by careful training, employing certain techniques and regular maintenance can become authentic and attractive bonsai. But the tree and the container should give the illusion of a mature tree in nature and together must constitute a work of art."
As a representation of a great old tree, Bonsai is as precious as a piece of art or a celebrated symphony—speak to any aficionado and the enchantment spills over.


Indian roots
One theory traces the origin of the Bonsai to India. Ancient Ayurvedic physicians carried back shoots from medicinal trees from the Himalayas and grew them in miniature forms in pots by trimming and cutting the roots, the tulsi being a good example of this. According to literary sources in the 12th century, it was known as Vamanatanu Vrikshadi Vidya which translates as the science of developing trees in miniature form.
Art of the matter
In the blossoming, grassy backyard garden of her Sector 16 home, feisty Rupan Deol Bajaj's Bonsai trees are peppered in all directions. "Art married to horticulture" is how this spirited lady describes it. Her Bonsai trees won the first prize at the city's annual Rose Festival held earlier this year and one of her Bonsai has also been featured in the top 100 selections from around the world.
"I have never studied botany, but in my pursuit to know about Bonsai, I have mulled over types of soils, arboriculture, plant diseases, nutrition, fertilizers, pesticides and fungicides," she declares.
Her trees are natural and are gathered from hacked hedges, the lush growth around the city and even from walls of peoples' homes! "I always carry cement with me for once I have removed the tree along with its roots entwined around the bricks I put the cement in to cover the gap."
Another one pulled out of a hedge in 1989 has taken almost 25 years to grow its lush canopy. "What delights me is that these are shapes that nature has bestowed. We don't really need to do much to change them; just help them to grow in the right proportion is enough."
And with time comes the refined elegance these trees are associated with. "I feel age is beautiful because of them. I just wish I had started earlier."
Patience & dedication
So what is necessary to start? "Patience, dedication and time because you can pick up creativity as you go along," states Mrs N. Jaspal, bonsai enthusiast, living in Sector 27. The challenge, according to her, is to keep these trees small and pretty and most importantly make them look like trees.
"Bonsai trees need lots of sun and very little mud," so her beautifully manicured lawn has her carefully cultivated collection of pilkhans, junipers, bougainvillea, peepul bonsai, among others, to catch the morning sun! "I love doing this, in fact I love anything artistic, even plants inspire me," she smiles. "The best bonsai will become a jungle if you don't trim it," is her parting shot.
And the city is stirring to this inspired art form. It has been 12 years since The Bonsai Club was founded by Kaushik in 1999 in Chandigarh with the active support of late Dr J S Sarkaria and five other experts. Kaushik himself fell "spellbound" under the magic of the Bonsai at a show in Delhi in 1993. "I started reading books, collecting the kit and it took me five years to learn this wonderful art." Today 20 to 30 groups of Bonsai club members learn and help and socialise, "keeping the momentum of this art going."
With 300 to 400 trees under training and 20 to 25 almost ready, Kaushik's collection has been carefully nurtured since 1997. "It is like caring for a child from infant to adulthood." He is also writing a comprehensive book, "Bonsai, the living art," to be published soon.

Nature Perfect
Gayatri Rajwade

There is no painting in the world as perfect or complete as nature," he muses and his work, suffused with the quintessence of nature, is an expressive verse to its vast splendour. Not just nature, even ancient temple structures find eloquence in his ability.
For his art is all about finding that elusive "dhun", that song within the heart that can be hummed forever, that his father speaks about.
Son of renowned artist Aziz, Khaleel's works are opulent canvases of trees, craggy rocks, flowing waters against a panoramic view of vividly hued skies, etched in refined detail displaying remarkable depth and clarity.
This artist-in-residence in the city has been working hard and quietly for the last seven months and has built up a celebrated body of work in Chandigarh, to call his own, far away from his home in Hyderabad.
A mural for Gen. S. F. Rodriques (retd) (who saw his work in Hyderabad and asked him to do one for the Governor House in Chandigarh), one at the UT Guesthouse, Sector 6, and several smaller pieces for Ms Jean Rodrigues make up the 'distinguished' list in the city so far. This apart from his work scattered across the country.
Khaleel is full of admiration for the General's "highly tuned" sense of art. "I never used life forms in my works but the General asked to me to add birds and to theme my work on the Shivalik Range."
Khaleel studied the ducks at the lake, the great big banyan trees around the city, the rocks and the foliage, finally making the 10x5 foot painting. Even his large canvas at the UT Guesthouse is like looking out of a window at a picturesque view.
What makes Khaleel's work stand out is the art in relief, made from mixing zinc oxide with marble powder with fierce attention to detail.
He pulls out hundreds of photographs of trees, flowers, natural scenery even temples (these are some of his exceptional works too that have even won him an award) that he has taken to get the texture right, a consistency which is attained using a knife to carve out the little niches on the relief.
The completed work is then painted over in oils and profundity of the three-dimensional effect comes into force in the play between light and shade.
It is arduous work and Khaleel sits in front of his canvas for 16 to 18 hours a day, working on this technique that he has honed in on, watching his father develop it. (Aziz's horses using this form have earned him critical acclaim worldwide.)
Art was a bygone conclusion for Khaleel. With both parents seeped in artistic endeavours (his mother makes wall-hanging carpets) all seven siblings, including him dabble in arty professions ranging from fashion designing to photography to playing the sitar to Rajasthani figurative paintings!), creativity was the very air he breathed!
"We were never forced to study but our father always insisted on us drawing and sketching. He said everything lay in observation, in following nature."
Khaleel spent his childhood biking around Hyderabad, making sketches, all inspired by nature. It is no wonder then that his first solo exhibition of 23 paintings in 2002 in Hyderabad put on view his enchantment with the stark rocky landscape of the Deccan Plateau, an exhibition inaugurated by then Governor of Andhra Pradesh Dr C. Rangarajan.
But all the plaudits skim over him. "I still have to learn so much. When I see my father's work, so perfect and powerful, I feel humbled. If someone says he has learnt it all, he is forgetting his work."
Till then he wants to keep working, canvas on the floor, kneeling in front of it, searching for that perfect tune.

Power pack
Anandita Gupta
The sunbeams of success bounce off their glowing faces and begin frolicking in their proud eyes. Fully drenched with their dreams—that are now living and breathing, these are the three city-girls who have every reason to smile.
For, they may not have been born with the proverbial silver spoons in their mouths, but they've definitely carved out some gold trimmings for themselves. A powerful pack of twenty-somethings, these young ladies have already stepped on the higher rungs of the lucrative corporate ladder.
Here's an introduction that you'd wish was yours—toppers throughout, graduation from PEC, a stint with the prestigious IIT, Delhi and yes, specialisation from IIM, Bangalore. And as if it was not enough, bombastic job offers from international biggies. Well, the introduction belongs to the three city-girls—Aarushi Nehra, Nidhi Bansal and Nidhi Gupta. Having recently returned from IIM Bangalore, after grabbing handsome-pay-packet-paying jobs, the three are already fantasizing heady days of big salaries.
"We're no reclusive geeky technocrats," the three chorus, enjoying quite a chuckle. "At IIM's, we were into all kind of extra-curricular activities—dramatics, sports, talks, art and what not. Yes, our courses are very compressed and there was a lot of pressure to perform. But, we had fun too. After all, we were doing what we loved the most," they add.
And how about brain drain—that much lamented loss of skilled intellectuals to more favourable professional environments? Chirps Nidhi Bansal, "While at IIM, I was offered this summer training with HSBC, London for 2 months. But they were so happy with my performance that they gave me a pre-placement offer. The package involves some hefty lakhs per annum, but that's not why I'm keen on it. It's the exposure of working in an international environment that I crave for."
Adds Nidhi Gupta, "I've been appointed by Deutsche Post Consult, a German company based at US, Singapore and Germany. I'm quite thrilled about the offer as it means tremendous exposure. But ultimately, I wanna settle here, in my homeland." Agrees Aarushi, "I've accepted an offer by BNP Paribas, a French bank based at amchi Mumbai. All my family has IIM professionals but we all vouched for Indian offers."
Cheers to these three spunky young women who're fuelled by integrity, passion and accomplishment. All three love Chandigarh for its lush lawns, excellent infrastructure and intellectual stimulation. And the city loves them too. For, they are among the aces in the city's power pack.

Playing on Jallianwallah
Gayatri Rajwade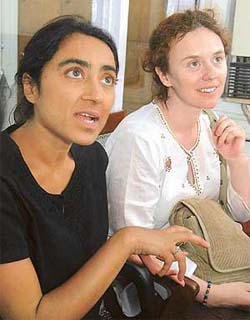 Look back in pride: Rupinderjit & Annalisa — Photo by Parvesh Chauhan
It is a surreal sense of 'Rang De Basanti' being revisited!
Here are two girls, one an Indian, born and brought up in the UK (her grandfather moved ages ago from village Uggi near Nakodar district in Jullandar) and the other a true-blue Brit, who are in India on a research quest to gather information on the Jallianwallah Bagh massacre of April 13, 1919 for a radio play for BBC Radio in England.
Sounds familiar?!
Well, the truth is, these two ladies—Rupinderjit Kaur and Annalisa Hounsome—fierce in their passion for writing, brisk in their pursuit for historical data and determined in their approach to reach as wide an audience as possible, are sparing no effort to complete their 'expedition' in the twenty odd days they have at their disposal.
What makes their story so appealing is that as freelance writers they convinced the Arts Council in England they had a story to tell and got the funding to do it!
"This is our second play and we wanted to write on a historical event and no we had not seen the movie when the idea cropped up in our minds," chuckles Annalisa. Their first play, scripted by them, 'Tiaan' (on the festival of Teej) is to be broadcast in February 2007 on BBC Radio.
The two met at Lancaster University up in the North and have been together for the past 10 years firing their delight for English and writing. Annalisa has also finished a Masters degree in film and television and the two have been "rewriting scripts forever!"
Seriously though, their screenplay, a romantic comedy about an Indian woman in England who wins a husband for her daughter on the Internet is almost ready, this apart from the children's books they have written. "Balti Towers is a cross-cultural story for young ones and has been illustrated by someone in India."
How has their Indian experience been so far, not withstanding the fact that they have come here earlier on a backpacking expedition? "The reception in Chandigarh has been overwhelming and we are meeting someone who was at Jallianwallah Bagh when the massacre took place," says Rupinderjit.
They have met up with a plethora of writers in the city like Dev Bhardwaj, Kedar Nath Kedar, Sham Singh, Govardhan Gabbi, Gul Chauhan and P S Narula to draw together material for their play.
"We came with an open mind. We know it is going to be a drama and we are looking at the possibility of telling the story from a single person's journey, even a descendant who goes back and comes to an understanding of how the events shaped history and his own life."
Does freelance writing keep their chula burning at home, so to speak?
"It is not easy," smile the girls so Rupinderjit teaches 11 to 18 year olds English and media and Annalisa works with people with learning disabilities and helps raise funds for them. They may not be the world's best paying jobs but they are "deeply satisfying."
Finally to augment their research, these two creative sparkles have also started a blog site to initiate dialogues between writers in India and England so that notes, ideas, thoughts and writings can be shared. Check out www.writersindia-blog.blogspot.com.
Life, after all, is about following dreams and passions and these two friends are determined to get their fill!

Home surely is where hearth is, but fun lies undoubtedly in the Family Lounge. This is one place where you share your joys and tribulations with the ones closest to you. Comfort takes precedence over design, but not necessarily style in the Family Lounge.
This is one room, which holds you together when the going gets tough, be vibrant enough to get up and dance with you when you are rejoicing and cuddle you up when you need warmth. Irrespective of the size, you take the lead and put things in order of your choice in Family Lounge.
Though it's a nice idea to have a singular interior theme running in the whole area or room, family lounge is where amalgamation of themes may well add to the character to the room. However, ensure that fusion does not lead to confusion!
Sink into a Queen Anne chair with a book in your hand with Victorian peg table to while away your evening, the main seating could well be fully upholstered modern sofas with English carved chairs and glass coffee table to hold the knick-knacks. English Country furniture gels well with Colonial looks. Chippendales can be married with Chinoiserie styled accessories whilst Rococo can be housed with rustic Spanish designs.
Opt for low seating for kids to make merry which could be tucked away into your bay window itself and accommodate playpen if there are babies in the house too. Floor level 'Afghani' seating is the best informal and relaxed seating option. Regular height seating for adults could be made into clusters rather than straight seats pushed against the wall. Slightly raised seating option is a kinder option for the knees of the elderly.
A bridge/chess or a board game table is useful to have in the Family Lounge. A small library can also be provided if your family members enjoying reading. Think of a mobile drinks trolley if you enjoy your tipple. A fully enclosed study table is also useful to take care of your day-to-day paperwork and bills. Is there room for a table for two to eat?
You may wish to install complete entertainment unit within this room, especially if you don't have separate room for your home theatre system. However ensure that you follow the guidelines to achieve recommended viewing distance between the screen and the seating.
If room is large enough then create a train track for kids' Thomas Engines and a mini golf range. Put an easel by the window if painting beckons you or a comfy day bed to satisfy the couch potato in you.
If you feel restricted by the faux finishes or textures on the walls and wall paneling is too formal, then bravely play with alternative materials and paints to create a haven for yourself. Put textured leatherette upto three feet from bottom and top it with contrasting wall paint. Get stripes painted on the wall rather than singular colour. Create a fabric umbrella for the ceiling. Alternatively stretch ethnic or embroided fabrics onto four wooden frames. Now suspend these panels from the ceiling.
If the furniture is heavy and the flooring rich, choose blinds, shades or just textured glass for windows. Alternatively, if furniture is sleek and the flooring is plush, opt for drapes, valances and curtains. Best lighting option is to have sliding control light fittings; downlighters for reading, painting or board game activities, uplighters to create diffused lighting in darker recesses of the room and lamps placed judiciously to add style.
Family Lounge is an ideal place to create a cluster of your family photos. Choose paintings and prints, which complement the interiors you have created or give two hoots and hang what you wish to on the walls.
Courtsey: A.P. Singh
Besten & Co.

After the success of his play Ek Aur Dronacharya, city director Umesh Kant is all set to explore truth in his forthcoming play Ek Satya Harishchandra, says Parbina Rashid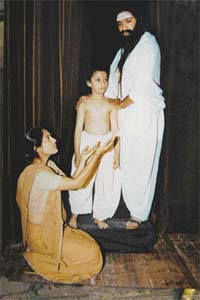 UPSTAGE: A scene from Ek Aur Dronacharya that has won director Umesh Kant (below) and award.
— Photos by Parvesh Chauhan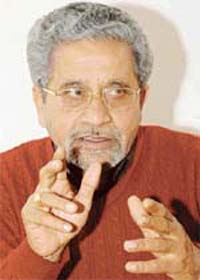 What is the common thing between Raja Harishchandra and a modern day politician? To quote our own theatre personality Umesh Kant, both have been sold out, one for the truth, and the other for reasons that can be anything from money to religion or maybe for no reason at all. This is what Umesh is planning to explore in his next production Ek Satya Harishchandra— what makes people to sell out their soul.
Buoyed with enthusiasm after his Ek Aur Dronacharya became a major hit at the Sudershan Rang Mahotsav in Pune (it was adjudged the best play of the year), Umesh is all set to start Ek Satya … with a renewed vigour. And of course he has a reason for it, for he already has received an invitation to take part in the festival this year too.
"This script by Dr Laxmi Narayan Lal has been lying with me for a long time. I have been thinking to make a play on this as anybody can relate to this topic," says Umesh. This hard-hitting play is going probe into questions like 'what is truth, is it right to hail Raja Harishchandra who was stupid enough to sacrifice everything just to prove himself right or a normal person who lives life smoothly, without hurting others or making much compromises in life?'
This, Umesh is going to show through two parallel characters, one ofcourse Raja Harischandra and the other a politician called 'Deodhar' who sometimes sells his self-respect, honestly and conscience for none other than materialistic gain. "The most interesting aspect about buying and selling, which has come out during my research for this play is one who has sold himself once will always be the seller and never the buyer," says Umesh. Interesting observation!
Umesh now is looking for a cast of 22 actors, dancers and musicians to be part of his production. "I have finalised a few actors but I am looking for new faces for this play," says Umesh, adding that he is going to hold an audition either by the end of April or first week of May to finalise the cast. And to fit his bill, one has to be a mature and serious actor.
To be produced under the banner 'Theatre Lab', the play will see some new innovations in the technical aspect too. "This one is going to be a Sanskritised based play in which I will use human forms to create backgrounds with minimalistic set designing," as he paints a mental picture, we can not help but making a comparison with the famous Vijay Tendulkar's play Ghasiram Kotwal and he agrees, "Yes, something similar."
And this inspiration to be experimental came from his newfound knowledge that though Marathi and Gujarati theatre is far ahead of us, when it comes to the technical aspect, Chandigarh has a lot to offer. This is the major point that helped his Ek Aur Dronacharya beat eight other productions at the national level.
He has done us proud once and by the time he finishes painting his dream to us, we know he is going to make it again!

CAMPUS CAFE
A bejewelled affair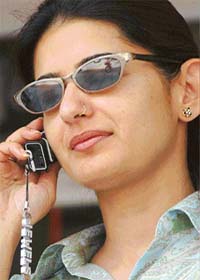 Alluring strings with sparkling alphabets secured tightly to the mobile phones are spelling out fashion on the Panjab University campus and college grounds, glamorously.
If you haven't seen the cords with diamond-studded letters stringed together to form names, even `I love you' messages, just drive down the road winding its way through the academic environs. You will find the faux diamond letters gleaming in the sun as so many damsels of the world trot down the campuses swinging the phones, gorgeously.
Right guys, bejeweled letters the latest craze amidst youngsters spinning in a commercial world of malls and mobiles. "Gone are the days when the guys would present plastic key chains with embossed names to their gals. Or else, go in for bracelets with tiny beads secured together with a thread, again to form names," says Chetan Kumar, a student of Panjab University's Department of Laws. "They now go in for the sparkling jewels to say materialistically what's deep in their emotional hearts".
Just in case you haven't picked up the stuff, do not worry. You can still take home the jewels, or gift them tenderly to someone you love, by pulling out some hard currency. "For each alphabet, you have to pay something like Rs 35. Then you have to pay another Rs 50 for the strap attached to the string on which the silver-plated studded alphabets are secured," says Raman of Jewels in Sector 11. "So, you end up paying more if your gal has a long name. But the end product is worth the cost. After all, the smile on her face is priceless".
If you do not wish to spend so much on the stuff, you can go in for plain silver-plated letters. "Each alphabet is costing just Rs 10," says Raman. "You can indulge in further cost-cutting by buying a wrist strap instead of a mobile string". In funky red, alluring orange, oceanic blue, baby pink and host of other colours, each strap is costing just Rs 20". So guys, hop into your car and pick up the stuff. What are you waiting for?
Scrumptious reward
Here is another reason why you should have studied before the annual examinations: Nirula's is rewarding the students who have performed exceptionally well. In fact, the fast food joint is giving "triple sundaes" free to students securing above 90 per cent. All you have to do is to drive down to the joint with your detailed mark sheet and grab the sundae without pulling anything out of your wallet. And kids, don't miss the opportunity. For, the delicacy is otherwise costing as much as Rs 75. But you will have to hurry for the offer is valid just till end of this month.
Charm around his ears
If you think gals have all the fun with jewellery, and there is hardly anything available for the guys patrolling the length and the breadth of the campuses, you are divorced from reality, actually. For, chunk jewellery shops across the city are offering funky ear rings in ebony for guys too.
Right, you can wear them in one or both the ear lobes for that cool dude look. Go in for the ones shaped like a snake. Or else, pick up the ones carved out like a scorpion. You can go in for the traditional hoops also.
Folks, the stuff is not very expensive either. "Each ring is costing anywhere between Rs 45 and Rs 75 depending upon the size and the design," says Yogender Kumar of a gift and chunk jewellery shop in Sector 11. "They look good and tend to give you that oh-so-hard-to-resist macho image". So guys, why should girls have all the fun! Pick up the stuff, now!
— Saurabh Malik

YOUTH SPEAK
Know yourself

Knowing oneself is the most important aspect of life and most difficult too. But one has to do it and once it is done, half of the battle is won. All I want to say is know yourself and believe in yourself.
As it is said if you love your job, you don't have to work even for a single day. Let me explain. Take this example— as children grow up some like playing with cars, some with bats and some with guns. This shows that every child has different interests and inclinations. We need to see where our interest lies-cars, bats or guns. We need to realise that all of us have certain distinct traits or qualities. We have to see what we have inside us. We have to look for it.
And yes, don't be bothered by others. As I said believe in your self. And as the great spiritual leader Osho said—"the greatest courage in the world is not to imitate others, to live one's own life as authentically as possible, what so ever the cost.
Live your life without being bothered by the moralists, puritans, priests and people who go on advising. Live your life." And by pressurising your self into doing something that you don't want to do will only make you unhappy. So if you have a dream or are passionate about some thing then you must persevere and not give up if no one else believes you. If we enter a field that does not interest us, we can never grow in that field. Lack of interest will result in lack of hard work, which will eventually lead you to failure.
So in the end-see where your interest is, what your inner soul says. Respect your feelings and go for the kill. Listen to others but always follow your gut feeling. It will never betray you.
— Varun Garg

HOPSCOTCH
To be or not to be
Long years ago one saw a rather poignant sketch of two birds painted by late Kaushik Sahib, an artist of the city. One bird stood on the ground and the other was stretching its wings in flight. The sketch is still etched in memory and what is more one even recalls the very poetic caption: "Those who stood rooted to the ground; and those who flew away.' Some lines are hard to forget and more so those that touch the dilemma of life. I remember Kaushik explained the line saying that it was inspired by one of his sisters who moved abroad and settled there. That was his personal inspiration for the drawing that had to it an element of sadness that one finds hard to explain. It is something like, to be or not to be very Hamlet like. Come to the life of the artists, of the city this dilemma has been one that has to be constantly addressed and there are actually some who take wing and fly away to more vibrant art climes and there are others who stuck it out here for reasons that may not necessarily have to do with art but heart. The outcome was predictable. Those who flew away got a larger share of fame, name and money. Those who stayed back remained relatively unknown for that's how it will be…Que Sera Sera.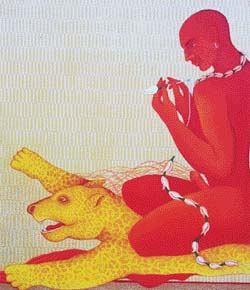 MAN & WOMAN: A painting by Viren Tanwar
Global market
An artist who was in midst of this dilemma in recent times is none other than the very talented Viren Tanwar who is back to painting, showing and selling like never before. Gallery owners and other promoters of his art wanted him to be in Delhi where the scene is. So there was this lone Haryanvi Jat painter of the country looking for a studio-cum- home in the Nirvana complex in Gurgaon. But he realised that there was no Nirvana there for the painter who was basically a small-town boy having traversed from Hisar to Chandigarh. So he decided to paint in his Sector-48 home here. But the small town boy is certainly going places with a complete sellout at a show recently in Singapore and another group show coming up at Lahore to be followed by a show in Hong Kong. So to cut the long story short, it is not a bad idea to paint in C'garh and exhibit and sell all over the globe for we are now living in a global village.
Life of a writer
A meeting with Hindi poet Gagan Gill, who was married to celebrated fiction writer Nirmal Verma and also happens to be older sister to Rabbi of the Bulla fame, got one looking before and after. Sharing her experience of giving up journalism and devoting herself fully to writing, Gagan said, "Just being a writer was not enough, I wanted to live the life of a writer." Aqfter the initial hesitation of accepting the statement, One realised that there was merit in what she said. And going by the blossoming art market, one is tempted to live the life of an artist. Well, Que Sera again!
— Nirupama Dutt

FILM & FASHION
Elton John patches up with George Michael
Veteran singer Sir Elton John has requested his one time pal George Michael to end their simmering feud, telling the former Wham! singer "he's still his friend." The British pop star recently blamed the 59-year-old superstar over his troubled lifestyle, saying, "Elton's turned my life into a soap opera." But Elton instead has paid a deaf ear to George's latest verbal assault, insisting that he's tired of all the verbal sniping and wants the feud to end.
Friends of the mega-rich star say his refusal to respond "speaks volumes" and signals his desire to put the bitching behind them.
Charlie Sheen accused of taking drugs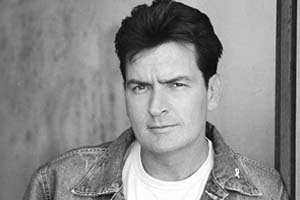 Charlie Sheen
Denise Richards, the estranged wife of actor Charlie Sheen, has claimed that her star husband literally begged her to keep his painkiller problems a secret, when she caught him guzzling Zanex on their honeymoon.
Richards, who is currently in the middle of a bitter divorce battle with Sheen, is now washing the dirty linen in public, revealing her husband's dark secrets in new legal papers, filed last week.
"When we went on our honeymoon, the Respondent took Zanex.
Respondent told me not to tell anybody that he was taking Zanex because he told me that in Alcoholics Anonymous, it would be considered breaking his sobriety for him to be taking this drug," Contactmusic quoted Richards, as writing in the documents.

NEW RELEASES
A dose of the deadly
A consummate craftsman Ram Gopal Verma, in association with Sahara One Motion Pictures and K. Sera Sera, is ready to storm the silver screen with his bone-chilling thriller, taking a close look at seven different stories of terror woven in one film. A highlight of this film is one feature film with seven episodes directed by seven directors — Ram Gopal Verma, Chakravarthy, (bearded hero of Satya), Manish Gupta, Jijy Philip, Sajid Khan, Prawaal Raman and Vivek Shah. Darna Zaroori Hai is a sequel to Ram Gopal Verma's moderately successful Darna Mana Hai. The heavily promotional videos of 'Darna Zaroori Hai' have already generated a lot of interest among the viewers. This one will be released at Neelam Chandigarh, Fun Republic, Manimajra.
Nitin Raikwar and Taabish Romani, who have been associated with Ram Gopal Verma with number of projects, have composed the songs along with Shailendra Burve. Jeetendra Joshi also pens lyrics for this thriller, which will command the viewers to go and get scared. Amitabh Bachchan, Anil Kapoor, Suneil Shetty, Randeep Hooda, Riteish Deshmukh, Arjun Rampal, Mohit Ahlawat, Makrand Deshpande, Manoj Pahwa and Rajpal Yadav are the lead stars. Bipasha Basu, Sonali Kulkarni, Nisha Kothari and Mallika Sherawat also star in this film.
****
Most criminals meet with a tragic end because of the woman in their life. This sowed the seeds for making 'Gangster', says Anurag Basu, who earlier directed 'Murder' for Bhatt Camp. 'Gangster' is produced by Mahesh Bhatt and Mukesh Bhatt, the dynamic duo who have never shyed away from experimenting with something new and something different. 'Gangster' is also different because Anurag Basu zeros in on pretty and natural locations of Seoul in South Korea which has been first time tapped by a Hindi filmmaker. It opens today at Piccadily, Chandigarh and Fun Republic.
Regarding Vishesh Films 'Gangster', its director says that this film centres around a love triangle set against a backdrop of crime. It is reportedly inspired by Abu Salem and Monica Bedi's love story.
Emraan Hashmi, Shiney Ahuja and Kangana Ranaunt play lead roles. 'Dhoom' fame Pritam composes music for 'Gangster'.
****
PVR Pictures 'The Mistress of Spices' starring Aishwarya Rai, Dylan McDermot, Nitin Ganatra and Padam Lakshmi will also see a release today at Fun Republic. Debutant Director Paul Mayeda promises difference in this film, which is based on a novel written by Chitra Banerjee Divakaruni in 1997. Deepak Nayar and Gurinder Chadha have produced this film.
— D.P.