HOLLYWOOD HUES
Flatters to deceive
Director Michael Caton-Jones tries too hard and the plethora of suspicion and red herrings are counter-productive, writes Ervell E. Menezes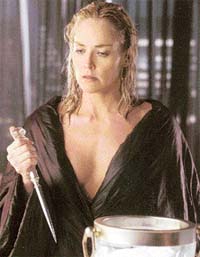 Sharon Stone in Basic Instinct 2: Risk Addiction
Remember Sharon Stone of the crossing and uncrossing legs fame or notoriety (depending on which way you look at it)? Well, that was in 1992 when as a prime suspect she seduced suspended detective Michael Douglas. Now, 14 years later, Hollywood has resurrected her, brought her from Los Angeles to London and along with British yesteryear sex kitten Charlotte Rampling tried to revive the oomph but alas one "o" is clearly missing. Methinks director Michael Caton-Jones tries too hard and the plethora of suspicion and red herrings liberally sprinkled are eventually counter-productive.
There are some good one-liners, shocking, like in the parent film and Ms Stone does her best to deliver them with her 14-year retrospective aplomb. The chemistry between her as best-selling crime novelist Catherine Tramell and respected London criminal psychiatrist Dr Michael Glass (David Morrissey) works initially, both wanting to be in total control, but the anything-is-possible psychiatric credo leaves too many blanks that are its undoing.
Beginning with the death of a famous sports star (did she kill him?), Tramell is out to make her point. But she also uses life and its anecdotes as part of her novelís plots. So, thereís a thin line separating the two. Detective Superintendent Roy Washburn (David Thewilis) is the third arm of the triangle and his bona fides are questionable. Of course there is another, Dr Glassís mentor and senior psychiatrist Dr Milena Gardosh (Charlotte Rampling), but she is essentially decorative.
"Iím going to take a jacussi, care to join me?" Tramell tells Dr Glass, but it is just one of her many erotic lines. Showing enough cleft to sink a ship in and oozing as much sex as she can after this long hiatus our heroine is much too predictable (there are fewer closeups, naturally). The story meanders along with our sex siren trying to alarm the audience with her basic and not-so-basic instincts, but alarm for alarmís sake is no alarm at all. The "whatís next?" is never too strong and when the plot runs out of ideas, well`85 Or are they quite naturally thinking of the sequel?
For the record there is an Indian, Indira Verma, who plays Dr Glassí ex-wife but apart from that the action is far from absorbing. In fairness to Ms Stone she does her best to revive those near-dying embers and David Morrissey, looking a bit like Michael Madson, has the talent to go places and is quite believable in the first half, but otherwise the film is rather ordinary óflatters only to deceive. To sum up as Sharon Stone would, itís all foreplay, no orgasm, cinematic or otherwise.