Age a bar
Modelling world is not exactly a safe place for too young, so don't start real early. That's model Shivani Kapoor's advice for youngsters, says Saurabh Malik after a tête-à-tête with her.

You can easily mistake her for a just-out-of-school student visiting Chandigarh in the May of her life. For, the lissome beauty with a magnetic smile complementing her ivory-chiseled visage and a translucent complexion has the look of innocence that comes only from protective exposure to the tainted ways of the world.
It's only when you look into Lakme model Shivani Kapoor's starry eyes — set on the tinsel world — that the realization dawns: The 21-year-old model has managed to preserve that air of ingenuousness despite years of hard professional experience.
As she speaks about the disadvantages of starting young in the glittery world of modeling, you realize that the beauty is not without brains. Raising her silky tresses before allowing them to fall in a tumbling cascade over her fragile shoulders, she says: "Modeling world is not exactly the safest place for the very young". Looking concerned, she says: "In the West, girls venture out in the world of modeling at the tender age of 14 or 15. But fascinated by the ardent ways of the glamorous world and dazzled by its exquisiteness, it's not easy to know which way you are going. So, it is absolutely essential to be well-grounded."
But isn't it advantageous to start young? After all, the industry wants fresh and innocent faces for promoting not only brands, but also ideas and services! "Fresh faces are required, but then the youngsters should have a fairly good idea about what they are doing," she asserts before raising her heavily bangled arm.  There is another disadvantage you notice as she speaks. In the absence of ample sensibility, so many young reed-thin models, gorgeously sashaying down the narrow ramp of life nowadays, give you the impression that they lack individuality. In fact, you feel they are cloning each other as they catwalk displaying more than just confidence.
Back to Shivani, a heady cocktail of intoxicating youth and stimulating innocence may have taken her places, but then "the Lakme look of the year" she says, started only at the age of 17. "I left school in South London to pursue a career in modeling and acting in India. I basically wanted to explore the modeling industry in Mumbai. I came here and did a couple of shows. After receiving good response, I got myself clicked and went straight to the Lakme people. Within a week, I was selected".  Just in case you have missed Shivani, she is Bollywood stars' Karisma and Kareena Kapoor's distant cousin. But that's not her only claim to fame. Shivani's gorgeous features were only recently splashed all over in the run-up to the Lakme India Fashion Week (LIFW).
In Chandigarh for the inauguration of Lakme's fourth beauty salon here, she denies signing with the director Sanjay Leela Bhansali for appearing in the lead role opposite Salman Khan in his forthcoming flick Bajirao Mastani — a story about the King Peshwa Bajirao and a courtesan. "Nothing is final yet," she asserts categorically in heavily accented English. Well, let's hope she learns some Hindi before something finalizes.

Another reason to cheer
Saurabh Malik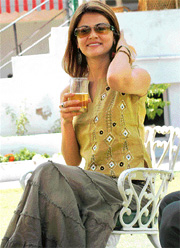 In-house bars are raising the spirits of so many city residents, steadily. It may hit you like a hard drink, but the bars — offering a heady cocktail of unadulterated home environment and alluring bottles full of pleasure — are giving the residents another reason to cheer, merrily. If you are having any doubts about the intoxicating popularity of the home-bar concept, just stagger into palatial bungalows in the posh northern sectors or regular flats in the newly-rich southern ones. You will find bars carved out of mahogany locking in excitement in the well-lit corners of the houses.
Bubbling prevalence
Wondering why the stimulating concept is hitting the houses in a big way? Well, changed attitude towards guzzling is one of the reasons. "Indian lifestyle and habits have evolved over the past two decades," says city-based architect Shikhaa Verma. "Gone are the days when even young professionals avoided tossing down liquor in their parents' presence. Now, living life in a material whirl of mobiles and malls, socializing over drinks is part of their lifestyle.
In fact, it has become an accepted norm in the society. That's why entertaining with drinks without leaving the comfort of ones residence is no longer considered a taboo in most households."
Then there is another reason. Running her own firm "Design Atellier", Verma says: "Drinks have become a public relations' tool. So many residents nowadays invite business associates and other acquaintances for drinks just to improve their professional ties. And what can be a better place than home to further build up relationships".
No wonder, every other house the architects nowadays plan has a cheerful corner specially designed to accommodate a bar. This is not all. Raising a toast to the trend of social interaction over drinks and dinner, furniture houses across the have come up with ready-to-move-bars.
Go to the furniture market in Sector 34 and you will find almost all the shops displaying the bars carved out of teakwood with melamine finish. Like drinks, you can have a choice of colour too. For, the bars are available in rose, teak, walnut and oak finishes to suit the room décor. You can buy one for less than Rs 5,000.
Space no bar
Just in case you are getting hooked to the concept, but consider space to be a stumbling block, do not worry. For, the bars require very little space. "You do not have to change the basic structure of your house for saying cheers to a home bar," says Verma. "All you require is a nice corner. You can even fit the bar along the room walls after keeping in mind the seating arrangement. The bar stools can be placed on either side of the bar".
You can also go in for small-size bars. "These entry-level bars rotate around their axis and give you the appearance of a single shelf from the front," says Charanjit Singh, dealing with furniture for past three decades. "Rotate the bar to bring glass shelves to the fore. Turn again and you will find sparkling cut glasses dazzling in synthetic daylight".
In any case remember appropriate use of space only enhances the room's beauty. So you do not even have to be a bursting-at-brim-devotee of Bacchus for bringing home a bar. If you have a corner waiting to be occupied, just wheel in the connoisseur's delight.

Resurrection of the radio
Tuning-In with Hardeep S. Chandpuri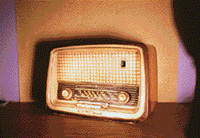 Friends, do you remember the button marked 'FM' that all of us had on our old 'Made- in-Japan' 2-in-1's, I mean when you turned it on, one could just hear the hissing sound and nothing else. And how could you forget the FM Stereo light that never lit, because it never caught the signal. Déjà vu..right? Now the time has come to dust your old radio sets and get them ready because the FM radio revolution has come. We have all been hearing stories about the resurrection of Radio for the past so many years, but how far are they true? Well, it's time we looked at that.
Frequency Modulation (FM) as a technology has been in India since 23 July 1977, when the first FM radio station was launched in Madras by AIR. But sadly, FM's potential was never exploited and it was left to fend for itself. The FM service got a shot in the arm in the year 1992, when AIR setup a FM station at Jalandhar.
The very next year, the Government announced the introduction of time-slots that could be given to private parties on AIR FM stations at Delhi and Bombay. The response was enormous and many producers came and started slowly, but surely. Sadly, the hullabaloo could not sustain for long and the AIR authorities pulled the plug in 1998, bringing to an end some really creative efforts.
In 1999, the Government came with a very ambitious plan to popularise FM radio in all major cities of India and auctioned frequencies on the "License fee" model, which became a bone of contention between the Government and the private operators. It was this phase that gave birth to Radio Mirchi, Red FM, Radio City, Go FM, Win FM etc.
But the stringent policies and a very high license fee came as a big stumbling block and that led to heavy losses for the operators. Keeping this in mind, the Government on the recommendations of a high level committee came up with the more popular "Revenue Sharing" model on whose basis; it again asked private parties to apply for various FM stations in India.
In 2005, the private operators were offered a total of 336 frequencies in 91 cities which were lapped up, thus bringing us on the verge of a new era of quality entertainment and of course, lead us away from the world dominated by the omnipresent 'K' factor world.
Are you tuned-in to this opportunity…are you?
The writer is a renowned radio personality running Radio Buzz, a voice trainer and an international broadcaster

Mirror image
Gayatri Rajwade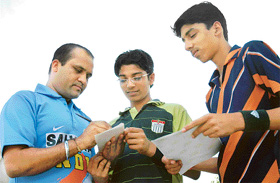 NO KIDDING: Jeevan Sharma signs autographs. — Photo by Pardeep Tewari

This one is a bouncer that leaves you askance! What on earth is Virender Sehwag doing wandering about quite so nonchalant, files tucked under his arm? Well, in clichéd parlance, this is the double take for this is Sehwag look-alike Jeevan Sharma who, incidentally, is on his way to becoming Sehwag Sharma, officially, through an affidavit no less!
It all started three years ago, in 2002 when a friend realised that Jeevan alias Sehwag (well that is his official name soon!) looked so much like the celebrated Indian cricketer.
He is now "in the acting and modelling line" with an array of comedy shows and spoofs behind him- all in the avatar of Sehwag of course! 'Simply Shekhar', 'MTV Fully Faltu', 'Hotel Kingston' on Star One, 'Friday Comedy Show' on Sahara One and even advertisements for Saras Milk and for job placement internet site Monster.com which plays on placing the right person in the wrong job. The ad is a scream where Jeevan is shown washing clothes at a dhobi ghat and he suddenly finds himself on the cricket pitch, everyone cheering for him, believing him to be Sehwag!
What is more, this Sehwag comes much cheaper too! Jeevan charged Rs 30,000 for a print advert that would have cost a cool one and half crore rupees had the original been approached!
Has he met the original mirror-image ever? "Yes I have met Sehwag and he was happy to meet me but when I tried recently to meet him in Ludhiana, where he had come a few days ago, he refused to recognise me, although he did look at me and that hurt," he says quietly.
For this erstwhile cloth-cutter from Ludhiana, hopes are now pinned on making it to serials on his own steam, as himself. "Comedy is my forte. In fact, I really want to meet Hollywood biggie Jim Carey someday, who I consider to be better than even our Johnny Lever."
A celebrity in his own right, he has cheery anecdotes to share. A meeting with actor Manisha Koirala when she asked him why he was not in Bangladesh for the match scheduled there that day and a gathering mob that asked him to get off the car he was travelling in so they could break the glass in glee!
So what is his ultimate dream? Here comes the surprise—no cricketing reveries or high-flying Bollywood aspirations—a simple heartfelt desire to meet 'Madam' Sonia Gandhi! "I have campaigned for the Congress on several occasions and no money in the world can lure me away from them," he declares fiercely. A man of many surprises this!

Lens woman
Gayatri Rajwade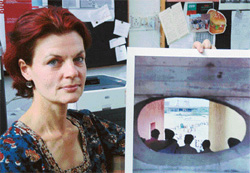 See the city through the rose-pink hues of this photographer's gaze and what you see is, indeed, beautiful. For German photographer Barbara Hoegner, Chandigarh is a "design museum", a space that transforms the ordinary trivialities of living into an urban setting speaking with vibrant perspicuity. It all started five years ago when she came here first in 2001 to do a series of photographs on the social aspect of the city in contrast to its architecture, assigned by a research institute of anthropology, Frobenius-Institute, in Frankfurt. She ran through her ten allotted days, tense, in anticipation of the impending deadline but resolved to come back to collect visuals for an independent exhibition. Back in 2005, she found the city had changed, opened up a lot more.
"Did I not notice the details earlier?" she had asked.
Sitting pretty at the Chandigarh College of Architecture with Professor Kiran Joshi, who she had come to interview, she speaks of how the Museum of World Cultures in Frankfurt will present a show of 50 of her images as part of the cultural program dedicated to India during the International Book Fair from October 2006 to January 2007, to be held in Frankfurt.
She is also putting together a coffee table book aptly titled, "Living with Le Corbusier—The Indian Modernist City of Chandigarh, as her ode to the place she loves so much.
Sitting at the Chandigarh College of Architecture, she flips through the model of her book, a 120 page tome which showcases images of, "what people have made of the city, how they live in this space which combines modern techniques with organic forms." So is there a Corbusier culture to this city? "I will only know once my PhD (which she has enrolled for in Frankfurt and the subject being, of course, Chandigarh!), is over," she quips.
Her dazzle for the city remains intact albeit through an anthropologist's eye, which she professes to possess in abundance! Hence, her book will contain voices of people too. Voices that speak of the comfort the city provides, but "I first collect and then select, so I really cannot say."
How does the book differ from what has already been published on Chandigarh? "Well most of the work is without the people and that is where my book and exhibition is different. This aspect is really important to me."
Indeed her blend of visuals has people eking out their existence against the backdrop, but the architecture aspect does not overpower the images.
"Corbusier brought in his brand of architecture from Europe to a foreign country, India, and it worked out."
So obviously no 'Corbusier bashing', as is the fashion, for this starry-eyed lady! Work meanwhile goes on. A black and white exhibition on senior citizens awaits her back home and she hopes to click something "old and remote" in India, "for being a foreigner here, I want to see something exotic!"

Animal instinct
Shilpa Shetty poses as a caged circus creature to bring the message home for ethical treatment of animals, says Vishal Gulati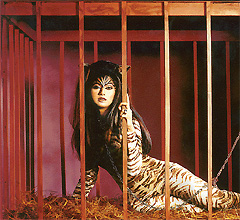 CAGED BEAUTY: Shilpa Shetty draws sympathy for caged animals

After Booker prize-winner Arundhati Roy and Bollywood hero Aamir Khan for supporting Narmada Bachao Andolan, now it is another Bollywood actress Shilpa Shetty for speaking up for a social cause. She has joined an advertisement campaign with PETA (People for the Ethical Treatment of Animals) to boycott the circuses that use animals for performance. The aim of the campaign is to highlight the plight of the dumb creatures, which spent most of their life in a small cage, barely larger than their size.
Confined to a cage, the chained Shilpa tries to portray the miseries of circus animals. Shot by ace lensman Atul Kasbekar, the advertisement encourages Shilpa's fans to boycott the circus that uses the animals for amusement.
"Beaten, lonely and abused — boycott the circus" is the punch line of the campaign.
Anuradha Sawhney, Chief Functionary, PETA India, says: "The aim of the campaign is to educate the common man that the animals do not naturally ride bicycles, stand on their heads or jump through rings of fire. The handlers use various methods to train the animals. At times, even electrical shocks are given during the training. The animals perform only due to fear. In the wild the tiger is afraid of fire, but in the circus it is forced to jump from the rings of fire."
The use of bears, monkeys, tigers, panthers and lions has been banned in India since 1998. However, some other animals like dogs, horses and elephants are used for entertainment. The use of animals in Sweden, Denmark, Finland, Switzerland and the UK has been totally banned.
The best way to help the animals is to boycott the circus that uses them, pleads Shilpa in the campaign.
Other celebrities who have helped PETA in various campaigns included Isha Koppikar, Amisha Patel, Rahul Khanna, Rahul Dev, Alec Baldwin, Kim Basinger and Goldie Hawn.

Midas touch
Anandita Gupta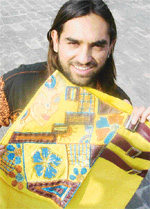 He researches fabric, he dreams, he designs. No wonder, fashion and this young man go together like a hand in a well-stitched glove. Perhaps that's why this young Harayanivi lad has been spinning his gossamer web of designs since he was five! Meet NIFDian Balwinder Singh Sandon, who's lived on this planet for 24 years now, but has earned much more than his weight in gold. Yes! This young designer has already got his hands full with orders worth Rs. 16 crores and a couple of lakhs.
The joy of creating flows in his veins. It all began when he was an infant. "I always smiled and giggled when my mom picked up certain coloured outfits and frowned at others. That was my way of voicing my choice then. As I grew up, I started getting too involved with what everyone was wearing. Then, I happened to visit Delhi, where I trekked the markets of Gandhi Nagar and Chandani Chowk for weeks where I studied trends. And amidst it all, I discovered that designing clothes was what I was meant for and joined INIFD, Chandigarh," chirps the fashion designer.
Running his fingers through his long, unkempt hair, the Bindaas looking designer explains, "Recently, I've got an order for making 3 lakh shirts for China. I combined funky with formal in the samples I sent and they simply loved it. Before that I got an order from a company—Trans Euro Import and Export for 300 skirts and t-shirts to Canada. I used lots of linen, jute and goonj net in my garments and ended up getting many more orders," he smiles proudly.
Having left his Law course mid-way to feed his passion, Sandon has just one regret, "Our institutes focus a lot on theory, whereas in France and all other fashion hubs of the world, all they do is practical designing. But my institute gave me a great platform by appreciating my practical work and ignoring my low scores in theory." So, is he trying to say that classroom teaching has absolutely no relevance for fashion designers? "No, exposure is important. One needs to see fashion shows, glossies, visit apparel shops and learn the basics. Especially sketching, stitching and drafting are important skills classroom imparts you with. But undue weightage on scores is not important," he clarifies.
Dreams that beckon him? "Making it big internationally and start my own designer label," pat comes the reply. He's already hand-picked those dust-sprinkled dreams of his and lended them the Midas-touch. Lets hope the wisps and wafts of his fabrics soon take wings and make him fly. Higher and Higher!

Bengal beckons
Parbina Rashid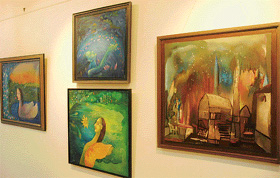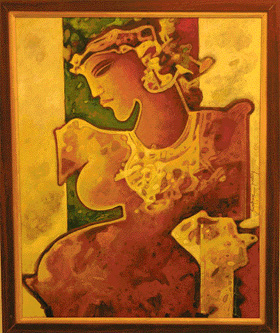 BENGAL BEAUTY: Twelve artists from Bengal showcase their works at Art Folio.
— Photos by Parvesh Chauhan

If the contemporary form of art is your kind of thing, then Art Folio's current exhibition has a lot to offer. Though an unimaginatively simple title 'Contemporary Forms—an exhibition of paintings from Bengal' fails to evoke much enthusiasm initially, your perception changes entirely as you walk in and you are glad that you braved the heat to be there.
We start our round with Sumita Maiti's portraits of women. Using bright colours and juxtaposing forms in mixed media, this self-taught artist has captured the jubilant mood of women — women reaching out the moon! Next to her painting are her husband Somnath Maity's 'Structure' series and you immediately know where Sumita's knowledge of balancing colour had come from. Somnath, with a little touch of mystical surrealism, has captured the cityscape, each telling a tale, which is as eloquent as it is aesthetically sound.
The forms and subjects you get to see here are so varied that you tend to lose track of the previous ones as you move into the works of the next artist. But give a little thought and you see the connecting thread—this is an exhibition, which defines the current trends in the Bengal school of art.
Have a look at Subbdha Gosh's old homes. His fascination for old structures fascinates you too. Be it a composition like letter boxes or a room with a view, he captures everything with amazing details and what heightens the visual appeal in his works is the way he plays with light and shade. Move on to the next artist, Sudipta Tewari's charcoal drawings of a woman and a man, both looking for peace. The trance in their meditative faces is so alluring that one cannot help but get drawn towards it.
Once you taste the meditative power, it's time to move into the world of divinity. Two artists, Aloke Sardar and Swapan K. Saha, have worked extensively on that, Aloke on Kali and other deities and Swapan on Maa Durga. Aloke gives a folk touch to his deities while Maa Durga adorns a different avtaar in Swapan's hands.
Others like Debabrata Chakrabarty, Dipti Chakrabarti and Shyamal Mukharjee have come up with works that shows the strong influence of the Bengal School's figurative tradition, but interpreted in the contemporary idiom. Standing out tall and big are Sagar Bhowmik's positive and negative series, which the artist has managed to portray within the same canvas, using monochrome in one part and colours on the other. One cannot help but remain wonderstruck at the way the artist has executed those detailed works with such economy of colour. On the other hand Parag Adhikari has brings out his good old-fashioned seascapes in acrylic.
Though the Bengal art is nothing new to the city, this is one exhibition that gives you an opportunity to see some quality works.

Masti and mayhem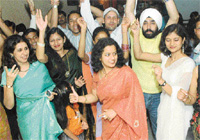 Presenting ourselves favourably is a basic human need we all have. An important part of this involves building the trust of others in us, both personally and professionally. And etiquette, implying a good, pleasing, acceptable and considerate behaviour helps in the same. Perhaps this is what made the Finesse Institute, Sector 32-D organise a workshop on party etiquette and table manners recently. From nuances of invitation making, seating plan, menu planning,
table-laying and making social conversations, it was all there. And of course, music, masti and mayhem was all there too! — TNS



FILM REVIEW
Perfect thriller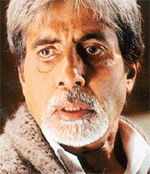 Amitabh Bachchan in 'Darna Zaroori Hai'

Rama Gopal Verma, Sahara One Motion Pictures and K. Sera Sera are back with the latest 'Darna Zaroori Hai', the latest in the series of their bone-chilling thrillers. It is a gripping tale of seven stories of terror in one film, which promises much more thrills than Ram Gopal Verma's last experimental film 'Darna Mana Hai'. 'Darna Zaroori Hai' is a sequel of 'Darna Mana Hai'. The film turns out to be a perfect thriller which has a good script and its execution is even better.
The seven episodes of 'Darna Zaroori Hai' are directed by Ram Gopal Verma, Jijy Philip, Prawaal Raman, Chakravarthy, Manish Gupta and Vivek Shah. All dare to blend thrills with entertainment. The film has songs that are well composed and written by Tabish Ramani and Nitin Raikwar.
'Darna Zaroori Hai' has some good performances by Amitabh Bachchan, Anil Kapoor, Arjun Rampal, Suneil Shetty, Randeep Hooda, Rajpal Yadav, Makrand Deshpande, Bipasha Basu, Mallika Sherawat and Sonali Kulkarni. Hats off to Ram Gopal Verma camp for making a perfect thriller, which opened on Friday at Neelam Chandigarh. Fun Republic Manimajra and K.C. Panchkula.
« « « «
Mukesh Bhatt's 'Gangster' has a tagline: "She fell in love with him the day she betrayed him..." This one is presented by Vishesh Films. 'Gangster' is very moving film of fugitive on the run, which sets you thinking. And there is not a single boring moment from beginning to the climax.
Shot widely in the pretty and natural locations of Seoul in Korea, 'Gangster' like the other Bhatt camp movies too is technically sound. And there are a couple of good songs composed by 'Dhoom' fame composer Pritam.
Emraan Hashmi, Shiney Ahuja and debutant Kangna Ranaut all perform well. 'Ganster' opened on Friday at Piccadily, Chandigarh and Fun Republic Manimajra.
— D.P.

FUN WITH FASHION
Sizzling in style
Anandita Gupta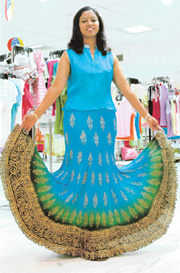 Guess what's the tacky trend that's trickled down to town? Recently singing the fashion ramps, this trend's now sizzling the city streets with style. Heating up the city's fashion circuit is the summerish skirt— having undergone a sassy makeover.
Vivacious and vibrant, the tantalising flares of these skirts are sure to keep suitors on toes! Selling like hot cakes across the city are the a-line ghagra skirts. Sporting ghungroos, mirrors, gold coins, embroideries, crystals, sequins and even embellished belts, these sprightly skirts are the soaring style this season. Available in bright colours like chocolate browns, leafy greens and lacy pinks [Rs.795-Rs. 1300], these skirts enhance your supergirlie appeal for sure. High fashion in its absolutely wearable avatar, for sure!
Wanna join the skirt brigade and put your best foot (or do we say best leg, huh) forward! Here's how to get wrapped in a skirt and infuse lots of glamour into it —
Remember what a scene-stealer Banti's Babli looked like in Bunty aur Babli despite her less-than-perfect figure, lack of height or dusky tenor? She has genetically tinted eyes, of course, but what did the magic was getting them kohl-rimmed. Yes, to add spunk to you're a-line skirt, put lots of kohl in your eyes and minimal mascara. Add lots of colourful plastic bangles and bichuas and get ready to sizzle Rani Mukherji style!
Embrace metal magic. Since metal trimmings (gold coins, silver embroidery, copper trimmings and leafs) are being sported by most ghagra skirts nowadays, you might do well to team them with metal accessories as well. You can wear metal rivets, chains, rings or lockets and get funky.
To sail through a voguish evening, team your skirt with cross front uppers. They look quite refreshingly summerish. Try cross front overlap kurtis in fluid fabrics like chiffon, georgette, satin, soft silk or voile. A broach added to the centre of the kurti can add lots of glamour to the outfit.
For that extra dosage of getting drenched in delightful colours, You can team your skirt with a super-cool lycra fitted t-shirt, flaunting prints of Hindu Gods and Goddesses, graphics, rock stars, butterflies, cartoons, graffiti and Bollywood images, highlighted with crystals and beads.
Skirts look great when flaunted with a jhola (remember Preeti Zinta in Lakshya?) Go ahead and buy some colourful ones. Though designer boutiques in the city are also offering custom-made jholas, best bet would be to go for the ones available in sector 22 and 19.They're inexpensive and yet, jazzy enough to carry you through.
So gals, don yourself in this fashion- delight and get downright skirty this season.

MATKA CHOWK
Summer dos
Sreedhara Bhasin

Now that summer has decided to rage – we are all celebrating summer or rather braving it, in our own ways. After being in a pervasively air-conditioned world, for many years, Chandigarh summer is something that evoked in me great appreciation for how people can deal with the actual weather conditions.
The first signs of summer are of course, the nimbus. The green little citric balls of respite – appearing everywhere. We learnt to drink a lot of nimbu pani, the first year we arrived here – a distant cousin of the fancy lemonade in tall glasses.  We also learnt the great benediction of dahi – at all times, a far cry from cups of "yogurt with fruit on the bottom."  Not many people in the West know that dahi can also be drunk (lassi, of course!) as well as eaten. I see the office peons in the area, carrying nothing but loads of Verka lassi and dahi to the offices.  
Then of course, there are big yellow mangoes, gleaming in the store shelves. My daughter, upon returning from school eats a big, chilled mango as a starter for lunch. That is her heat survival technique. At least, unlike British times, we don't make her eat it sitting in the bathtub! Then of course, there are big green watermelons! You can almost feel like a Mughal emperor, while sipping a glass of ice-cold watermelon juice as the temperature crosses all boundaries.   
Of course, some of us would like to do nothing better than sit in an air-conditioned room, watch TV and maybe eat Kurkure! Summer gives you such a good excuse for being a couch potato! For those athletic types, who go huffing and puffing every day – maybe, they get some time now to read those books bought six months ago! I wouldn't mind living the day in a library in these summer months! 
Another trademark of summer – as I realized yesterday – is the long queue in front of the passport office. If summer is here, can international travel be far away? With the abundance of Chandigarh's huge number of the so-called 'NRI Parents,' packing is in progress these days– women insisting on carrying Soan Papri and Chat Masala and men rebuffing these attempts.  
Now that shopping is out and sipping is in – aren't we saving money? My American friends who are perennially fighting the battle of losing weight – I have suggested a slimming therapy for them. They need to spend a summer in Chandigarh – eating only our local food, which would of course, include things like lauki and kaddu, drinking only what the locals do and spend some part of the day outside AC enclosures. I have guaranteed them hundred percent success rate. No one has yet accepted my offer! 
Summer is very big business for McDonald's in the US. But, if my friends would follow my advice, they would truly feel what the McDonald's international slogan says –"I'm loving it!"

WRITE TO RENEE
Release your pain
I am a 23-year-old serious minded young girl. My main problem is that every few days, I go through a serious period of depression. Each time I recover, go out with a friend and enjoy myself, but then some small little thing somebody says to me will trigger off very many emotions within me and I feel negative and depressed all over again. I really cannot figure out what this whole cycle is all about. I seem to be fairly cheerful otherwise and actually have no special reason as such to be feeling this way. Depression does run in our family but I would love to change myself. Please advise me on how to set about a new pattern of thought in order to remain more cheerful and happy.
Rukmini, Chandigarh
My dear girl, depression in itself is representing the anger inside you, which you feel you do not have the right to have. This is a kind of feeling of sadness actually. Take yourself back into your childhood and think if you had these kind of feelings even then? Were you a loner as a child and sort of hanging around feeling sorry for yourself? Do you have a tendency to repress your feelings or are you most of the time holding back your emotions? A lot of times, we go through life just covering up our feelings, as we grow older. We also find ourselves many distractions to keep ourselves from experiencing these unwanted feelings. Do try and find someone to talk to about your inner feelings. It seems as though you have a lot of bottled emotions. When you release this, you will release your pain and your depression will naturally just walk away.
I am a smart, intelligent and good-looking young man, who has always longed for name and fame. Now that I seem to have it all, it seems to have lost its sparkle. I am in the media and whenever I travel, either people who know me or want to get photographed with me. It might be in a small way, but my level of popularity in my own small circle is perhaps the envy of many. Yet, I am not completely satisfied with my life. Being sought after no longer seems to have the charm it once held for me. I am feeling mentally tired and listless. How can I feel more perked up and excited about life?
Sukhbir Sidhu, Patiala
Dear boy, are you feeling sorry for yourself now that you have arrived ? Is it one of those "Is this, what its all about", situations. When you don't have it you wanted it but once you get it, it has no meaning any more. That's human nature. Human dilemmas on the whole are pretty predictable. You must realize you are never alone in any situation. There are plenty of people who feel the same way as you. The knowledge that our problems are shared is definitely a source of comfort for us. Fame is a reward for a job well done. It elevates you to a place where a select few people breathe rarified air. It's definitely exciting and stimulating to be a part of a select minority. So just stop sulking and enjoy your part. You asked for it. Happiness and joy have to come from within — Just allow yourself the space to be there! Just live it.
Rush in your queries to Renee at lifestyle@tribunemail.com or care of Lifestyle, The Tribune, Sector 29-C, Chandigarh

PAMMY'S BEAUTY TIPS
Shape your lips
Lipstick can do wonders to a woman's confidence and spirit. Be it a plain lip-gloss or the dramatic lip colours, it sure is a confidence booster! Lipstick adds the final touch to any make-up application. Lip make up today is more than just a colour, the most recent lip enhancing technology has discovered lip plumpers, to smooth out and moisten lips. These tingly plumpers cause small lacerations on the lips, creating small-inflamed cuts and over a time may cause disfigurement in your lips. In quest of beautiful lips, ladies undergo drastic measures like plastic surgery, collagen implants, restylane shots or even tattooed outlines around the lips. It's best to stick to the basics of making the best of what you have to avoid the irritation and side effects.
Not everybody is born with balanced lips that have the shape of a Cupid's bow shape where bottom and top lip is both equal in proportion and fullness. But with practice and right tools you can achieve a shape that will compliment your face. All you need is a councilor/ foundation that match your skin tone, a lip liner, lipstick, gloss and a lip brush. Must always start on a clean base, smooth and moisturise your lip with cocoa butter or Vaseline. Study your lip shape and apply councilor to the part that you want to disguise. Always use a freshly sharpened pencil to outline the lips. If you do not have a steady hand, try applying faint dots and joining them later to make a line. Sounds difficult but you can master the art, practice will refine the skill. Matte lipsticks offer a muted finish perfect for morning look, while satin and gloss finish offer appealing evening look. Apply all other make up before applying the lipstick and liner. 
LIP TIP
Thin Lips- Don't make the mistake of drawing a line outside your natural lip line in an attempt to make your lips appear bigger. Instead use lip liner to add extra curve to thin lips to accentuate the natural lip line. Apply natural to medium, shiny and metallic shades. Avoid wearing very dark colours as they can give lips a sultry appearance. 
Uneven Lips- It is true of about 90 % women that they possess uneven lips. Irregular and unbalanced lips take great dexterity to remedy. The best option would be to disguise and eliminate the areas by using councilor / foundation. Match the weaker lip to the stronger one. Draw an outline on the weaker lip and fill it to balance the stronger one. Place dots and connect for a steady line, refine shape and fill in colour.  
Small Lips- Your lip liner should be a shade or two darker than your lipstick shade. Avoid very dark shades; medium toned lipsticks will look good on small lips.
Wide Lips- For thin lip look place the outline just inside the natural lip line. Concentrate the intensity of lip colour on the central part, gradually fading outwards. Fill the defined shape with the lipstick until the two colours merge. Gloss makes lips look fuller so women with thicker lips should avoid using it. Do not boldly dramatize them by using deep colours. Emphasise your cupids bow by adding extra height to the lips. Dab on silver gloss to the centre of the lower lip to make more of your pout. 
Full Lip- For full lips use neutral to dark tones and a matte shade to finish. Begin colour application in the centre of your mouth and extend it towards the outer edge fading the colour. You have the choice to skip lip pencil and avoid gloss as it only accentuates fullness; matte is a better option for you.
Down-Turned Lips- The best way to lift the outer edges is to lift the outer corner by applying councilor/foundation around the outer edges of the lips, as this is where a natural shadow may be cast. Do not use lip liner to trace the natural contour of the lips and do not apply dark shade, opt for sheer textures.  
Take years off your face by using the right colour and technique and be proud of your sensuous soft lips that make you feel younger.