Nanotechnology opens new frontiers
Sunit Dhawan
The fast-emerging discipline of nanotechnology is all set to revolutionise the realm of science by using natural materials and processes to enhance the longevity and quality of human life.
Thanks to this highly sophisticated and specialised science, replacement of the worn-out or damaged human body parts will become much easier. The scientists who have been working in this area claim that eventually, it will be possible to even put off death by replacing the weak organs.

Careercature
Sandeep Joshi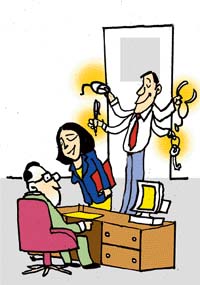 Sir, he is qualified for all the positions we have advertised. Which post should we offer him?
Now, recruitment through SMS
Naukri.com, the online recruitment space, has announced a new initiative, Insta Hire, enabling instant contact by recruiters and instant apply by recruitees through SMS. The latest initiative is an innovative step into the future, providing a breakthrough recruitment solution on a revolutionary new platform—-the mobile phone.


Only 10 pc fresh graduates have right skills for BPO sector
Hardly 10 per cent of graduates willing to join the Business Process Outsourcing industry meet the requirements of the sector in English language skills, according to a survey.


Sticky floor stops women from climbing corporate ladder
Amy Joyce
What if, instead of a glass ceiling, it's a sticky floor that holds down women in the corporate world? That's the thinking of Rebecca Shambaugh. Society has changed; the workforce has changed. But women still rely on old-school skills and leadership qualities to try to get ahead and into executive positions, says Shambaugh, president and chief executive of Shambaugh Leadership, a consulting firm.


Tips for those difficult office talks
If you want to win people over, you can't come across as bossy. Here are language tips for those tricky conversations.


What works in job hunting
A recruiter's perspective
Mary Ellen Slayter
Brad Karsh has thrown away stacks of resumes with barely a glance. He has judged people in an instant, based on what they were wearing and the strength of their handshake. And he still expected them to send him a thank-you note.


Get job search on the right track
Arvind Sharma
Do you feel stuck in your job search and not sure which direction to turn? Are you sending resumes and getting no response? Do you feel like you are spinning your wheels? You say you have tried everything, but feel stalled?

Smart Skills
Go places in international business
Usha Albuquerque
Go to any market and you can get Gucci handbags and Armani perfumes as easily as Toblerone chocolates and McVitie's biscuits. No longer does one have to make friends with the local smuggler! As one of the key elements in the country's development efforts, international business offers challenging employment opportunities.

Career Hotline
Language no barrier
Pervin Malhotra
Soar to success

Well-equipped for flight

Count-less choices

Mapping a career

Keeping hospitals in good health

Biotech the current buzzword