Palming off desert for water-theme park
DLF's tie-up with Laing O'Rourke is a major development in the real estate sector, says Shveta Pathak after her return from Dubai
The booming real estate segment in Dubai is witnessing upcoming of a large number of projects, which are focussing not only on providing facilities in terms of providing space, but also on architecture that is the latest, adding to the beauty and efficiency of the place.


| | |
| --- | --- |
| | Palm Island has been built on land reclaimed from the sea that will add 120 km of sandy beaches and visible from the moon |
Apartments get luxurious
Ruchika M. Khanna
Disposable incomes, less availability and high cost of residential plots and assurance of round- the- clock amenities like security and power back- up... all these factors have facilitated real-estate developers, bringing home the idea of high- end luxury apartments and penthouses in the city and peripheral areas.
Realty soars, yet rental yield remains poor
Naveen S Garewal writes from City Beautiful
Real estate in Chandigarh has never been as tempting in terms of an investment as it is today. But with the prices continuing to skyrocket, there is bound to be a cap on the maximum limit on the investment return ratio, putting a ceiling on the upward trend in pricing.


Global Realty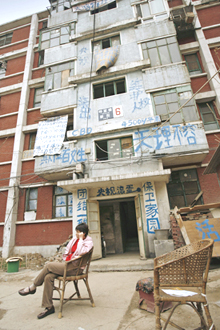 A resident of a housing estate stage a sit-in against eviction by developers of the new headquarters of China Central Television (CCTV) in Beijing. Dozens of Beijing residents are being intimidated into leaving their homes to make way for state broadcaster China Central Television's $600 million headquarters. — AFP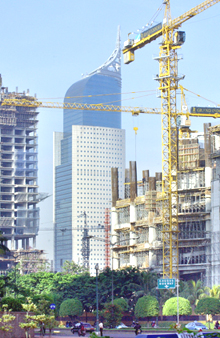 Construction cranes and concrete pillars rise into the sky as Indonesia's capital Jakarta continues to build the office buildings, malls and hotels in the city centre. Indonesia's trade surplus in March rose to $3.11 billion from $2.84 billion in February, the Central Bureau of Statistics head Choirul Maksum said. — AFP

Estrate talk
Slump eases out middlemen
Peeyush Agnihotri
Farmhouses are giving way to malls and lush fields to housing societies. Real-estate boom, which has taken the tricity (Chandigarh, Panchkula and Mohali) by storm, has also hit mofussil towns on the periphery.
DLF, Indiabulls joint venture harbinger of new trend
Manoj Kumar
The pact between the Delhi-based real estate major DLF Universal and Indiabulls Financial announced last week, to form a 50:50 joint venture Kenneth Builders & Developers seems to the beginning of a new trend in the public private partnership to address the housing shortage in urban India.
Homes that bear the shock
Quake-resistant homes are in vogue in Doaba region, says Varinder Singh
Earthquake-resistant buildings are in vogue in Doaba region of Punjab, where, incredibly increased awareness about vulnerability of the area to deadly quakes during past about four years, is driving home builders to go in for reinforced earthquake-resistant residential and commercial buildings.
Decide between the Victorian and the Georgian
Exteriors are as important as interiors, says A.P. Singh
If home carries the soul of the family, then its exteriors are surely the body, which houses that soul within.
Holy City fast turning into City of Malls
Sanjay Bumbroo
The emergence of the new shopping malls on the Mall Road and other areas is having a spiralling effect on the land prices, including commercial as well as residential, in the vicinity of Holy City.
Sword of demolition dangles on Gurgaon colonies
Residents are left to face the music after colonisers exploit the legal loopholes, sell land and vanish, reports Ravi S. Singh
The high appreciation in value of land in Gurgaon keeps the land sharks and mafia active in their business of illegal colonisation and poaching of land, posing a severe challenge to the government machinery in the process.
Pulse Group ties up with oil firms for highway hotels
Manoj Kumar
India's first organised food chain of North Indian food — Pulse Foods India Private Limited — has announced a tie up with oil marketing companies to open restaurants on the petrol pumps at select locations, initially on the Delhi-Amritsar and Delhi-Chandigarh Highways.
Dubai to build world's longest hotel strip
The booming Gulf city state of Dubai will add another feather in its cap with the construction of world's longest hotel strip at a cost of $27 billion, developers said today.
TAX tips
Determining fair rent of property
by A.N. Shanbagh
Q: I have two flats — one in Mumbai (self-occupied) and the other in Jalandhar. The one in Jalandhar is empty and is not let out but is used be me & my family as a weekend holiday flat and we visit there once in about two to three months.
Law of the land
No rebate if house is on in-law's name
by S. C. Vasudeva
Q. I am a government schoolteacher. I took a loan of Rs 3 lakh from HDFC Bank for extension in the house, which is in the name of my father-in-law and mother-in-law. They are retired persons and not eligible for income tax.