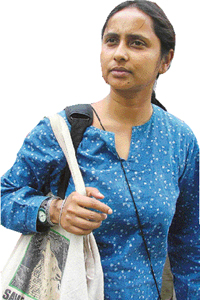 Sparked by a cause
While many of their counterparts rock, these youngsters from diverse backgrounds find fulfilment in rallying to a cause. For them, association with social movements is the way forward. They share their thoughts with The Tribune's Vibha Sharma in Delhi
This April saw the Capital teeming with hundreds of Narmada Bachao Andolan (NBA) and 1984-Bhopal gas tragedy activists from all over the country and abroad sitting on hunger strikes, raising slogans and conducting awareness rallies. Along with several high-profile supporters like writer Arundhati Roy, Supreme Court advocates Prashant Bhushan and Indira Jaisingh and actors Aamir Khan and Rahul Bose there were some qualified and educated youngsters who were going all out to support the issue-based movements.
Madhumita Dutta, lobbies for the victims of the Bhopal gas tragedy with government officials and provides research-based support

FTII students show their class
A festival of diploma films reveals an impressive range of cinematic expressions, says Saibal Chatterjee
These", says U.R. Ananthamurthy, Jnanpith award-winning writer and chairman of the Film and Television Institute India Society, "are our best young talents." Once you've seen the nine diploma films screened at the India Habitat Centre, New Delhi, on May Day as part of a festival titled Lensight, there is no way you can dispute that claim.