MUSIC ZONE
Saurabh & Gaurav
The Very Best of MTV Unplugged 3 — Various Artists (Universal)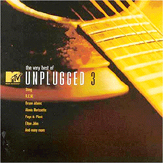 The MTV Unplugged sessions and albums have always maintained a loyal following due to their presentation of artistes singing a live set, as opposed to the usual played recordings. The opportunity of playing life often presents the artiste with a slightly different sound, and more often than not it can provide a more realistic view of an individual or bands talents. That explains why many talented artistes appear on MTV Unplugged. The Very Best Of MTV Unplugged 3 brings yet more classic hits from the Unplugged series, including Message In A Bottle by Sting, Nobody Knows You When You're Down And Out by Eric Clapton, It's The End Of The World As We Know It by REM, Head Over Feet by Alanis Morissette, Battle of Everyone by Page and Plant, Heaven performed by Bryan Adams, Runaway by The Corrs, Bennie And The Jets by Elton John and Hold My Hand by Hootie and The Blowfish. The best moments here are the ones that take the biggest chances, offering different arrangements of songs, like the string-heavy version of Would by Alice In Chains and the interestingly jazzy yet still overproduced Sure Know Something by Kiss. A marvellous record.
Best track: Would by Alice In Chains
Misfit: I Alone by Live
Rating ***
Beautiful South — Solid Bronze
(Universal)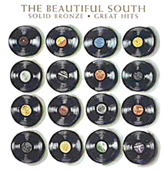 Solid Bronze is a collection of popular tracks from the first 12 years of the Hull pop-rock act's career. Although the Manchester band is primarily a 1990s phenomenon (their debut album, Welcome to the Beautiful South, was released in 1989), their music has a pleasantly dated feeling to it — aided, in this case, by their covers of Everybody's Talkin' and Dream a Little Dream. Illustrating why one in seven households in the UK own one of Beautiful South's records, Solid Bronze — Great Hits features 19 tracks — including an unreleased track written by the invincible Paul Heaton and Dave Rotheray partnership, The Root Of All Evil — plus the band's delicious rendition of the Mama Cass classic Dream A Little Dream (featured on the original soundtrack to the film French Kiss). Other headliners include Perfect10, Old Red Eyes Is Black, A Little Time, Rotterdam, The River, Good As Gold, Don't Marry Her, Song For Whoever, Dumb, Closer Than The Most and Pretenders To The Throne. Solid Bronze does not include any of the band's more menacing, experimental tracks, but perhaps that's an anthology for another day. The songs collected here are strong, cohesive, and consistently refreshing.
Best track: Perfect 10
Misfit: The Mediterranean Morcheeba Remix
Rating ***
Tadashi Goto — Soundscape
(Musea)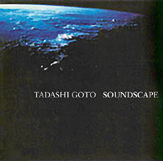 We found the title of this debut release from Tadashi Goto a little misleading, as right from the outset of this album it is apparent that the music is not a collection of soundscapes, neither, as the title might imply, this as an ambient collection of musical collages. Tadashi treats us to an extremely aggressive and entertaining collection of instrumental pieces aimed more at impressing the listener rather than in some attempt to send them to the land of nod. Soundscapes is a solo project with the entirety of the music being computer or synthesiser driven. This is well-constructed and well-written material, utilising a vast array of keyboard sounds. The overall sound has a distinct leaning to the heavy end of the spectrum — certainly there are few sections that allow you any respite. The biggest downside of the album is the programmed drums, not so much in their execution, but more that they just do not have the necessary feel for these complex and varied pieces. All the tracks, perhaps barring the balladic Loveless, are extremely engaging. Notable tracks include Depth Interview, World Update, A Priori, Science Without Humanity and The Uncertainty of Life.
Best track: Swan Song
Worst track: Grand Delusion
Rating *
Album of the month
David Gilmour — On An Island
(Sony)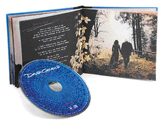 David Gilmour has been the driving force behind Pink Floyd since the rancorous rift that split the band following 1983's The Final Cut. He is one of only a handful of guitarists with a uniquely identifiable style and sound. On An Island, released on his 60th birthday, is his first solo album since About Face, released some 22 years ago, and the first collection of new compositions since Floyd's last album The Division Bell. Gilmour calls upon a number of stellar guest stars. David Crosby and Graham Nash harmonise beautifully on the title track, while Polish composer Zbigniew Preisner adds orchestrations that enhance the drama of several tunes. The title track offers a slow, anthemic waltz with modest lead vocals, sweetly sung harmonies. On the instrumental Red Sky at Night, Gilmour plays sax as well as guitar, and it gives way to This Heaven, a bluesy track that is given plush organ treatment by Fame. Then I Close My Eyes features B.J. Cole adding Weissenborn guitar and Robert Wyatt contributing cornet to this reflective and dreamy instrumental. A Pocketful Of Stones rolls off the musical dice that provides a minimalist sound-stage for David to flex his vocals and some guitar-work. Overall, the album is rather laidback, one for late nights of reflection rather than early evening partying. Final track, Where We Start is a lovely, tranquil and optimistic song that displays an inherent contentedness in the composer's life. Welcome back David.
Best track: Where We Start
Worst track: The Blue