The city folks are holidaying like mad. Gayatri Rajwade finds out some exciting options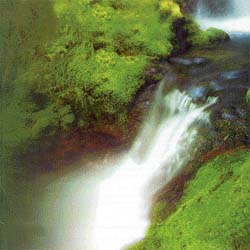 Think holiday—sparkling bubbly in hand, swaying palms overhead, dappled sunlight and the crystal blue waters of the ocean lapping at your feet!
Imagine a snow-clad treat, a shopping expedition, cultural-archaeological forage or an extreme adventure say paragliding into deep rocky crevasses and hey you have your vacation ready. Well almost!
Bring on the holiday planners, pull out the budget and think out-of-the-box!
Is there a catch? Indeed there is and it's called grooming!
"Don't buy a holiday for what it is worth in money alone take one for the whole experience for that is true value," stresses Kapil Malhotra, Director, Ekido Holiday Tours-8.


Happy Birthday Mozart! Salzburg in Austria celebrates 2006 as the 250 birth anniversary of the greatest composer ever. So if a musical vacation is down your street, take part in the year long celebrations, because any time is a good time to go!

Exhibitions, Mozart's music-theatrical oeuvre (22 operas, musical comedies and other works) starting July 21 to August 31, thirty special concerts between February and November, the premier of "Amadeus" by Peter Shaffer on June 30 and a host of other activities will take place through the year.

Airfare + visa to Vienna costs approximately Rs 33,000 with Salzburg just a few hours away.

Check out the official website www.mozart2006.net for more information.
So research, discuss and plan so that one can come back with a bag of delicious memories instead of traversing the oft-beaten path.
So first things first, do not go just because your neighbour went there! Why? Because, "It is so exciting, so thrilling to plan something really nice for people," says Aparna Khaitan of Amrit AirLinks-17 who has a client going to the French Riviera this summer for a dekko at the fabled azure blue skies!
The French Riviera was city stalwart Anil Talwar's (Talwar Sons Jewellers, Sector 22) holiday destination for last year. Travelling is his "weakness" and this courteous gentleman has seen it all—54 countries and still counting!
So how does one do this? "Tell us what kind of holiday you are looking at? There is art and history in Europe, magnificent beaches in Bali, shopping galore in Dubai, sailing, scuba-diving, snorkelling in Australia and of course your family in America or Canada," smiles Aparna.
THE SEASONED TRAVELLER
While the bulk of the 'green' travellers flock the exotic locales of Malaysia, Singapore and Thailand for their first few forays into the world of dream vacations with packages to suit every pocket, "the discerning traveller is packing his bags this year and heading towards a host of exciting options like Kenya, Egypt, Turkey, Greece, Brazil, Argentina and Peru," lists Bikam S. Boparai, Director, East Wind Tours & Holidays-8.
He piles up an exciting range of goodies.
A week with glaciers or beaches and geysers in New Zealand ranges from Rs 80,000 (inclusive of travel and visa) to Rs 2.5 lakh with an Australian excursion to boot! Kenya with its exquisite game reserves and Lion and Cheetah treks range from approximately Rs 65,000 to Rs 90,000 for a week.
Ever think of floating on the Dead Sea? Take the Jordan Explorer which includes a float, a visit to the rock-carved rose red city of Petra and a safari tour of the starkly beautiful Wadi Rum for approximately Rs 45,000, exclusive of airfare and visa costs for a week long stay.
Ancient Greece starting at Rs 63,000, an enthralling trip to Brazil and Argentina for eight nights and nine days starting at approximately Rs 1.85 lakh, Peru and the lost city of the Incas—Machu Picchu—even a venture into the Caribbean Islands are all awe-inspiring getaways.
Remember these rates are for a single person and of course you can discuss these to work around your budget.
THE EXPERT TRAILS
Where do the holiday planners go?
For Aparna it was the lure of the spectacular Aurora Borealis, which prompted her husband and her to go on a seven day Alaska cruise!
"Stunning glaciers, helicopter rides to see the ice-fields, seals, fins of whales, log-rolling, tree-climbing, Red Indian culture up close, we did it all." But alas no Aurora Borealis!
On the trail of the Single Malt Whiskey, Bikram has crossed through the length and breadth of Scotland backpacking his way to the finest distilleries in the region.
For Kapil "enriching" was Australia with its special people full of warmth and welcome and "lively" Dubai with its tremendous development. Next on his agenda is a deep dive into New Zealand!
So here's to cherished musings and excited chatter, dazzling sights and divine sounds, holidays that are manna to the senses! Take the time off to collect the oysters on the beach for god knows when a pearl may emerge.

Braving the sun
Anandita Gupta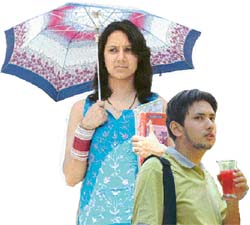 As the warm gushes of the approaching summer seem to split every single cell of our bodies, what do we do? Switch on our AC's and curl up comfortably on that couch in our well-curtained bedroom? Or better still, pull out that chilled watermelon from the refrigerator and gulp these post-box red pieces of respite. Added to all this, we can also dive into the milky blue waters of some local pool. Yes, we have many options. But how about the young students who've come here to study? Staying at poorly equipped hostels and PG accommodations, how are they braving the scorching heat? Lets delve deep into their existence to fish out some details.
Umm…umbrellas
Have a stroll through the Punjab University campus and you'll find the place dotted with colourful umbrellas. Yes! The pretty girls staying in PU hostels are carrying bulky umbrellas to protect their ice-rink smooth arms. "I always end up doubling up my sale of umbrellas during May, June and July. Already, I'm selling 7 to 8 umbrellas per day and most of my clients are young girls," chirps Munshi Ram, selling bags and umbrellas in the flea market of sector 22, Chandigarh.
Splashing around
And before those splashes of Monsoon rain sweep across their lifeless bodies, these young hearts are letting tap water drench them all over. Confesses Monika Kapil from Sarojini Hall, PU, "When we came to the hostel two years back, we heard that the only respite against the heat was drenching our beds with water and letting the fan's air brush against our wet beds to get cooler. And guess what, we actually ended up doing it! And it was fun.
Bookworms by compulsion
"My AC was something that I needed 24 hours a day, every summer. But here at the hostel, we don't even have coolers. It's worse when the electricity goes off," laments student Aarti Chugh. So, the solution? " Of course, the cyber café with its AC on 24 hours. And yes, the university library is another favourite hub to beat the heat. "The Student Centre offers a bevy of eatables and cold drinks and the library is quite cool. So we sit here in the afternoons and sneak out for a chilled cold drink every two hours," say Shradha Dhir and Ritika Sharma, preparing for their IAS exams.
Drinking to health
And when summers arrive, can refreshing drinks be far behind? More and more students are cooling off on sweltering summer afternoons by diving into delightfully chilled drinks.
Fresh and frothy, thick and creamy— it's the tremendously refreshing Mango Shake that helps me relish the summers, " smiles hostler Virender Singh. Adds his friend Manjyot, "Being hostlers, we find it quite cumbersome to buy fruits, cool them in the mess refrigerators and cut them. So, we prefer having shakes and Verka lassi.
So folks, these young students in the city are scuffling and wrestling the deadly sun with grit. Thrown in the water unequipped, what else can they do but peddle their feet to learn swimming?

Get more at the price of one by ordering combo meals full of scrumptious food and delight,
says Saurabh Malik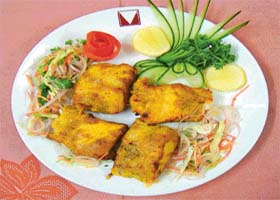 COMBO MEALS: Sumptuous meals at a reasonable price is what people want. — Photo by Manoj Mahajan
Combo meals — mingling scrumptious food with delight at a reasonable price — are hot-off-the-fire passion in summers of 2006. Offering a platter full of mixed vegetable, dal makhni, raita and tandoori rotis for as less as Rs 50, they are fast becoming the most sought after meal.
And corporate bosses are not the only ones tasting a combination of excitement and nutrient. Even students in university and college campuses are going in for boxes full of Manchurian, spring rolls, salads and noodles.
The whiff is unmistakable. As you cross the joints offering a heady combination of chilly chicken, fried rice and salad, the aroma of fresh fried onions and garlic lures you indoors. The tang mingles with a hint of white and black pepper to give all-in-one flavour.
If you are hot for the stuff, just drive down to your favourite haunt and gratify your taste buds with an abundance of Schezwan vegetables and hot garlic sauce. Right folks; forget all about counting those loathsome calories. Order mouth-melting chicken curry and rice or shahi paneer and paranthas in a single plate. You can even go for the box full of prawns and hot garlic sauce. The choice is yours.
You see, until a few years ago, one had a few options as the restaurants across the city were not offering a rich variety in combo meals. Undoubtedly you could order vegetable or non-vegetable thalis, but hardly anything else.
But now the dishes are more and merrier. Pick up the menu card and you will find stuff like 'hakka noodles' and lamb hot-garlic sauce. You can also order masala channa and tandoori kulcha with buttered creamy rice.
A word of caution here, as some of the dishes mentioned in the menu card are spicy or even rich in cream, just do not hesitate in asking the member of the staff serving at table, lest you land up with gastric or digestive problems. Also, make sure that you do not end up paying more by ordering combo-meal instead of going in for individual dishes.
If you are going to Nirula's, remember to go in for 'platters'. For just Rs 82, you will get a paneer tikka platter. Or else, go in for their executive vegetable thali. You can get it packed for just Rs 54. Just in case you wish to have non-veg', order Shammi Kebab platter with dal and naan for just Rs 67. Their seekh kebab platter, again with dal and naan, is worth tasting.
The deluxe non-veg' thali can be yours for Rs 109. In their "merry meal" category, you will get a chicken or a vegetable burger, along with soft drink, wafers and even a toy. In all, you will have to pay Rs 57 for the stuff.
At Yo! China, order schezwan vegetable box. You will get schezwan vegetables, along with spring rolls, kimchee salad and a choice of vegetable noodles, fried or even steamed rice for just Rs 89. In non-veg', you can try lamb hot garlic sauce and other delicacies for less than Rs 100. Pick `n' Move in Sector 8 is offering butter chicken, even Punjabi chicken, with naan for just Rs 70.
You will get 'crisp on the outside and softy on the inside' marinated spicy chicken if you order "hot and crispy" combo at the KFC. Two pieces are costing Rs 60, while eight are priced at Rs 230. In chicken thali, you will get "veggie pulao, makhani curry and chicken" for just Rs 50. Order crispy chicken strips with salsa and you will get "a filling treat of crunchy, crisp boneless chunks of chicken served with a tangy salsa for just Rs 50. The ambience and the setting is fit for a perfect dinner for two. Flavours in Sector 17 is offering good vegetable continental and non-vegetable continental meal, along with other combo packs. Sounds yummy, indeed!

Purity is the keyword
Gayatri Rajwade
This is an outlet that started on a cycle and has its roots in perseverance and toil. No fancy, swanky store out to lure the hoity-toity but with a reputation for purity, Baba Dairy, Sector 21-C, has been a city staple, pulling in regulars for over 35 years now.
What makes the dairy distinctive from its peers is that amongst the veritable variety on offer—the butter, the ghee, the paneer, fresh cream, khoya and an assortment of vibrantly hued mithai—it manufactures its own ice-creams under its own name and what is more it sells despite a deluge of choices!
Started by Sardar Ishwar Singh in 1969, in his father's name, the beginnings were modest. The family had moved from Pakistan at the time of the Partition and settled in Patiala.
Sardar Ishwar Singh worked with the Central Excise and Customs but wanted to do something on his own. His son Satpal Singh recalls, "I used to study and get milk on the cycle." A venture that began at their home has now expanded into a retail outlet in the market—a place they moved into just six years ago.


HIS 'DAIRY'
Ramesh Chand came to the city in 1978 as a young 17-year-old from Palampur. It has been 28 years now that Ramesh has been with Baba Dairy.
Today as a supervisor, he enters the cash, keeps a check and looks after the shop. "Very trustworthy" is how Satpal Singh extols him. "We leave the shop to him and go," he says with obvious pride in his man.
Ramesh is not the only one; there are two or three other employees who have been with Baba Dairy for more than 30 years now.
The transition from pure dairy products to mithai happened ten to twelve years ago and the ice-cream factory was put in 1995.
What makes the ice cream popular, reasons Satpal is their quality, "ice-creams must have a minimum of 10 per cent fat to get that creamy texture, and we ensure that happens."
So from an essential vanilla to pineapple, mango and strawberry to exotica like American dry fruit, frenzy fudge, black currant, a crunchy sky—blue Obsession, earthy dark chocolate chip, sunflower yellow tropical paradise, there are 35 varieties to choose from.
Available in one litre packs ranging from Rs 50 to 110, the primary business is boosted by institutional sales and party orders, but there are a few outlets in city that stock the party packs too.
Plans are afoot to introduce a full range of natural and new flavours, an array of 50 delectable flavours by next year and their promise is "no essence."
So how do they explain their popularity in the region? "Our mantra is taste and only taste. We do not advertise, all we say is try our ice-creams and then come and buy," explains Satpal.
And this is not all, try out their desi ghee mithai, pinni (Rs 180 per kilo), sugarless kalakand (Rs 140 per kilo), panjiri which is very popular, moong dal barfi and of course Satpal's personal favourite desi ghee ke jalebi!
There is an endearing humbleness in the whole interaction, "everything is by the grace of God, without His will nothing happens," says Satpal. The assurance is of "fairness in business and the intention to provide quality products only." In fact in 1974-75, Baba Dairy was honoured by the Rotary Club under the recommendation of late Col A.B. Singh of Hot Millions as "Honest Trader of the City."
No mean feat this and as an ode to quality they point out to their newest special addition, malai paneer made from the purest milk of course!

Tangy titillation
Anandita Gupta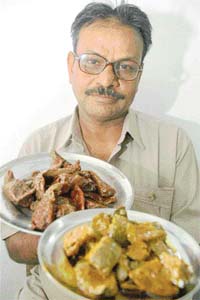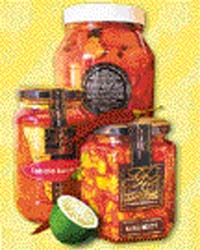 firing the tongue: Pickle-expert Vinod Kumar proudly showing his Mango pickle and Chilli pickle that have wooed many. — Photos by Parvesh Chauhan
Picture this—some sweet and sour tang sprinkled over a fiery cocktail of Indian spices— black pepper, cardamom, ginger, salt, sugar and turmeric. Added to it are some delicious fruits and veggies drenched in mustard oil or vinegar, with a dash of green chillies thrown in. And dollops of sunshine diving into all this. Well, what we get consequently is something we all love— the tangy, tempting and titillating aachaar.
Come summers and we have a strange craving for something spicy to tickle our taste buds. Pickles and chutneys in India are a perfect answer to this craving. They're the perfect partner for a well-made meal and a 'perker-upper' for a not so perfect one! While many different pickles are eaten in India, some of the most popular varieties of Indian pickle are mango pickle, lemon pickle, lime pickle, mixed pickle (usually including cauliflower, carrot, and radish), onion pickle, and garlic pickle. And a hot fav for the sweltering summers remails the mango pickle or aam ka achaar.
Though the Mango pickles manufactured by various brands abound at the grocery stores in the city, there's nothing like home-made aam ka achaar.So we delve into the dishes of Vinod Kumar Gupta, a city-based achaar-wala, who prepares custom-made achaars for his clients.
Having done a course of Bakers and Confectioners from the University of Agricultural Sciences, Bangalore, this UP-born pickle-man got his first job with Modern Food Industries, Industrial Area, Chandigarh. "I was the machiene operator there and didn't enjoy the mechanical work.When the company was taken over by Hindustan Levers, I left it to join the canteen of Bhawan Vidyalaya, Panchkula, where I sold food-stuff to young students.But soon I started making pickles and chutnies which made me famous," he smiles.
Yes, from the teachers of the school, his client base has fast expanded.Though he makes many pickles—Mango, Chillies, Mixed vegetable, Ginger and so on, his mango pickle is irresistable. And what makes it so? "
"The choice of my spices gives my pickle its unique flavor. My amm ka achaar is made in the summer and allowed to mature in the hot sun for at least three weeks before use.It's stored in porcelain or glass jar with air-tight lids.My pickle can retain its freshness and flavor, so long as it does not come into contact with moisture. However, commercially made pickles use preservatives such as citric acid or sodium benzoate," expalins 50-year-old Vinod, who's being making pickles since childhood.
Of course, this UP-born achaar-king has a unique andaaz.The tehzeeb with which he speaks is almost endearing.But sweeter than his speech is his the aam ka achaar he specialises in. For, when the tart taste of raw-mangoes, along with its refreshing scent, is mixed with sugar and spiced with sizzling spices, it delivers nothing but a taste to remember.

Alive and kicking
Gayatri Rajwade
With her tongue firmly in her check, her spry sauciness cannot be missed! Charming, loquacious and candid, Archana Puran Singh delights with her mast brand of chatter.
She has been in the news recently for her role in the 'The Gold Bracelet', a film depicting the story of an immigrant Sikh family confronted with the realities of the post-9/11 attacks in the US which premiered at the prestigious 'Cinequest' film festival in the Silicon Valley and for which she received a lot of accolades. "It won the audience award and the response to it has been amazing," she says.
But currently with her motley assortment of movies either in their last stages of post-production (Krrish) or yet to start (Harry Baweja's next), she has just one pie baking delicious in the oven and that is her spirited talk-show 'Kandy Floss' on Sony Entertainment Television.
How does she make it look so easy? "Do I? I am surprised because I am not really comfortable doing this genre. It is much against my inner desires. I am actually very happy acting. But yes it has gotten effortless now, after all practice makes perfect and you can blindfold me and I will be able to go through," she laughs.
This does not mean that she does not get her anxiety attacks every time the interview segment comes up. "I start thinking all sorts of things, will I be able to complete the interview, will I have enough questions and when it finishes I say to myself, hey I was really enjoying that!" So who has she enjoyed interviewing in recent times? 'Rakhi Sawant" is the surprisingly prompt reply, while you wait for a hefty name to fall! "I had these pseudo airs of myself. I thought I was superior to this little vernacular girl but her lack of hypocrisy, her openness and honesty all make me applaud her. I mean how many people will come up and say categorically yes, I will sleep and strip for a role."
The "prima donnas" of filmdom also came under attack from her! "A lot of actresses do it, maybe they have a lot to lose and this girl has nothing to lose or is getting publicity out of it, but she is brave."
She knows the line is tough never mind the good pay! "I work six days in a month for three to four hours at a time and I love that. It gives me all the time with my children and that is my priority." Ah, the glow is evident in her voice as she talks of her two little ones. "We live in Madh Island, far away from the madding crowd, in a green secluded place. It is beautiful and we consciously decided on this lifestyle for our children."
This obviously means she has cut down drastically on her film assignments as well, notwithstanding the fact that she will soon be seen in one of the year's most highly anticipated film come June end—Krrish with Hritik Roshan. "I have a guest appearance in the film; a role I thought could be done by a junior artist. But I figured that Rakesh Roshan must have asked me to do this role for what I would bring to it. I have just two scenes in the whole film but Hritik said he loved what he saw, so it must be okay."
Does she regret on missing out on films in a big way? "I have a special role and that is of being a mother and for my children no-one can play that role but me. Does it get any better?"

Another dream, another song
Gayatri Rajwade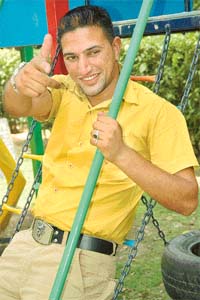 The name is Inderjit Dhillon, but for star appeal you may call him Indra Dhillon, the new Punjabi pop singer on the horizon of Punjab's mustard fields!
Sober, understated and definitely quiet he is most unlike the quintessentially flamboyant pop singers peppering the region. No leather clad hungama here, just your boy-next door appeal!
Facing the music of questions at the release of the his debut album Khulle Sher at the Press Club today, this 23-year-old was content enough to let talk meander towards the burning issue of piracy rather than spell his own mantra for success.
However, there was some information that did trickle through! With no formal training, this only son of his parents has been following his dream of becoming a singer since his childhood.
"My family is into farming but I have wanted to be a singer for as long as I can remember. People made fun of me but I persisted," he says.
He writes his own lyrics which include the nine tracks on his debut album and has a music video currently on air on MH-1 and his inspiration is Punjabi songster Debi Maksoospuri.
Now, with 20,000 copies released by Saga Music, Indra hopes his voice will do the magic for the effort seems to have been entirely his. "I wrote the songs, met with music director Vinay Vinayak, prepared all the songs, recorded them and then approached the music companies with the ready product."
Of all the songs featured on the album, Ek Geet is closest to his heart because it conveys the wishes and desires of someone in love, the voice of today's youth. "I am confident. By the grace of my Maharaj I am certain I will succeed." And in case the album flops? "It is back to kheti badi (farming) for me."

Cool owners for a warm summer
Dr Jaspreet Singh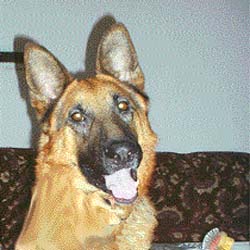 The pleasing springtime has given way to a savage summer. We have to be on guard to protect our friends from the browbeating fierceness of the sun.
Just as it is important to provide our pet adequate shelter and warmth during the winter months, it is equally important that your dog has adequate shade and water during the summer. Dogs wear a fur coat all year long and have special needs to be looked after in summer months.
Heat stress and heat stroke
Heat injury occurs when a dog's body temperature exceeds his ability to cool himself. Unlike people, your dog's normal body temperature ranges near to 38 degrees centigrade, i.e two degrees more than us. When body temperature elevates above 41 degree C, normal mechanisms to keep the body cool are dismayed, which results in a critical condition requiring intervention and medical treatment. This is not fever. This is not for the well being of the pet. The severity of the heat injury can range from a temperature up to 40 degree C increase is called heat stress, or it may be to virtually life threatening situation called a heat stroke (41 degree C and higher). Certain breeds are more prone to heat injury than others.
Large double-coated breeds like the German Shepherds are particularly susceptible. Dogs bred for life in cold climates such as St. Bernards often have little tolerance for heat and humidity. Dogs with shorter faces such as boxers have less ability to cope with a heat load due to their short and narrow respiratory systems, which is the main weapon of the cooling mechanism of a dog.
Heat stress can happen quite rapidly, sometimes only in a few minutes, especially in dogs that live primarily indoors. So it is better to keep the pet indoors during warmer periods of the day. When taking the pet out give some time to the pet to adjust according to the warmer climate outside before starting with play or walk. Even pets that live or spend a lot of time outside can give away to the heat if their cooling procedures are surpassed by meteorological unjust.
Sun burns in pets
It is a disconsolate information for owners who are proud of their brighter than the bright and whiter than the white pet. It is possible for pets to get sunburns if the play for long time in sun. This is specially true for the white and lightly colored pets. Long-term sun exposure can lead to skin damage and in some cases skin cancers. Areas that are commonly affected are the ears, eyelids and nose. There is no need for looking for sunscreens for your pet if you are able to restrict their playtime in sun in cooler hours of the day.
If any type of discoloration or sore appears, consult your veterinarian for a check-up.

Art & Soul
Gayatri Rajwade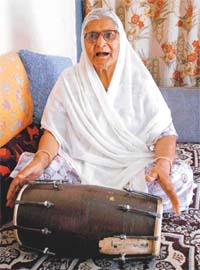 Ram Pyaari. — Photo by Vinay Malik
Song moves her spirit, her soul. Seeped in bhajans from the time when she was a young girl, life's vagaries have not stemmed her vibrant essence nor has her faith dimmed in any way.
At the ripe old age of 80, Ram Pyaari now spends her time playing the dholki at prayer meetings around the city and singing devotional songs. "Even when I am walking or travelling in the bus, I hum my songs to my Lord."
From the money that she collects from her efforts, she goes on tirth yatras. "I do not want to ask anyone for anything," is her gentle refrain.
Born in Goriya Atta village, in the district of Jullandhar, she along with her siblings, five sisters and two brothers, grew up in a family where both parents worked. "My father was a munim and my mother used to do the work of a Brahmin—always present at weddings and other auspicious occasions."
Married at the age of 18, she had three children, but was widowed soon after. She worked as an ayah for 28 long years at a nursery preparatory school in Sector 11 to bring up her young ones. "All of them studied in government schools and I found boys for both my girls and got them married off," she says with pride.
To augment her income she took to crocheting and knitting sweaters and selling them.
The years have been long and arduous but she does not dwell on that. "Of course times were not easy but people around me helped a lot. The school, the parents of children studying there all pitched in for my daughters' weddings. What is more, all the food for the baraat was given by Bhajan Lal!"
While the younger daughter lives in Chandigarh, the older one stays in the village and plays the dholki at the Hare Rama Hare Krishna temple there.
Her mantra for living is simple and one that she has religiously followed. "One cannot lose one's self-respect. If that is intact everything else falls into place. I have never been bothered by anyone in all these years, because I did not allow it." After her husband passed away she desisted from going back to her village simply because, "I did not want people to talk about me."
Today she lives with her son and daughter-in-law in the PEC campus where her son works. "When I was bringing up my children, I never got the time to do my simran but now my daughter-in-law looks after everything so I can offer my prayers regularly," she smiles.
Toothless ("When people tell me to get teeth I say I only have to eat two rotis a day!") and radiant with her devotion shining on her face, she is content with her life, her songs on her lips. "Meri phulwari hari hari hai (My garden is always full of flowers). I have left my life in the hands of God and so far He has been with me every step of the way."

YOGA
All about restraints
Jyotii Subramanian
The first two tenets of yoga Yama, meaning restraints, and Niyama, meaning observances, are the most ignored. They are considered by many beginners and even some adepts as a pack of moral bullshit. But these two limbs of yoga take on more importance as the yogi progresses on the path towards higher realisation and the sincere disciple, by virtue of the practice, feels an inner urge to follow them. They set a standard of conduct for the practitioner so that the least amount of karma is generated. The law of karma has been described by Einstein who said, "Every action has an equal and opposite reaction."
The yama, or observances, include the following guidelines to right action; ahimsa – non violence, which means more than just restraining from injuring others or as popularly believed 'turning the other cheek'. In a wider connotation, it means a responsible behaviour that does not harm our surroundings, environment and people. Thus excess use of the earths diminishing resources; callous behaviour that leads to natural calamities or endangering the universe, bad governance will all be against the prescribed practice of ahimsa.


Bliss of samadhi
Sit or lie down making sure to be completely relaxed. Take a few deep breaths relaxing with each exhalation. Mentally picture the earth, include the forests, the ocean, the animals and people. Visualise a golden light emanating from the centre of your chest to envelope this picture. Feel your heart expand with a benevolent grateful feeling for them.
Satyam - meaning truthful living, not only in speech but in thought and action as well. Most people live out their lives in hypocrisy, influenced by peer pressures and social obligations. The true yogi is one who lives life according to the truth within, following no other besides the guide within. This faculty of intuitive living is developed as the practitioner progresses on the path of yoga.
Asteya or non-stealing is the third restraint. Once again this does not apply only to the act of stealing what belongs to others but extends to even not coveting what is another's by right. The purview of this includes, embezzlement, breach of trust, adulterous behaviour by thought word or action. The yogi is expected to move on shrugging of excess baggage in the form of worldly possessions and cravings. This does not mean a true yogi cannot be rich but only that like Raja Janak the yogi can walk away from all comforts at one command from the satguru.
Brahmacharya - meaning celibacy has become the butt of many a joke in India as well as abroad, the greatest example being that of Rishi Vishwamitra and Menaka, the apsara who supposedly seduced the yogi. Celibacy does not mean abstaining from sex per se, for history is full of examples of great householder yogis who enjoyed marital bliss and fathered a great many children. A practising yogi cannot use this as an excuse to deny physical intimacy to the spouse. In higher yogic practice, the sexual energy produced is restrained and reversed to attain the highest bliss of samadhi

COOL STUFF
Protection against the harsh sun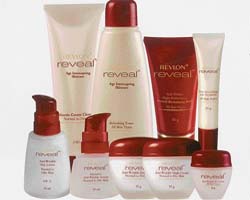 Modi Revlon, one of the leading companies in colour cosmetics has introduced an advanced anti-aging skin care range called 'Reveal.' The product takes care of the aging skin and provides a perfect solution with its range of products. Reveal is a premium skincare range targeted to 30+ women in Metros and class one towns. It comprises of 9 products, ranging from daily care regime to specialised treatment. Comprising of a gentle cream cleanser, refreshing toner, anti-wrinkle day lotion, night-cream, day-cream, eye-cream, line-smoothing lip treatment, anti-wrinkle serum and anti-wrinkle high performance balm, the product range is priced between Rs. 300 to Rs. 750.
Fluorescent Lamp
The power crisis coupled with the ever-increasing cost of electricity has created the dire need for energy saving equipments & products amongst the users. This need has given boost to the demand of those lighting products which meet the criterion of energy saving. Compact Fluorescent Lamp (CFL) is one such product, which delivers more light at a very less power consumption. Surya Roshni   ltd offers wide range of energy-efficient compact fluorescent lamps (CFL) in the market. These CFLs are highly energy efficient as 15w of CFL gives as much light as 75w normal bulb.
Celebration time
The leading quick service restaurant (QSR) chain McDonald's India (Northern-Region) kicked-off its 10 years celebrations, here, today. To mark the celebrations, recently. On this occasion, the company unveiled a specially designed ten-year huge logo of size 24 ft X 28ft at its restaurant in India that opened on October 13, 1996 at Basant Lok, Vasant Vihar.
Benefits just One Touch away
Life Scan, a division of Johnson and Johnson Medical, pioneers in Blood Glucose Monitors, brings an attractive offer for people with diabetes on purchase of its One Touch Ultra Blood glucose Monitor. On the return of a completely filled warranty profile form and promotion card, the buyer will be entitled to receive One Vial of OT Ultra 25s strips worth Rs 800 and two boxes of OT Ultra Soft lancets 25s pack worth Rs 300. The offer is open till the end of October 2006. The product One Touch Ultra has been priced at Rs 2600.
Globe Smart Client' for the youth!
Pepsi, the most popular soft drink in the country, launched a complete mobile portal called the 'Pepsi Globe Smart Client' for the youth. Pepsi is the first FMCG brand to launch this innovative portal that provides an exciting and unparalleled content browsing experience to subscribers. Powered by Yahoo! India, this portal will reside on mobile handsets as a 'Pepsi Globe' and will provide easy access to the Pepsi Zone. With this, cell phone users can feast their eyes on Pepsi cricket, Bollywood and music previews, contests, television ads, promotions and purchase wireless content and watch videos without actually having to log on to the net. With this initiative, Pepsi will triple its mobile user interface mediums with SMS, WAP and WAP Client. 
'Derma Care'
Ever Youth, the skin care brand of Cadila Healthcare Ltd, has introduced a new range of premium skin care products under the name of 'Derma Care'. The new Ever Youth Derma Care Range, developed by Cadila Skincare Laboratories, conforms to international standards and comes with a 100 per cent satisfaction guarantee. The products are developed to effectively tackle skin problems due to sun , pigmentation, acne and aging. These specially skin care products cater to very specific consumer needs under the following 3 categories:
1. Sun Protection: A range of Sun Block Crème and Lotion with varying degrees of SPF and for different skin types, with internationally proven and approved sun block agents which offer upto 97 per cent sun protection.
2. Complexion Enhancement: Breakthrough Matte Fairness Lotion with SPF 25 and lightening cream
3. Skin Repair: One of a kind Gel for Acne and Anti Aging Crème
The products are priced from Rs 85 to Rs 195 and will are available at all leading stores in the city.
"More than a game"
Made in collaboration with the Fédération Internationale de Football Association (FIFA) and featuring exclusive footage from FIFA's film archive and recollections from some of the world's greatest players including Beckham, Beckenbauer, Zidane, Platini and Zoff, More than a game is the definitive account of the World Cup – its glorious goals, legendary players, fanatical fans and enduring appeal. With previously unseen footage from matches dating back over 40 years, viewers will get a fresh perspective on even the most familiar football legends. They will also witness how winning or losing a game can change the fortunes of a nation.
Discovery Channel will premiere this six-part series every Friday at 9 pm, starting April 28th. Each episode will be repeated on the following Saturday at 10 am.

FILM & FASHION
Elton plans another musical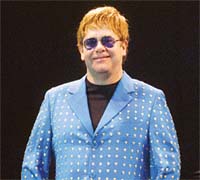 Elton John
Sir Elton John is planning a new musical - a stage version of Pedro Almodovar's movie Women on the Verge of a Nervous Breakdown. The flamboyant singer's recent Broadway production Lestat a 7 million pound musical flopped last week. Elton has approached Almodovar about the 1988 film and admits he is at "the ideas stage" of a production. "It's such a colourful story and different from what I've done before. I could have a lot of fun with something like that," Contactmusic quoted the singer as saying.
Jolie to give birth in water
Hollywood beauty Angelina Jolie is planning to have her first biological child in a giant tub of water.
Jolie along with Brad Pitt has been looking into birthing possibilities at the Welwitschia Hospital in Namibia, and is keen to go aquatic when she goes into labour."It will be natural and beautiful," Iris Wabuto, a nurse at the clinic, was quoted by Contactmusic,as saying. And the expectant couple have allegedly wasted no time in picking a name for the baby, they have settled on Africa in a tribute to the child's birthplace.
Hollywood's bachelor boy
He may be one of Hollywood's most eligible bachelors, but actor Bruce Willis doesn't think that he's cut out to be a married man. The Die Hard star, who was previously married to actress Demi Moore, said he would probably never take a walk down the aisle again, for he 'doubts' he has the ability to make a marriage work."I'm going to go out a bachelor. Truth is, I have doubts about my ability to maintain a relationship necessary for a marriage to work. If I know anything about myself, I know that," Contactmusic quoted him, as saying.
Bruce all for guns
Many celebs may be against America's growing gun culture, but actor Bruce Willis feels that without weapons, people would be unable to defend themselves against 'bad guys'. The Die Hard star added that guns were just a form of defending home and hearth, and that if not guns then people, including pacifists, would find other weapons like rocks and chairs to protect themselves and their families.