Punjabi antenna
TRPs decide news
Randeep Wadehra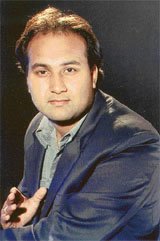 Ritesh Lakhi in Khabarsaar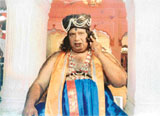 Drama missing on Punjabi television
What happens when Page 3 personalities begin to make front-page headlines? Do real issues get trivialised and pushed to the obscurity of inside pages? When trivia becomes front-page news, the editorial content gets diluted. The Salman Khan case would not have enthused op-ed writers, electronic media, animal rights activists and environmentalists so much if the culprit had been a faceless person. Similarly, did Aamir's advocacy of the Sardar Sarovar a.k.a. Narmada Dam oustees and Bhopal Gas victims only glamorise the issues without bringing about tangible results? In a market-driven economy, circulation figures and TRPs decide the form and content of news. How far is the media responsible for dumbing down serious national discourse? In a lively discussion on Khabarsaar, the region's media personalities did a bit of, what Ritesh Lakhi describes as, solemn introspection vis-à-vis these issues. Dr Pramod Kumar, Sarabjit Pandher and Jaspal Bhatti contributed their mite to the debate.
While Lakhi's show helps cerebral impulses survive the musical onslaught on the idiot box, drama has vanished from the Punjabi telly. And yet, the latter is flourishing in the market place. Otherwise why do we get to see the likes of Jaswinder Bhalla, Jatinder Kaur and Gurpreet Ghuggi on VCDs and not on Punjabi channels? Although it is not possible to predict its ultimate direction or consequences, a new trend in Punjabi entertainment industry is gathering momentum. Unable to find a slot on the channels for their tele-films, serials and sitcoms, producers are resorting to VCDs and DVDs to reach out to the ever-expanding market for drama both in India and abroad. In fact, Shemaroo and T-Series have joined this trend initiated by small-time producers in Punjab's hinterland comprising Sangrur, Jagraon, Barnala, etc. Production costs are affordable – between Rs 3 lakh and 4 lakh; and net profits average around Rs 5 lakh. More than 75 per cent of such productions are comedies. Quite an impressive chunk, almost 40 per cent, is sold to diasporas across Asia, Europe and North America. Thus, the cussedness of television channels is proving a boon to the home video industry.
Similar was the case with Bhojpuri films that became popular, thanks to VCRs and hi-tech home video apparatus. Today mainstream Bollywood producers, directors and stars are into Bhojpuri movies in a big way. Do we detect similar trends in Punjabi cinema and tele-drama? Let's wait and watch.