Bond with Ruskin
As eminent writer Ruskin Bond turns 72, he reflects on a range of subjects in a free-wheeling conversation with Rajnish Wattas about his life, writings, the publishing scene today and his love for the mountains.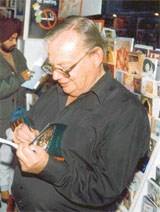 The writer pleases his fans at a book-signing function in Chandigarh. — Photo by Courtesy Capital Book Depot
More than fifty years ago, a young Indian wrote his first book at 17 and went on to win the prestigious John Llewellyn Rhys Memorial prize. Today, he continues to enrich our world with his muse. Ruskin Bond is certainly one of our most modest and low-profile writers.
Does he feel quite different as a writer today than he did five decades ago? "Not really, except for the fact that I tend to be more reflective as a subjective writer now… and therefore prefer the essay form of writing to fiction. In youth you are more affected by the immediate reality of life. In fact, it's only when I look at the large number of books published by me, that I really get the feeling of all the years gone by."
"There is certainly more plagiarism going on now than we know of – especially from the old, out-of-print writings; but Kaavya Vishwanathan really messed it up by stealing from a contemporary. Also, in the past, publishers were themselves very literary people, with first rate editors who wouldn't have let such a thing slip by."
He should know, as his first book Room on the Roof was published by none other than the prestigious Andre Deutsch and edited by the legendary editor Diana Athill – some thing he shares with V.S.Naipaul, who too went on to win the John Llewellyn Rhys Memorial prize one year after Bond got it in 1957. "Nowadays publishers are basically business people, whose primary motive is to make money. In a way, I feel sorry for the girl," says Bond. "In those days there were no 'middle men' like literary agents… or at least none that I was aware of."
Then how did he find his publisher in England at such a young age? "Well, before I wrote the book, I had published some short stories in London magazines, including one that was read out on the BBC. Initially, I wrote Room on the Roof in the first person and just mailed it to two or three publishers. Most of them returned it with some kind remarks about good writing, but poor sales potential, etc. Then one day, I got a call from Diana Athill and she gave me the news that the manuscript had been accepted. She even took me out for dinner! But I was also told to turn the first person autobiographical voice of the narrative into the third person, making it more fit for a novella. I feel saddened by the extinction of the small literary publishers of that era, with whom one had a very personalised relation... you could even quarrel with them! Now big, impersonal conglomerates have simply swallowed up small publishers."
After Bond finished schooling in India (part of it from Bishop Cotton School, Shimla), he was sent to England. After a couple of years, he chose to return to India rather than stay on in England even though his first book was published there. And, he's never regretted that decision. The passage to 'home' was bought with the £50 advance that he had received for his book, which actually got published only after he returned to Dehra Dun. The coming back had to happen for this man whose heart was clearly anchored in India. Those were trying days for him as he had to work hard for a living. Avenues were so few; except for a few odd magazines that paid small amounts, there were no other opportunities for freelancers. It was his stories for children's magazines published abroad that sustained him through these difficult days. But Bond never complains. For aspiring writers, his advice is simple: "Keep writing, never despair; even if you do, keep writing."
The turning point really came with the advent of large publishing houses like Penguin and Rupa in India reviving an interest in his writings. "In fact many of my earlier short stories and narratives, which then couldn't be published as books, got an opportunity. In a way, I too am a beneficiary of the big publishers."
Bond is known for his seamless, gentle and lucid prose, unlike the clever wordplay and verbal pyrotechnics of many Indo-Anglian writers today. "Good writing must primarily communicate in the most simple and uncluttered way. By all means use a difficult or an unusual word, even coin one, if it is really needed."
Bond has been influenced by classics and the works of some short story writers like Anton Chekhov, H.E.Bates, William Styron, Rudyard Kipling, Somerset Maugham and Katherine Mansfield. Among the Indian writers, he has deep respect for R.K. Narayan, whose birth centenary falls this year. In fact, there is a lot of commonality between Bond and Narayan, in the sense that both writers have brought their own little worlds of Dehra and Malgudi endearingly alive and close to the hearts of their readers. "Narayan writes simply without recourse to bombast. He's out to tell a good story and create believable characters with whom the readers can identify their lives and day-to-day problems. That's a part of his lasting appeal," says Bond.
Bond's writings carry the fragrance of the Garhwal hills, landscaped with pine knolls, gurgling streams and wild flowers. And his words flow with the ease of a mountain stream. Sometimes rapid like a torrent; sometimes languorous like a river.
It takes a Ruskin Bond to turn the ordinary into an extraordinary story. He tells nostalgic stories of quaint bazaars, remote railway stations and small towns. Occasionally, eccentric uncles, schoolboys and drunken postmen bring delightful mischief to his vignettes of life. "Yes, my decision to settle down in Mussoorie has a lot to do with my inspirations from the mountains and mining material from there for my work. The hills have been kind to me," says Bond.
And he still writes in long hand with an old-fashioned pen, dreading computers as technological monsters. "I like writing with the ball pen, because one can carry one's note book and pen anywhere–sit under a tree, besides a stream or on a hill top and write on…."
What's a typical day in his life? "I like to get up early, to see the beauty of dawn breaking, a time when the whistling thrush too comes calling. And when I'm done with this ritual, I go back to sleep… till someone gets me a cup of tea." Surely Bond lives life at his own languid pace.
Another of his great attributes is his puckish sense of humour that spills out in his writings as well as personal interaction. As you tease him about his romantic life these days, pat comes the reply, "Oh! It's very much alive, I just met a couple of young girls today at a book shop who asked for my phone number… but are yet to call!" But how did he survive not getting married given his romantic disposition? "Oh! I nearly got very close to it once… but was lucky enough to keep my freedom intact. And I have no regrets, as there is no one to control my life… but you never know; I'm getting handsomer now!"
No wonder, his latest book is titled Sunny Side Up—as that's the only way Bond knows how to live life. Another book that's on the anvil will be titled A Town Called Dehra. After the superb success of the film The Blue Umbrella, based on his short story, at the film festival in Goa, a tele-serial called The Dehra Kids is now in the works.
Ruskin Bond will be turning 72 on May 19 but the romantic recluse of the mountains still retains his innocence and a sense of peace with the world. "He is a writer who deals with solitude… in the most understated way," says V. S. Naipaul in a recent tribute to him.


The Chandigarh connection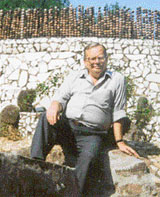 Ruskin Bond's day out at Rock Garden
In the late 1950s when Ruskin Bond barely scraped together a living by getting published in a few odd magazines, journals and newspapers, The Tribune (then based at Ambala) was his great sustainer. "It used to pay me Rs 25 for a story in those days, which was pretty decent. One of my stories published then was titled The Tikki Eating Competition, inspired by my fondness for hot spicy tikkis then. I could eat up to 20 in those days–now the number has come down to four. As I don't have a copy of this story, I would love to visit The Tribune office sometimes and locate it in its archives."
He also remembers his first visit to Chandigarh around the same time, when it was just coming up, as a very hot and dusty place. "Now the city's much greener with beautiful tree-lined avenues, and looks like very sleek and modern. It also has a large book-reading population."
Another reason for his affinity with Chandigarh is the fact that he was born in nearby Kasauli in 1934. "The reason for my mother's confinement there was that her sister was married to a doctor working in the Louis Pasteur Anti-Rabies Institute there. My baptism certificate is from the Christ Church at Kasauli. Also my father A.A.Bond, an RAF officer, studied at Sanawar Public School. Even his name appears in the honours board of its fallen soldiers… hope it's still there."