Cruise most powerful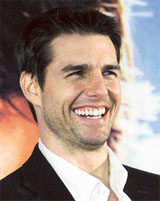 Mission: Impossible star, Tom Cruise has been ranked as Hollywood's most powerful star. Premiere magazine which announced its '2006 Power List,' ranked the star at No. 13 on its list. Director Steven Spielberg is No. 4 on the list appearing in the issue that hits stands on May 16. The Lord Of The Rings director Peter Jackson, who stood at No. 1 last year dropped to No 11, while Reese Witherspoon was the highest ranking actress at No. 29 in her first year on the list.
British actress Keira Knightley makes her debut on the list at No. 49 while 40-Year-old Virgin and The Office star Steven Carell is ranked No. 33 in his debut as well. The number one spot on the Premiere Power List belongs to animation bosses Steve Jobs and John Lasseter, reports Contactmusic.
Other Hollywood power players on this year`s list include Vince Vaughn at No. 31, Angelina Jolie at No. 38 and Jake Gyllenhaal at No. 48. —ANI