SIGHT & SOUND
Of reactors & reactions
Amita Malik

The class of channel always shows. This is when it breaks away from the rat race of politics, films and sport and gives us something of national importance, and something which lets us into a subject with which we are not familiar but which, as Indians, we should know.
The Fast Breeder Reactor at Kalpakkam in Tamil Nadu is not normally open to the media, least of all to TV cameras. And when NDTV sent in Indian Express staffer Royden DíSouza, together with one of TVís finest camerapersons, Ajmal Jami, they could not have picked a better team. Royden seems to have done his homework and when he spoke to the top scientists inside, he asked the right questions but left it to the experts to develop what they were saying. To a lay viewer such as myself, the way a reactor is set up and works became clearer. It was also reassuring to know that the fears of flooding, which had arisen during the tsunami, were now a thing of the past and the reactor was safe from the fury of the elements.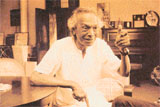 Naushad
This kind of programme is rare enough on Indian TV and even more rare are people who can produce, specialise and voice them. Vishnu Som has been specialising in the more familiar aspects of our defence services but so far the only top specialist in this limited sphere has been Maroof Raza, who used to do programmes for NDTV but is now doing a programme called Duty Calls for TIMES NOW. With Royden DíSouza having proved his mettle with this programme on Kalpakkam, we have someone of the same calibre and with experience he certainly ought to reach the same stature. And one hopes that such unusual programmes will come more frequently our way.
It was only when Naushad passed away that we realised how much his film music had become a part of our lives, which everyone, from our mothers to ourselves, could hum and recognise instantly. Is there a single great film, from Mughal-e-Azam and Pakeezah to Mother India for which Naushad did not provide such wonderful music? He drew on classical music as well as folk and worked in tandem with not only great directors but provided songs for the topmost singers like Suraiya, Lata and Rafi. One is glad that large chunks of Naushadís music took precedence over the rather conventional tributes by the usual suspects. Javed Akhtar even confessed that he had never worked with Naushad. The most moving of all was Dilip Kumar, who hummed a line from his films in a sad, broken voice. Indeed Naushadís passing is the end of an era.
The North Indian bias of most of our English and Hindi channels was apparent when only one channel, to my knowledge, paid a fitting tribute after the passing away last week of Pattabhi Rama Reddy, a Kannada poet who was one of the first to make serious films in Kannada and who put Girish Karnad on the film map by directing him in the movie Samskara. Reddy and his wife were persecuted for protesting against the Emergency and his wife died as a result of inadequate medical care while in detention. Reddy deserved much more than the sole tribute on NDTV by Nupur Basu. I can only hope that the Kannada channels of Doordarshan and private channels in the South did more justice to this courageous and eminent filmmaker.
Tailpiece: It is strange that during the upheaval in Nepal and during the election fever during the last few days, the most common words have been mispronounced. Monarch was consistently mispronounced MO-NARK and CNN-IBNís reporters kept on pronouncing Communist as Kummunist and Communism as Kummunism, with the accent on the wrong syllable. One increasingly gets the impression that no one monitors the best channels any more and anything goes.