How bad are the feel-good foods
Neeta Lal
Comfort food seekers must learn to distinguish between physical hunger and emotional craving, say dieticians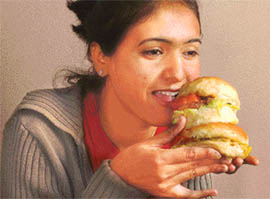 The food-mood connect has existed ever since human beings began chomping on raw berries to stave off hunger. But it's only now that modern physicians, neurologists and psychologists are focusing on how certain types of foods—classified as 'comfort foods'—directly and strongly impact our minds and body. Ergo, some foods send strong messages through neurotransmitters or 'chemical messengers' to our brain, influencing our emotions and moods. "Calorie-dense foods—like chocolates, sweetmeats, deep-fried items, junk food and ice-cream—have pleasurable associations, which lead us to crave for them," explains physician Dr Ravinder K Tuli, head of the Department of Holistic Healing at Delhi's Apollo Indraprastha Hospital.
"Similarly, certain nutrients like fats and complex carbohydrates have physiological properties which act as mood elevators. These nutrients release endorphins, the feel-good hormones, in the body, thus heightening our sense of well-being." But what exactly are these 'feel-good' foods?
"Comfort foods are those foods which address a person's emotional need more than a physical one," explains psychologist Dr Jitendra Nagpal, Senior Consultant, Vidyasagar Institute of Mental and Health and Neurological Studies (VIMHANS), New Delhi. "Physical satiation is usually not the agenda here. Since reaching out for comfort foods signals an emotion-linked hunger, the reasons could vary from depression, stress at work and broken relationships to diet plans gone awry, anything."
Hence dieticians advice that comfort food seekers should learn to distinguish between physical hunger - which builds up gradually and tells the brain clearly when to stop - and emotional eating, which is sporadic, sudden and often prolonged.
Also, emotional eating is irrational, says Ishi Khosla, a Delhi-based clinical nutritionist. "You just don't want it to end; you want to keep gorging on whatever is available, regardless of the food's nutritive value. On the contrary, real and physical hunger sends an unambiguous signal to the brain to stop when our tummies are full." Also, adds Khosla, emotional hunger riddles us with guilt while normal hunger seems "well-earned and, therefore, leads to no negative feelings".
Another way to distinguish real hunger from emotional hunger, according to some dieticians, is that the latter invariably strikes when we're depressed, bored or lonely. "And this is a really vicious circle because depression propels us to eat more, which in turn makes us put on weight," says Khosla. "And added weight makes no one happy. So make sure that you're not establishing a hard-to-break pattern for yourself." Good advice, given that women, especially, are socialised to co-relating their self-image with current beauty norms.
According to Nagpal, pre-menopausal women need to be especially careful while reaching out for comfort foods because, at this age, their hormones are wreaking havoc with their systems in any case. This makes many women overly emotional which, when combined with other factors like depression and lifestyle stress, could lead to frequent binge eating for comfort. But is the craving for comfort foods gender or age-specific? Are women truly more susceptible? While the jury is still out on this one, what's definitely established is that gender and age do affect one's taste in comfort foods. According to a survey done by the University of Illinois Food and Brand Lab in the US in 2000, men and older people "...prefer comfort foods that are warm, hearty and meal-related, such as steaks, soups and casseroles, while women and kids reach out for snacks or finger foods, such as chips, savouries, ice-cream and chocolate". So is consuming comfort food all bad then? "Not at all," says Dr Swati Chaddha, consultant dietician, Max Healthcare, New Delhi. "In fact, satisfying an occasional craving for comfort food is a great stress-buster because it leads to physical and mental satiety, which in turn triggers off the feel-good factor. Occasional bingeing helps us detangle our emotions and focus more productively on the task at hand. But the trick is to not give in to such binges too frequently."
Apart from analysing one's food intake, one also needs to probe one's emotional needs. Why is it that we are seeking comfort in food? This brainstorming, say psychologists, really works because, over a period of time, the mind learns to divert itself effectively. In fact, as soon as emotional hunger strikes, specialists advise that we should try and funnel our energy into diversionary activities like gardening, going out for a walk, meeting up with friends, writing that long overdue letter, reading a good book or playing with pets.
"Also," advises Nagpal, "keep your communication lines open. Half the problems in our society exist because we have stopped communicating with each other. Don't bottle up emotions. Meaningful communication with our near and dear ones is the best antidote to stress." — WFS

Making wildlife history
Prashant K. Nanda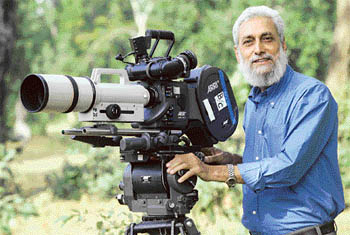 Naresh Bedi: Hard work recognised
Movies by two Indian filmmakers will feature in a unique British library that will trace the history of environment and wildlife filmmaking in the last 100 years. Naresh Bedi and Mike Pandey, both recipients of the Wildscreen Panda Award, better known as the Green Oscar, will feature in the library, WildFilmHistory, which is coming up in Bristol.
"It is always a great honour to be part of an international community and get recognition for your hard work," said Bedi.
Wildscreen, the organiser of one of the most respected environment film festivals, is constructing the library.
"I hope the effort will prove beneficial for wildlife filmmakers, environmentalists and nature lovers," remarked 60-year-old Bedi.
Bedi won the Green Oscar in the best cameraman category in 1984 for the film The Ganges Ghadial, which captures the life cycle of an endangered species of crocodile.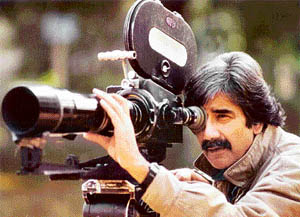 Mike Pandey: Part of the big circuit
In the initial phase, WildFilmHistory will be a library of key wildlife films from the last 100 years.
Said Hamish MacCall, communication and marketing manager of Wildscreen, on email: "A part of the project involves interviewing prominent filmmakers. Among them are Naresh Bedi and Mike Pandey."
MacCall said it was Wildscreen's "dream to create a wildlife-film museum" when more funds were secured. The library is to be launched in 2007.
He said in its first phase the library would include around 200 films, 100 articles and about 30 oral histories.
Wildlife filmmaking is considered to have begun in the 1880s. Oliver Gregory Pike's film about birds in 1907, which was screened for a theatre audience in London, is widely believed to be the first wildlife film in Britain.
Pandey won the Green Oscar thrice for The Last Migration - Wild Elephant Capture at Sarguja in 1994, Shores of Silence: Whale Sharks in India in 2000 and Vanishing Giants - a film on the death of elephants in captivity - in 2004. He was thrilled with Wildscreen's new project.
"It is a great move and I am sure that the project will prove to be a one-point shop for hundreds of environmentalists and filmmakers. It is a pleasure to be a part of the big league and more so to be part of Wildscreen's initiative." — IANS

He set new directions
Jangveer Singh in Bangalore
A man of great talent, Pattabhi Rama Reddy will be remembered most as the harbinger of the new wave in Kannada cinema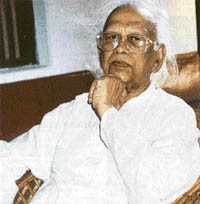 A poet, a mathematician, a filmmaker and a political activist, Pattabhi Rama Reddy was all these and more. Born into an aristocratic family in Nellore, Andhra Pradesh, on January 19, 1919, Reddy's life is a story of revolution and reform, which had a profound impact on our times. This multi-diamensional personality passed away in Bangalore on May 6.
Deeply influenced by Rabindranath Tagore as a young man, Reddy rejected his ancestral wealth to study at Santiniketan. After a two-year stint there, Reddy joined Calcutta University to do Master's in English literature. Living in a small room on the Lower Chitpur road, the young student was shocked by the human misery around him. The World War II in 1938 forced him to face the harsh reality around him and have a re-look at Tagore's philosophy. Finding it difficult to concentrate on his studies any longer, he returned to Madras.
In Madras, Reddy came into contact with revolutionary poets like Sri Sri and Mallavarapu Viswerwara Rao. This resulted in works, including Fidelu Ragala Dozen (A Dozen Melodies), which revolutionised Telugu poetry. Noted Kannada writer and Jnanpith awardee U. R. Ananthamurthy says Pattabhi revolutionised Telugu poetry long before any South Indian language became modern. He says Pattabhi wrote remarkable irreverent poems, shocking people who were used to sentimental poetry of the time. The poems live on even today with Ragala Dozen now running in its tenth edition.
Soon Reddy was off to another adventure. He completed his Master's degree, this time choosing Columbia University to enrol in a course in English literature and mathematics. When he was in his second year, his name came up in the draft list. The young man refused to be drafted on principle, saying that his parents had been persecuted by the British and he would not fight on their side as part of the Allied Forces. Given one month to leave the US, Reddy went to South America, walked through the Andes and dodged U–boats in a merchant vessel to land in Bombay after two and a half months.
Back in Madras, he became an active member of the Madras Players theatre group. He founded Jayanthi Pictures and produced the Telugu film Pellinaati Pramanalu, which bagged the National award. It was during this time that he also made a film Samskara, based on the novel by U. R. Ananthamurthy. The film, which was a startling indictment of caste and priesthood, won him the President's Gold Medal for the Best Feature Film in the same year that Satyajit Ray's Pather Panchali was also in competition.
The film, which went on to win international awards, including the Bronze Leopard at Locarno, is a landmark in Indian cinema; it triggered a new wave in Kannada filmmaking and inspired a promising crop of young filmmakers like Girish Karnad.
Among the other films he produced are Chanda Marutha (Wild Boats), Sringara Masa (Paper Boats) and Devaradu in Kannada and Krishna Arjuna Yudham and Bhagichakram in Telugu, which established a parallel art movement in South India.
Pattabhi's daughter Nandana Reddy, who is a trade unionist and social worker, says her father always put his entire energy into whatever he pursued. Like, when he saw actress Snehalata dancing and fell in love with her. He vowed he would not shave until he married her and marry her he did in 1948 against the wishes of both his and her parents as the bride was a Christian and intercaste marriages were quite a taboo then.
The couple soon immersed themselves in politics and were attracted to the socialist ideals of Ram Manohar Lohia and Jayaprakash Narayan. They had to pay for this with Snehalata being imprisoned for allegedly concealing the whereabouts of socialist leader George Fernandes during the Emergency in 1976. Snehalata remained in jail for eight months and fell ill as she was not given treatment for her asthama. She died in January 1977, five days after her release.
The reforming zeal of Reddy lives even today among the working children. He founded the organisation Concerned for Working Children (CWC), which at present under the leadership of his daughter Nandana continues to address the issues of working children besides fighting for their rights.

She wrote her own future
Rashmi Talwar
Anwant Kaur has more than 20 books to her name and was editor of a Punjabi magazine way back in 1968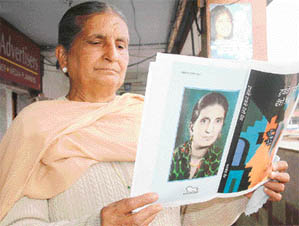 As an 11-year-old she coyly posed before a 'box camera' and declared herself an editor. This happened in 1946 in Mohanpura, a Muslim-dominated mohalla in Rawalpindi, Pakistan.
It took Anwant Kaur 22 years to realise her dream. In 1953, she joined Kanwal, a Punjabi monthly magazine established in 1940 in Amritsar, and in the same year become Editor of the magazine's children section. She assumed complete responsibility of the magazine as its first woman Editor in 1968.
Anwant first tasted the influence of media during her childhood. Recalling her early years, she says: "My destiny was written by the pen of my paternal uncle, Dr Harnam Singh Vohra."
She remembers the days when the freedom movement had gathered momentum and her uncle, a dental surgeon, had intensified anti-British propaganda through their Urdu weekly newspaper Punjab Gazette.
She says: "At the threshold of freedom, the talks in our house centred on the pivotal role of the print media. We children would fold newspaper pages after dark under hooded oil lamps, and tie them in bundles for a pre-dawn delivery, to escape detection. The freedom struggle was not merely an adventure as situations and consequences were real and fiery."
She vividly recalls numerous attacks during Partition that were repulsed by her family till they escaped to Tarn Taran on the Indian side. Her father Malik Singh, who was in the army, owned a shop that sold arms and ammunition.
Having witnessed the Partition trauma, she wrote a touching short story, Keemet merey vishwas di, when she was in Class IX. The story, which gave the real-life account of a 10-year-old Sikh boy of Thoa Khalsa village in Pakistan who was left behind while his family escaped to India, was adjudged the best story in her class. Later in 1953, the school principal had it published in a newspaper, Jathedaar.
Despite belonging to a family of war veterans, it was the 'pen' and not the 'sword' that fascinated Anwant. She got married to Avtar Singh Deepak, principal of a government senior secondary school, and now manager of the Gursevak printing press. Anwant too started a weekly newspaper Jal Tarang. In 1963, she released her first book Rang Birangi Khedaan—a book on the playway method of learning science, which has been accepted by the State Languages Department.
She was awarded by the Punjabi Likhari Sabha, Uttar Pradesh, in 1982 and again in 1983. In same year, the Punjabi Sahit Sabha honoured her for her monthly magazine Kanwal. Declared the best storywriter in 1998, she received Principal Sujan Singh Award by the Sahit Vichar Kendra.
Her 23 books include Heeth Wagey Dariya, Peyrhan Tey Rah, Channan di Phulkari,and Tukrey Tukrey Hui Soch. She has written books for children too such as Bijli di Khedan, Sunehri Kukar, Samunder di Rani, Nekki da Palra. At present, Anwant is president of the Nari Chetna Manch.
Anwant has stoically faced the loss of her two daughters— one of whom had a brain tumour and died at age of 18— and a number of other hardships that life brought her. At one time her family suffered a major financial crisis, and they had to even sell their household articles. However, Anwant never lost hope and also worked as narrator of her stories in All India Radio.
This woman editor sailed through the Emergency period and the militancy days of Punjab when journalists were being targeted. Only a cardiac problem in 1986 prevented her from continuing to work for her beloved magazine.