Celebrate Mother's Day today with warmth. The markets are flooded with nice little gifts of affection. So, pick up an alluring present and make your mum feel important, once more, says Saurabh Malik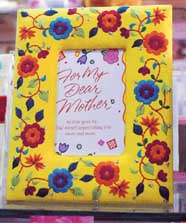 You can see her smile in photo frames; sniff her affection in alluring cans of deodorants! Holding a silvery wristwatch in your dexterous hands, you remember all those times she has helped you out in tricky situations. Its ticking reminds you of time's winged chariots hurrying near. Yet, you have not acknowledged your mum's efforts by gifting her a present on the Mother's Day falling on Sunday. Well, it's still not late. Celebrate her. Indulge her. Love her. For, the day will not come for another year.
Go shopping
Get present perfect. Hop into your car and drive down to card, gift and chunk jewellery shops across the city for picking up the souvenirs of affection. Return a bit of caring warmth by picking up nice coffee mugs, posters and even coasters specially designed for the occasion. Right, the ones with "I love you mom" message printed across in bold letters.
Or else, remind her of all those loving moments by gifting her "mom-special" photo frames. You can get one by pulling out anything between Rs 75 and Rs 300 from your wallet. A picture-perfect gift, indeed!
Another thing! You have been punching holes in your mom's purse by borrowing money from her, so now make up for it by buying her a good leather handbag. "You can choose from branded ones like Allen Solly, or else go in for the not-so-expensive local ones," says Krishna Sahoonja of Dewsun Greetings and Gifts in Sector 11. "The price varies between Rs 595 and Rs 1,000".
This is not the end of gifts. You can also go in for elaborate gift packs wrapped specially for the event. Cool shades, chic earrings, and modish bracelets that compliment each other make the collection attractive. It's not very expensive either. The whole pack can be yours for just Rs 850.
Just in case your mom spreads the jam on the bread your dad earns by sweating it out in the office, buy a nice little hardbound diary for her to keep track of day-to-day activities. Pick up the one with "world's greatest mom" inscribed on the cover in bold letters.
If your mom has always been a pillar of strength and carver of your future, buy her fine statue shaped out of clay just for the telling her how great she is, still. The ones with touching messages will cost you something like Rs 200 each, but they are worth the price. Chic kitchen and bathroom sets also make good gifts if your mother believes in "purchasing only constructive things".
Also, remember to take a round of the arcades. Some of the gift shops in the city are offering special discount on Mother's Day. All you have to do is to carry your mother along and get money off the marked price. "Even if you don't come with your mum, just tell us that you are buying a gift for her and get 20 per cent off. The offer is valid not just on the big day, but throughout the month," says Raman of Jewels in Sector 11.
Celebrate her presence
For Sanjay Leela Bansali, mum is his middle name, actually. Just in case you do not know, Leela is his mom's name. Agreed, you cannot amend your name to include hers, but you can at least acknowledge her presence in your life by not taking her for granted. To begin with, lay your cards on the table. Present her a polite greeting card thanking her for being the best.
You can take a cue from young innocents studying in city schools. Their tutors are actually teaching them to write their hearts out after painting Mother's Day cards. "My son Kaka studying in class II of St Johns School has prepared a special card. Well, I am yet to see it because he has hidden it deep inside the closet," says a senior journalist mother. "He plans to take it out and give it to me on the big day".
Folks, you can also take her out to dinner in a fine restaurant she hesitates to frequent because of her money-saving nature. Just let it be a mother's day out. Last thing! Stop taking her for a hurricane in its perfect power, suggests city-based socio-psychologist Nidhi Verma. "Share her concerns. Develop sensitivity to her condition. See if the passing years have brought along with them health concerns or even empty nest syndrome".
Well, folks! For once, become mamma' boy and drop the baggage of ego and pride that you have picked up from the crossroads of life while traveling on the highway of time. Just make her feel that she is in control of the things, once more.