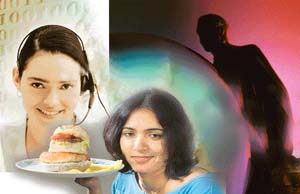 Make moolah while the sun shines
Usha Albuquerque
Part-time jobs during the summer break enable students to earn pocket money and also gain work experience.
WHEN Shikha decided to earn some extra pocket money during the summer vacations, she hardly imagined serving pizzas and cold drinks at a nearby fast-food restaurant would be much fun. However, very soon, she had friends ringing up and asking for similar jobs. Karun, a serious student of Economics, working towards an admission to a prestigious management institute, had no time for holidays. So, while he was in his second year of graduation, during the summer vacation, he decided to apply for a job as a researcher with a market research company.


Careercature
Sandeep Joshi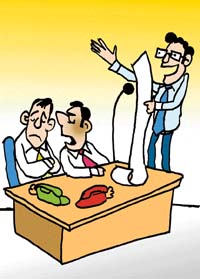 Somebody must have told him that effective speech is important for career growth.

Summer jobs help youth earn 'n' learn
Bindu Dogra
THE summer holidays leave the youth with plenty of free time, which many want to utilise for gaining some professional experience. Today's youth, living in the age of globalisation, is not content with just spending their summer break within the protected four walls of their homes, watching TV, chatting on the Net or sleeping.


Bits & bytes
IIM opens campus in Noida
THE country's premier Indian Institute of Management has opened a new campus in the industrial township of Noida, aimed at providing managerial training to the vast technical workforce coming up in the satellite city adjoining the national capital.
Course on data warehousing

NIIT Tech campus to start soon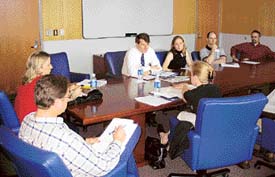 Workability
Keeping employees motivated
Business literature is packed with advice about worker motivation. But sometimes managers are the problem, not the inspiration, writes Mitu Maheshwari
MOST companies have it all wrong. They don't have to motivate their employees. They have to stop demotivating them. The great majority of employees are quite enthusiastic when they start on a new job. But in about 85 per cent of the companies, researchers say, employees' morale sharply declines after their first six months—and continues to deteriorate for years afterward.

Job gaffes that show you in poor light
Patricia Kitchen
WHAT an endless number of ways there are to mess up your career, pretty much all of them revolving around judgment — bad judgment. For instance, how smart do you think it is to disagree openly with your boss over an important issue — right in front of other people? Answer: It's pretty low on the smarts scale, whether you're right or wrong, says Richard Bayer, chief operating officer of a career-coaching network.


Surviving mergers
Amy Joyce
WHEN an organization goes through a major shake-up, whether that is in the form of layoffs, top management turnover, buyouts or a company scandal, the reverberations can be felt from the big corner office to the tiniest cubicle. The first thing everyone is concerned about is his or her own job and the likelihood of keeping it.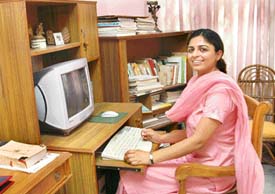 Interview Intelligence
"Answer honestly and make eye contact with all panelists"
Gurneet Tej has done the city of Chandigarh proud by ranking second in the all-India civil services exam this year. Here, she shares her experience of the personality test/interview in the Mains and provides tips for aspiring civil servants.
Excerpts from an interview:

How did you prepare for your civil services interview?

SECOND TO NONE: Gurneet Tej who ranked number two in this year's civil services exams


Infosys to bring foreign talent to India
300 graduates to be recruited from US varsities
Software major Infosys has announced its first large-scale plan to recruit 300 college graduates from universities in the USA this year and 25 graduates from Britain in 2007 as part of an ongoing commitment to create a diversified, global workforce.

Career Hotline
Actualise your dreams as an actuary
Pervin Malhotra
Q Please tell me how I can become an actuary. I am doing PG Diploma in Insurance Management and have done B.Com (48 per cent).
Green avenue

Hospitality after MBA

Sow seeds of growth

Material gain

Share knowledge