After a long run, Chase loses steam
With James Hadley Chase's 100th birth anniversary this year, Anandita Gupta does the rounds of Chandigarh's bookstores to find that the thriller king is no longer a favourite among the young


They bewilder and baffle, yet brim with a balmy charm. Race through their pages and what tumbles out is a torrent of secrets, riddles, paranoia and conspiracy. Welcome to the riveting world of the sensational thrillers. Spy thriller, though a genre that's seldom met with much critical acclaim, has always remained among the most unputdownable pick of the bookshelves.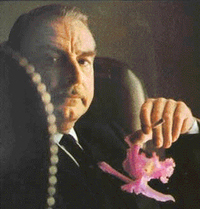 James Hadley Chase

Chase's racy tales of murder, intrigue, blackmail and espionage created quite a flutter from the 1930s to 1980s.
— Photo by Pradeep Tewari
And though the inheritors of this hard-boiled genre are diverse, James Hadley Chase remains the thriller maestro of a generation. Chase, a London-born former children's encyclopedia salesman and book wholesaler, wrote more than 80 mystery books. Widely popular in Asia, Africa, France, Italy and Soviet Union, his moving tales of murder, intrigue, blackmail and espionage created quite a flutter from the 1930s to 1980s. But today, his thrillers no longer rock the bestseller lists. And why city people have lost their love for Chase's ingeniously plotted thrillers is perhaps due to a motley assemblage of other titles thronging the bookshelves.
Reasons Vipin Kinger from Asia Book House, Sector 17, Chandigarh, "The novels that have been hitting the stands in recent times are not just about blood, gore, investigation, trials and sentences but also provide deep psychological insights and paint a clear picture of the society we live in. Also, crime is no longer confined to British and American writers, and books from several languages are finding English releases. So the earlier thriller writers are fast giving way to those delving into psychology and history, along with crime."
Ajay Arora of Capital Book Store, Sector 17, believes that a psychological thriller, especially with a tilt towards fantasy, is the hot pick for the day. Harry Potter, the Bartimaeus Trilogy by Jonathan Stroud and The Da Vinci Code by Dan Brown are some of the faves. "In addition, J. R. R. Tolkein's The Lord of the Rings and Paulo Coelho's The Alchemist are as popular as the works of Agatha Christie, Robin Cook, John Grisham and Sidney Sheldon.
And, of course, Dan Brown remains the king of the bookshelves. His Digital Fortress, Angels and Demons, Deception point and The Da Vinci Code are continuing to pull crowds at all leading bookstores in the city. Explains Barkha Kapil, an avid thriller reader, "Dan Brown's twists compel you to keep turning the pages because they are pieces of a jigsaw that slowly begin to take shape on the page."
Rajiv Chaudhary from English Book Shop mentioned about a series of low-priced editions of Chase books that have come into the market, "After decades of hand-drawn, cheap paper pirated books with flimsy bindings, Indian publishers are waking up to a whole new world of Chase books. Publishers like Master Mind have brought out low-priced editions series with each of his books costing just Rs 60. Earlier his original books were either too expensive or not available. But this Indian edition has triggered off the demand again among the middle-aged, who've read a few and missed some Chase books, " he says.
Beginning with classic whodunits, serial killers and spies, today's thrillers rock bestseller lists with their excursions into law, medicine, high finance and even religion. As knowledge systems become more and more specialised, the genre becomes the common person's guide to a changing world. Moving from a genre that was wildly popular within its niche, the thriller, once defined both contextually and spatially, has broken all boundaries.


Choicest lot
The all-time favourites of conspiracy buffs
Stay Dumb (1939)
He Won't Need it Nnow (1939)
Nice Night (1980)
We'll Share a Double Funeral (1982)
Hit Them Where It Hurts (1984)