Design a future in product development
Sunit Dhawan
Growing focus on developing consumer and industrial products in this era of tough competition has created an environment wherein many engineers and industrial designers seek additional education to enable themselves to play a more substantial role in product development.



Course chat
"Product design students are directly absorbed by industry"
The prospects of integrated product design are immense, says H.C.Garg, Chairman, Department of Mechanical Engineering, Guru Jambheshwar University, Hisar. Excerpts from an interview: H.C. Garg


Careercature
Sandeep Joshi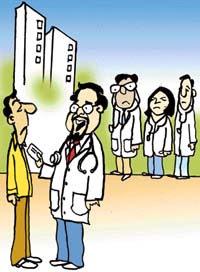 This is my new OPD — Outside Puran Dhaba

6.5 m Indians seek jobs online
Highest number from Maharashtra
THE number of Indians seeking online jobs reached 6.5 million in 2005-06, recording a rise of 71 per cent over last year, a recent survey has revealed. The survey conducted by the Internet and Mobile Association of India (IAMAI) said the number of online job seekers is expected to cross 9.2 million this year (2006-07)."



Preparing for Merchant Navy
the Mariners Society Chandigarh recently organised a seminar on "Merchant Navy as a Career" which was addressed by Capt S. Mukherjee, Deputy General Manager (Fleet Personnel), Shipping Corporation of India Ltd ( SCI), a Government of India enterprise.



Career Hotline
Give wings to your dreams
Pervin Malhotra
Q I am very keen to become a commercial pilot. Which are the good flying schools in Punjab where I could train?
Feed thy ambition

Be a legal eagle

B. Tech beckons

SMART SKILLS
Worldwide opportunities
Usha Albuquerque
A click gets us the information we need, a few more and we have a report written or a memo faxed. Don't bother to go shopping, the computer is a virtual shopping mall. Buying a plane ticket, making a hotel reservation, finding out about the latest music video —check the Internet.