A zen for art
Gayatri Rajwade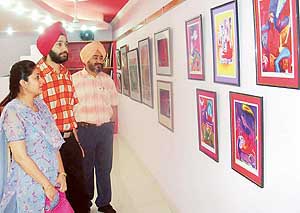 CREATIVE CANVAS: Art lovers having a delightful time at Mohali's first art gallery. — Photo by Vicky Gharu
Art found another place to sit in reverie this week.
For, within the hullabaloo of city life, comes along this vividly hued yet hushed niche, to touch upon the growing vitality of art in our urban jungle.
Artizen — Mohali's first art gallery — was inaugurated this week. The biggest names of city's art and culture came together under a single roof.
The initiative of former merchant navy officer Manmant Singh, it was a long-cherished dream that finally culminated in this festive unveiling that highlighted names like Viren Tanwar, Bhim Malhotra, J. S. Garcha and Diwan Manna, amongst others.
Tanwar's two oils on canvas, 'Story Without an End' of an acrobat cyclist from his series on trapeze artists and '8+5-3+1=? (Homage to Noah)' of a man with an abacus near a boat are striking for their depth, engagement with space, colour and meticulous form.
Sharing space is son Shiven's work whose untitled dry-point of a lying figure and a crow in 'End of Days-II' are worthy of closer scrutiny. This second-year student at the College of Art-10 defines his work as "bold and realistic" and despite all the learning he still has to do, watch the gallery for more for this is his debut.
Bhim Malhotra's mastery of the water-colour technique sparkles in his three landscapes, 'Misty Dreams', 'Clouds in Shimla' and 'Ode to Kanyakumari'.
Lush green, snowy stark with the occasional suffusion of grassy warmth and the lovely temple by the seaside where the blue-green tints in the water stand out against the vibrant blue of the sky.
J. S. Garcha's 'Baramaha' is an arresting work spread over 12 drawings signifying phases of human life from birth to moksha as 12 months of the year.
Mingled with a series of writings taken from Guru Granth Sahib and showing the stages through the seasons, the Buddha and the Bodhi Tree, the whole composition is striking for its inspiration.
Among Madan Lal's five works on display, 'Rangleela' and 'Music Within' are robust and lively compositions.
R. M. Singh's five oils—two denoting the male and female forces of the universe through the depiction of Mars and Venus, one a look ahead of the world we are handing over to our children, another etched out with a knife and drawn from nature and the final work, a portrait—show the range this quiet artist works through.
Techniques and styles abound in Diwan Manna's eloquent photographs, Vinay Malik's prints, especially 'Shadow-Play', are aesthetically appealing for work with outlines against a large umbrella and Malkit Singh's digital wonders use Photopaint titled 'The Sufi Way', "where the mouse is the brush and the colours abound to give an effect of work on canvas".
Malkit Singh's prints are part of 60 digital works, a culmination of a fellowship he received from the Ministry of Culture two years ago.
The fiesta continues. Madhu Pandit's digital prints of flowers, Sanjeev Sharma's pictures, figures dancing in poetic stillness, Mahesh Prajapati's intaglio of a hunter in 'Chasing-II', remarkable for its intensity and bold expression, Raman Bhardwaj's self-assured strokes, Balwinder's remarkable compositions drawn from nature, Rakesh Bani's detailed and impressive etchings, 'Nature-VI' and 'Images in-between Countryside', meticulous for its perspective using images like feathers and centaurs.
Gurjind Sandhu's fascinating works from his 'Kite' series, Mohali-based Satwant Singh Sumail's acrylic and pastel 'Symphony of Nature' series are colourful essences of the environment rendered lush by the imagination.
The students of the College of Art also make an impact here. Sumit Kathuria's sculptures, which won him appreciation even at the annual art exhibition at the college earlier this year, are on display here as is Vijay Dhaion's water colours of flowers.
Take a peek and satiate your senses at SCF 36, Phase XI, Mohali