I want to bring back the Ashes. Just like you," screamed the headline of an advertisement in all major English dailies of Australia during the last Commonwealth Games, which concluded in Melbourne on March 26. The advertisement, issued by the Government of Victoria—a province of Australia—depicts a turbaned Sikh batting and his minor son, with a handkerchief neatly tied to cover the jurra (knot of hair) on his head, keeping the wickets.
The advertisement, which indicates a turnround in the policy of the developed or western world towards immigrants, especially those from developing nations like India, is basically designed to attract investors from all over the globe to Victoria.
"Victorians come from all over the world. Some of us have been here for generations. Others have just arrived. We work. We celebrate. We want a future for our kids. And we never forget our friends. We want to feel safe in our own homes. This is our home. This is where we live. Just like you," read the advertisement.
And a couple of days later, when North Queensland, another province of Australia, was devastated by cyclone Harry, The Australian, another major English daily of Melbourne, splashed an eight-column picture of a Sikh couple standing besides their wrecked home.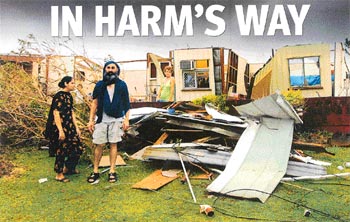 STRONG PRESENCE: A Sikh couple featured in a Melbourne daily, after cyclone Harry hit North Queensland in Australia earlier this year
Until a few years ago, not many Sikhs, especially with turbans, figured in mainstream media of the western world. One, however, remembers a full page advertisement inserted by a major Swiss Bank not only in International Herald Tribune but also in Newsweek and Time magazines of Jogeshwar Singh, a 1976-batch IAS officer of Himachal Pradesh, who had joined the bank as head of the Human Resource Development section. Jogeshwar Singh has since moved to another bank in Switzerland.
In fact, the increasing acceptability of turban worldwide is also reflected in the overwhelming response to Sikh Turban Day, which has been celebrated on Baisakhi day for the last three years.
"We start by first reaching out to neighbourhoods through the door-to-door turban distribution campaign, followed by 'turban clinics' organised worldwide a few weeks before Baisakhi with the help of international, regional and local Sikh organisations. And now Sikh Turban Day is the largest single-day turban awareness campaign in the world.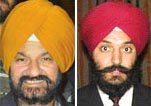 Roll of honour: Turbaned Sikhs G.S. Malhi and Navdeep Bains sit in the House of Commons
"Sikhs of all ages greet friends at home and work, pray at gurdwaras and, more importantly, youngsters have their colourful turbans, helping them to open a dialogue and express their feelings. Our campaign reaches all across the world and this is a good start for a long-term mission. The need for such an exercise is paramount to achieving an increased level of turban adoption amongst Sikhs, especially the younger generation besides creating awareness and education amongst their neighbouring communities in the western world," says Hardeep Singh Aulakh of the Sikh Children Forum (SCF) in Fremont, USA. The SCF is one of main organisers of the event.
The SCF started holding this function in 2002 to open a dialogue with non-Sikh communities about the significance of the turban for the Sikh identity and its value in their culture and religion. It was important as many Sikhs became targets of hate crime as they were mistaken for Muslims.
In Canada, now two turbaned Sikhs—Gurbax Singh Malhi and Navdeep Singh Bains—sit in the House of Commons.
"It is unusual to find pictures of turbaned Sikhs splashed so prominently in Australian newspapers," remarked Amrit Grewal, a former Indian basketball player now settled in Australia.
"Things have changed dramatically, more so after Manmohan Singh became the Prime Minister of India. Now the western world has started recognising Sikhs and, hence, this prominence.
For many overseas Sikhs, especially those wearing turbans, a shift in the attitude of the people as well as the western media is a positive development after the French government persisted with the implementation of its controversial ban on headgear, including turban or patka, in its schools.
"A supportive media was of great help in persuading the French government to not extend the legislation any further," says Devinder Singh Benepal, another Australian Sikh now settled in Sydney.
Many others pointed out that it was perhaps for the first time that a turbaned Sikh, Ram Nayar, was a part of the Canadian contingent in the last Commonwealth Games. Besides India, Kenya and Malaysia were the other countries in Melbourne which included turbaned Sikhs in their contingents.
Though many Sikhs have represented Canada and the UK in Olympic Games and Commonwealth Games, but none wore a turban before.
Early this year, Monty Panesar (England) became the first Sikh sporting a turban to play for any cricket Test playing nation other than India.
The increased acceptability of Sikhs in all walks of life was also apparent as the Organising Committee of the Melbourne Commonwealth Games invited the Dhol Foundation of Punjab and Dya Singh, a Malaysian Sikh now settled in Melbourne, to perform at the cultural festival held during the Games.
Dya Singh, who invariably sports a white turban, and his troupe were invited for concerts both in Melbourne and Sydney. Members of his troupe include a Nepalese and a few white Australians besides his two daughters.
"We are supportive of the demands of Sikhs that the ban on turban should go from schools of France," said Neena Gill, a Ludhiana-born Member of European Parliament.
Gill, who led a delegation of European Parliamentarians to India last month, suggested that "pressure has to be applied from all sides to revoke this ban".
A few other members of the European Parliament delegation argued that Sikhs in France were a minute minority and could not be and should not be compared with the strong Muslim community of that country.
"For the Sikhs," we agree, "turban is not only a religious symbol but also a cultural and identity issue," added Gill.
Of late, even in the US, where many cases of hate crime against Sikhs were reported immediately after the 9/11 terrorist attacks, now several States have accepted turban as a part of the religious wear of the Sikhs.