You took Rang De Basanti on this historic trip through the academia in the US?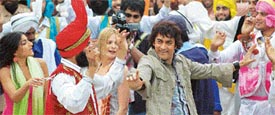 Rang De Basanti has struck a chord with the youth in other countries too.
Historic? That sounds too self-important. But, yes, we did go through the liberal mid-west area of the US. There were two shows also by Global Rhythm where A.R. Rahman performed. They were awesome. Rahman was accompanied by a 150-piece orchestra and a full choir.
The trip served as a curtain raiser. After the shows Iíve a feeling that a lot more invitations are on the way. Stanford, New York universities.`85 Rang De Basanti has established its own network all across the world.
Did the students at the US universities understand the indigenous historical references?
I was apprehensive whether theyíd cotton on. But the US students identified with the film to the hilt. I saw no difference between the reactions in Ahmedabad and Cincinnati.
I sensed the same passion, the will to change the status quo, in the audiences in the US. I didnít feel the cultural disparity at all. They associated the political situation in the film with racial discrimination and apartheid. They spoke to me about how the poor in the US couldnít avail themselves of medical benefits.
I think Rang De Basanti is being seen as a parable on corruption and discrimination. The US students told me how the image of America as a cultural melting pot has gone for a toss. Everyone seemed to identify with the theme of corruption in politics and also the Hindu-Muslim conflict as represented by the characters played by Atul Kulkarni and Kunal Kapoor. A couple of years ago after 9/11, the Americans too had started being suspicious of Muslims. They could empathise with Atulís reformation from radical to tolerant Hindu.
What has the impact of Rang De Basanti taught you about the influence and power of cinema?
Yes, thatís a question Iíve been waiting to answer. Itís difficult to say something on this without sounding pompous. I had heard about the power of cinema.
I had experienced it as a member of the audience. But while making Rang De Basanti, I never thought it was going to connect so deeply and so widely.
After you see a film making such an impact all over the people, you suddenly understand how completely audiences can love a film and give themselves completely to the cinematic medium. I know one thing for sure. Once you make a film and it goes into the theatres, itís no longer your property.
But how could American audiences connect with Indian history?
The American audiences have adopted Rang De Basanti and are willing to learn about Indian history. I didnít know about Che Guevara until I saw Walter Sallesí Motorcycle Diaries.
I truly believe cinema is one of the most powerful mediums of expression. I saw people enthralled by my film and then watched them discussing it as an experience that takes cinema beyond all prescriptions of entertainment and information. Only cinema can do this.
So far we thought our youth didnít think beyond sports shoes and sneakers. The market research and tools of advertising have been proven wrong. We totally misread the youth. The things that touch and move you will always triumph in cinema. And we donít need to stick to the time-tested formula of boy-girl, father-son, romance drama, etc, to get the audience interested.
The lesson from Rang De Basanti is so simple. If you can touch the audiencesí heart, you can win them over. Thatís the only magic formula we filmmakers should know.
Rang De... seems to have struck a chord with the youth.
Iím told viewers between the age of 16 and 35 constitute 65 per cent of the audience for our movies. It doesnít require brains to know that a film should appeal to that age group.
However, I wonít make a Ďyouthí film next time just to connect with the target audience. Iíll do exactly what the plot dictates.
What next?
Weíre working on a script called Delhi - 6 about my childhood in Chandni Chowk. Weíll see how it goes. Iíve started work on it. I donít even have time to sleep. In a month Iíll know if the screenplay is going where I want it to.
Would you work with the same crew as Rang De Basanti again?
Of course, why not? We know the level of work that we accept from all of us. Why shouldnít we carry on together? Iím aware Iíve a much larger audience this time than I had after my first film Aks. I canít run away from that truth. But I can only do what comes naturally to me.
Today Rakeysh Mehra is a brand name.
And I thought I had left the whole experience of advertising behind me. Ha! óIANS