Ramesh Kandula meets two young singing sensations from the South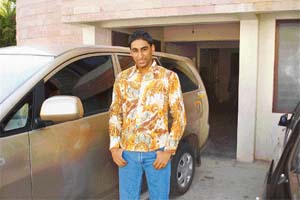 Vocalist Karunya has already been roped in by Bollywood; Hemachandra (below) made a mark in Saregamapa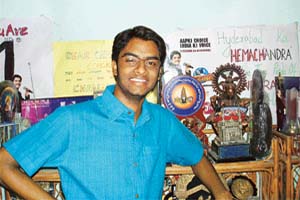 Talented singers Karunya and Hemachandra are from the South, but have captured the hearts of the Hindi audience in the recent singing competitions on TV.
Karunya narrowly missed the recently concluded Indian Idol 2 (Sony TV) throne, but he has made a mark as a singer with strong foundation and great talent. The judges, including Sonu Nigam and Anu Malik, rooted for him from day one, and even the viewers were bowled over by his sonorous voice and impeccable rendition of songs.
He floored everybody with a Punjabi song in the very first Piano round. His Laayi vi na gayi and Kavah kavah elicited a standing ovation from the judges and thunderous applause from viewers.
"I wanted to present something that is not a regular on such shows. And I have been practising singing in several languages, including Punjabi," remarked the singing sensation.
"I may have lost in the voting arithmetic, but the kind of support and recognition I got was unbelievable," he smilingly said.
Opportunities have already started pouring in for the talented young singer. "I have got a dream debut in Bollywood with the film Munnabhai 2nd Innings. I have already recorded a solo for Vidhu Vinod Chopra's prestigious banner," he revealed.
Apparently, Vidhu Vinod's sister in the US followed Sony's popular programme and became a big fan of Karunya and recommended him to her brother. The Abhishek look-alike is already getting a lot of offers from the South Indian film industry. "I have already given my voice for five Telugu songs, and one each in Tamil and Kannada," he said.
The other singer from Hyderabad, who made a splash in a popular contest on Zee TV Saregamapa, is Hemachandra. The lanky boy, incidentally, is Karunya's cousin. "Music runs in our family," says the shy 17-year-old, who was the second runner-up in the show. Hemachandra's soulful rendition of Nahin samne tu from the film Taal literally swept director Subhash Ghai and hero Akshaye Khanna off the floor. Ghai even publicly offered him a chance in his banner, before announcing the talented singer's ouster from the competition.
"Aadesh Shrivastava who was my mentor in the show stood by me and encouraged me. It was unbelievable that he spent so much time on me," said a grateful Hemachandra.
Interestingly, Hemachandra, unlike Karunya, was not familiar with any other language except Telugu. I had learnt my first Hindi song a month before I was to participate in the Saregamapa competition, he said.
The dark, tall and handsome teenager has already moved to Mumbai to pursue his dream of playback singing. He has already sung for Abhishek Bachchan in the film Alag, and is waiting to record for Subhash Ghai's Good Boys, Bad Boys. He has already performed at several stage shows, and is scheduled to go on a world tour in October with music director Aadesh Shrivastava.
Both singers believe that they did not make it to the top because of the limited viewership for Hindi TV channels in the South. "But we have made a mark and that can be an inspiration for others," they say with conviction.