Life for art's sake
Archana Shastri
Amrita Sher-gil: A Life
Yashodhara Dalmia. Penguin Viking. Rs 695. Page 230.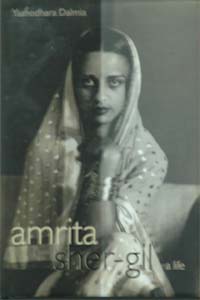 THE life sketch of Amrita Sher-gil delineated by Yashodhara Dalmia is as exceptional as Amrita's parentage. Born to Umrao Singh, a Sikh seeped in Indian traditions and Marie Antoinette, a Hungarian of noble origin with flaming red hair and an accomplished pianist and singer. Amrita's childhood was spent amongst the upper crust of Budapest. Her mother belonged to a well-travelled family with cross-cultural alliances, including a Jewish strain that was instrumental in compelling the family to move to India in the 1920s.
The contrasting rhythms of living in the countryside and amidst the bustle of the urban elite—intellectuals, artists and poets—was a recurring feature of Amrita's life in Hungary and India. The experience, with a brief interlude at Ecole des Beaux Arts in Paris, where she pursued her vocation, formed the very basis of Amrita's sustained dilemma of a transversion—straddling of the western and Indian modes of expression. Indeed, transgression of norms—sexual, cultural or social—was natural and inherent to Amrita.
She was fired and fuelled by Marie Antoinette's aspirations, nuances and elements of creativity cradled through tutelage of western classical music and art. This combined with Amrita's spontaneous rebellion against the Roman Catholic puritanism at school shaped the shifting but supportive alliance between the passionate nurturings of a creative mind and promiscuous wanderings of the body. Certainly, the life and sketch of Amrita's yearnings, rooted and fulcrumed in an otherwise stable and compatible marriage with childhood friend and cousin Victor Egan, is precariously balanced on the edge.
Intimate personal details of Amrita are lucidly interwoven with the times and lives of a host of intellectuals, artists and poets. The book elucidates on the intellectual (and, at times, sexual) bonhomie that Amrita shared with some of the finest personalities of the period—Mari Jaszai, Ervin Baktay, Alexander Csoma de Koros, Malcolm Muggeridge, Sass and Elizabeth Brunner, Flori Nehru, Karl Khandalavala, Charles Fabri, Boris Taslitzky, Jawaharlal Nehru, Khushwant Singh, Satish Gujral, N. Iqbal Singh and B. C. Sanyal, to name a few.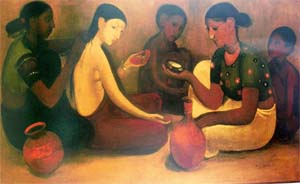 Bride's Toilet, Oil on Canvas, 1937
Above all, the writer, Yashodhara Dalmia, brings to life the discourse and dialogue within Amrita of a restless artist, passionately and impatiently coming to terms with "contemporary equations for Indian aesthetics." So much so that the issue of modernity in Indian art cannot really be discussed without the inclusion of Amrita as a forerunner and pioneer of modern art in India.
The book is a fascinating mosaic that also weaves in Amrita's intermittent outpourings in letters to various people; and her transition and infusion of the academic training she received from Ecole des Beaux Arts within the vibrant art environment in Europe, particularly populistic art movements in Hungary. These accounts are replete with her reinventions stirred from her responses and exposure to the Ajanta frescoes and Indian miniatures.
This moving tale of a young, impassioned and turbulent life, unfettered by conventions and proprieties, snuffed out at the promising age of 28 is meant for wider dispersal than just the academician, artist or the connoisseur.