Sangam revisited
The movie occupies a unique place in the annals of Hindi film history. It has possibly inspired maximum number of producers to make movies with romantic themes. Surendra Miglani pays a tribute to Raj Kapoor whose death anniversary falls on June 2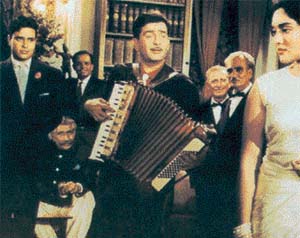 Sangam marked the entry of Raj Kapoorís cinema into the colour era
Raj Kapoorís Sangam (1964) was a great confluence of art, glamour and entertainment. Though most of the films made under the banner of RK films set one trend or the other, this love story occupies a unique place in the annals of Hindi film history. It has possibly inspired maximum number of producers to make movies with romantic themes, not to speak of those who ended up blindly imitating the magnum opus.
So strong was the impact and the popularity of the movie that down the years filmmakers have lifted even the titles of their movies from its songs (Mere Sanam, Bol Radha Bol, Radha ka Sangam, Har Dil Jo Pyar Karega, et al). And if there is Sangam Hotel, Sangam Restaurant or Sangam cinema hall in your vicinity, donít rack your brain too much to find out what made their owners choose that name!
Incidentally, Sangam marked the entry of Raj Kapoorís cinema into colour era (its technicolour prints were reportedly processed in London). This was also the first film of Raj Kapoor shot abroad. In fact, the picture postcard kind of foreign scenes, shot by Radhu Karmakar, had such a hypnotic effect on the viewers that shooting films on foreign soil became a fad among filmmakers in the wake of Sangam. So we had An Evening in Paris, Night in London, Around the World, Spy in Rome and so many other movies hitting the screen in the 1960s.
Raj Kapoor was actually desirous of making this film in the late 1940s under the title of Gharonda with Dilip Kumar, Nargis and himself in the main roles. Inder Raj Anand even penned its story around the time RK was making his first film Aag.
For one reason or the other, however, the showman kept on postponing the project before he finally came down to making it around 1962. Nargis had by then said goodbye to films following her marriage to Sunil Dutt. When Raj approached Dilip Kumar to play the role of Gopal, the latter said that he would not mind doing any of the two main roles provided he was given the right to edit the final copy of the film. RK, who would not accept any such condition, then approached Dev Anand for the role. However, he too declined the offer, citing "date problems" as the reason. The role ultimately fell into Rajinder Kumarís lap.
Incidentally, Sangam had a special significance in Raj Kapoorís film career as this was the first time he was wielding the megaphone for a movie after the marriage of Nargis who was known to be his love and inspiration till then. In fact, one wonders if it was Nargisí marriage that finally inspired him to translate his 15-year-old idea on the screen. After all, there were a number of situations where reel life seemed to be imitating real life. For instance, Vyjayanthimala who decided not to look back after marriage seems to be a straight lift of the similar resolve of Nargis in real life.
It is said that Raj Kapoor cast Vyjayanthimala as the heroine so that he could pull her out of his archrival Dilip Kumarís "camp". Dilip-Vyjayanthi was one of the most popular screen pairs at that time.
In any case, the beautiful tale of love, misunderstanding, separation, sacrifice, rejection and dejection backed by great performances and melodious music simply mesmerised the moviegoers. Cinema halls of several small centres, in fact, witnessed advance booking for a film for the first time for this movie.
The love triangle of Sangam was an appropriate analogy for the confluence of Ganga, Yamuna and Saraswati. Remember the climax scene where Rajinder Kumar is about to die after having shot at himself. He utters Sangam Ganga aur Jamuna ka hi hota hai aur sangam ke liye Saraswati ko lupt hona hi padta hai while we see his face going down gradually before disappearing from the screen (an analogous of Saraswati). What remains on the screen are the faces of Raj Kapoor and Vyjayanthimala (metaphorical Ganga and Yamuna). So now you know why Raj Kapoor is called a cinematic genius.
Sangam fetched Raj Kapoor the coveted Filmfare Award for Best Direction and Best Editing while Vyjayanthimala walked away with the Best Actress trophy.
Incidentally, Shanker and Jaikishan tricked Lata Mangeshkar into singing a number for this movie of the kind which she always abhorred Ė Main ka karoon Ram mujhe Buddha mil gaya`85 . Several years later, Lata said in a TV interview that in her entire career she had felt embarrassed only while recording this number!
Incidentally, the movie also became the cause of an unfortunate controversy between Shanker and Jaikishan. The number Dost dost na naha`85 composed by Shanker found rubbing shoulders on the popularity charts with Ye mera prem patra padh kar`85 which was Jaikishanís composition. Shanker accused Jaikishan of having revealed this in an interview in violation of an understanding between them that the tunes, despite being composed separately by them, would always be publicly identified as Shanker-Jaikishanís. The bitterness generated by the controversy took its toll on a number of subsequent assignments as they reportedly stopped entertaining suggestions from the other.
Incidentally, the piano riffs in Dost dost... which were highly appreciated by lovers of music were played by Shanker himself!