Egged into artistry
Gayatri Rajwade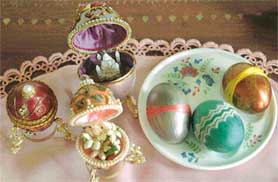 Handicraft at its peak and it all started innocuously enough more than 20 years ago and all it took was one moment. But, does it take just that split second to get hooked onto something new? Yes, affirms city-based 'cakes and bakes' lady Kandla Nijhowne who apart from rustling up delicacies also makes Faberge Eggs and no, this is not a name for an exotic omelette.
Riffling through some magazines way back in 1982, Kandla came across an article on Peter Carl Faberge, the original creator of these eggs. 'These were real eggs encrusted with rubies and gems and I was fascinated. I saw the pictures accompanying the article and thought why not give it a shot," explains Kandla.
A self-professed creative sort ("I like doing things with my hands"), Kandla embarked upon this rather complex, intricate and tricky leisure pursuit.
"I remember the article talking about cutting the egg around the equator into two neat halves." This, of course, translates into no jagged edges and clean lines and once the egg has been cut, a hinge has to be affixed and then painted and ornamented from the inside and outside, matching silk inside with a miniature surprise within.
"We had lots and lots of scrambled eggs in the beginning," laughs Kandla for eggs galore were used to slowly cut through the eggs, in a sawing motion and to remove the contents thereafter. "You need lots of eggs, time and patience, of which I have an overdose, in any case," she smiles.
Once the really trying bit was over, she ripped open her blue velvet jewellery boxes to pull out their hinges as hinges that small were not available in the market (even these were hewn in half by her husband to really fit).
This done, Kandla used nail-paint once a day for 10 to 15 days to add lustre and strength the coats because egg-shells are papery thin. The last coat was clear enamel for shine. "This was hard work of the highest order," she laughs, especially since she had a toddler at her knee while she painted these carefully so as to not break the egg.
Next came measuring out the silk for the inside of the eggs, stitching them up, decorating them with beads and pearls and then sticking them in with araldite but in a way the edges did not show. Threads, bugle beads, bangles, gold chains, baubles, earrings, strips of translucent paper including paper swans coloured blue have been used to decorate, conceal lines and beautify—all at home of course and out of her now stripped jewellery box!
And the surprise? Ah well, Kandla has used small plastic flowers and even a miniature Taj Mahal to fill in the present!
A devil's head up for challenges is how she describes herself but one look at her beautiful handiwork and you know she is being unduly modest.
What is Faberge Egg?
History goes to the most important feast of the Russian Orthodox Church for Easter. Celebrated with the exchanging of eggs and three kisses, the Faberge Eggs began in 1884-85 with an Easter egg made for the Tsar of Russia, Alexander III, as a gift for his wife Maria Fyodorovna and which contains within it a surprise by Peter Carl Faberge of the Faberge Company.
Faberge made the first egg in 1884-85 and on the outside it looked like a simple egg of white enamelled gold but it opened up to reveal a golden yolk. The yolk itself had a golden hen inside, which in turn had a tiny crown with a ruby hanging within, reminiscent of the Matryoshka nestling dolls.
The Tsarina was so delighted by this gift that Alexander appointed and commissioned Faberge for an Easter egg every year. The tradition was continued by his son Nicholas II to include apart from his mother, his wife, Alexandra Fedorovna too.
In all approximately 56 eggs were made and are considered to be masterpieces of jewellers' art. As of 2006, just 21 eggs are still in Russia, most on display at the Kremlin Armoury Museum. While some are scattered around in private collections, many have been lost to history.
The themes and appearance of the eggs varied widely. For instance, on the outside, the Trans-Siberian Railway Egg of 1900 was dominated by a dull metallic grey band with a map of the railway's route, but inside it had an entire tiny train in gold!