AUDIO SCAN
In Sufi tradition
Sufi Simplified (Times Music)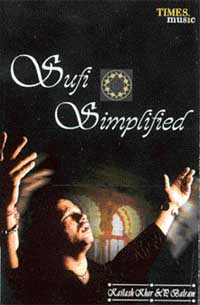 Right from the time he sang his Allah ke bande hans de, it was clear that Kailash Kher's earthy and passionate voice was ideally suited for Sufi singing. It was only a matter of time before he would leave his mark on this exotic field.
Soon enough, he has cut this well-produced album of Sufi singing where he renders three numbers and another promising vocalist, P. Balram, renders another three (one of them in sync with Ravikanth).
But, frankly, not all of them are specimen of Sufi singing. Quite a few are only bhajans. But since bhajans are not hot property these days, these have been packaged as Sufi qalams. In any case, the dividing line between the two genres is none too pronounced. The music company has also taken the precaution of naming the album Sufi Simplified. Kher has already made his mark in playback singing. P. Balram is a mechanical engineer and a postgraduate in materials management. He has done playback singing for many jingles and teleserials.
The album opens with Man mein jyot jagade Sahib. As is the tradition these days, the opener is the most poignant of the lot. Since the album has been recorded "by the grace of Satguru Swami Madhu Paramhansji of Jammu", most of the songs are in praise of "Sahib mera" and "Sahib bandagi".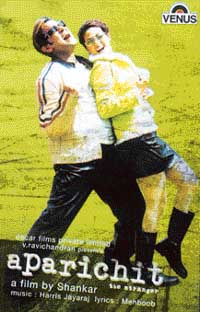 Lyrics of Rajesh Mishra have been set to music by Arup Bhowmick. The album has been conceived, created and produced by Calibre Music.
Aparichit (Venus)
Remember the time when South Indian films were dubbed into Hindi and their songs would also get a similar treatment? The music would be foot-tapping, but the lyrics would be more hilarious than befitting.
I am not too sure if the music here by Harris Jayaraj has been lifted from some South Indian film, but the lyrics that have been lent to them are certainly ill-fitting. These have flowed from the pen of Mehboob and that quite explains it.
So, we have strange sounds in songs like Kumari and Iyengar ghar ki to befit the southern background of the characters of the film perhaps. Enjoying them will need a bit of an effort. Singers like Chennai Chorale too are new for the national audience.
Among the familiar singers are KK and Shreya Ghoshal who have done a duet, Chori hai. All the rest are half-baked attempts.
— ASC