SIGHT & SOUND
All of them heroes
Amita Malik

It has truly been a week of heroics. First there was cricketing legend Brian Lara and his aptly named young colleague Bravo: they routed India's erstwhile heroic team with a resounding 4-1 victory. The photo of the Indian team standing dejected at the presentation ceremony while Bravo sprayed Lara with champagne said it all.
Nothing like TV to catch the magic moment. Then there was that teenager Saina, doing both Hyderabad and India proud with her astonishing win at badminton in Manila. Not to forget Rafael Nadal, in his amusing long shorts, creating yet another record.
But if you were to ask me who held us fascinated with his endless durability on TV, it was our very own Aamir Khan. I cannot remember in the recent past any one individual facing so many interviews and answering so many questions on TV. The hero of Lagaan and Rang De Basanti had his work cut out and raced from studio to studio and channel to channel in the course of 24 hours. Not only did he answer all the questions, whether from his baiters in Gujarat or his fans all over India, but he faced the most experienced anchors bravely and calmly.
For instance, the promo on the CNN-IBN screen said: "Watch Rajdeep Sardesai grill Aamir Khan", but soon corrected itself by changing it to: "Watch Aamir Khan in conversation with Rajdeep Sardesai."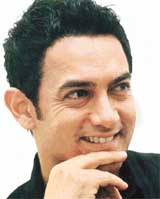 Star show: Aamir calmly faced TV questioners
Why I am calling Aamir's sustained questioning heroic is because he remained calm and clear-headed throughout. In fact, Sardesai did ask some searching questions, but it was always without crossing the line of good TV manners. That is what civilised TV is about and if the questioners behaved well it was because Aamir set the tone by never losing his cool or his voice being raised. As this column goes to the Press, the industry and his colleagues had at last come out in support. Let us hope there is a happy ending to what has been a motivated and unnecessary fuss over imaginary insults. The protestors do not seem to have taken the trouble to find out what Aamir had actually said, which was neither anti-dam nor anti-Gujarat. TV played a large part in Aamir's spirited but calm defence and for once the small screen defended the large sceen.
While the doctors' strike might have filled the screen quantitatively, there was quite a bit of rivalry between cricket and tennis. With Ten Sports having won the contract for both the West Indies cricket series and the French Open Tennis in Paris, it made it quite clear where its priorities lay. Bang in the middle of an absorbing tennis match came, without any apology, the rest of the fifth ODI in the Caribbeans. So the chaos has already started and is likely to get worse as the football World Cup starts. One can only hope that the sports channels will play fair and not, as the Bengalis say, rob Shyam to please Ram.
The several scams and cases of justice denied are dominating the small screen as well as print media these days and, happily, are proving far more interesting and of public interest than the daily dose of programmes on crime. As one disgusted viewer put it, the programmes on crime might have very high ratings but they are more likely to encourage crime when it is telecast at prime time. A recent bank robbery having been encouraged by a Hindi novel makes this point even more relevant.
It is always pleasing to receive a letter from a reader or viewer, all the more so when it corrects the columnist on a point of fact. I would therefore like the thank Dr A.J. Kanwar of the Postgraduate Institute of Medical Education and Research in Chandigarh for pointing out that the cricketer Raman Lamba died after being hit by a ball while fielding at short leg and not batting, as I had said in my column. I stand corrected and when I get such letters I feel cheered that Indian readers and viewers are so alert and not as apathetic as one suspects at times.