Holidays no longer remain fun time for kids when they are jam-packed with hobby classes, says Anandita Gupta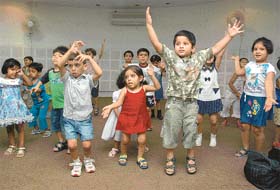 The fizz goes from hobby courses if kids are forced to join them. — Photo by Vinay Malik
Vacation—the magical word that holds the key to that unmistakable glee on a child's face. Promising every school-going kid a slice of the much-fantasised freedom, summer holidays are a break from overbearing inkpots, strict timetables and stricter teachers. It is the perfect time for the kids to laze around— run everywhere with friends, topple over each other noisily, break into shrieks of maniacal laughter, chatter, chuckle, and dive into absolute fun.
But, strangely though, summer vacations today are depriving kids of all this. With a plethora of summer courses and camps to choose from, the undiluted joy of yesterday's vacations is fast fading from kids' lives. And while parents perceive it as a very healthy trend, psychologists see it as an additional burden on kids.
Holidays, a generation ago, meant simpler pleasures. Watching mom sprinkle a dash of aromatic spices over the sizzling curry in the frying pan, darting up and down the supermarket aisles, helping pa pick up some rashan, rubbing handfuls of ice cubes over friends' feet or even messing up in the mud. A complete goodbye to all pressures. Of course, opportunities for the kids' all-round development were lesser as compared to today. But with mommy dear to be watched live while cooking, daddy to be accompanied shopping, happy cousins to chat up and, yes, granny to spin those wonderful nani-dadi stories, wasn't it all a fair treat of life's lessons?
Today, holidays seem like a fancy package tied with pretty pink ribbons. A quick glance at the newspaper and you come across a torrent of summer courses. From age-old arts and crafts to recent fads like camping, DJing, filmmaking and radio jockeying, these courses lure by promise to make the child a know-all.
Laments Reshma Kochchar, clinical psychologist at Vivek High School, Sector 38, Chandigarh, "Most working parents are happy to send their kids to summer camps. These camps and classes are helpful for their personality for sure, but they deprive the kids of the most precious thing—time spent with their parents." Adds psychologist Rajshree Sarda, "These courses are a refreshing change from the studies, but if over done, they become a burden. For instance, many parents today are sending their kids to five or six courses a day. They want their child to do it all in the hols—dramatics, dance, gymming, calligraphy, adventure sports, music and what not. But they seldom realise how stressful it is for the child."
DJ Bhanu, running Sound n' Music Institute at Ludhiana, offers a solution. "Yes, we know how important it is for the child to bond with the parent. So we have our summer camp teaching remixing music to both kids and their parents simultaneously."
Chips in Divya Bansal, Manager Coordinator, Jack & Jill Hilltop, "Our day summer camps, focusing on outdoor adventures, just last for 10 days. Though kids immensely enjoy activities like trails, trekking, treasure hunts and survival cooking, and ask for more, we keep it short and sweet. Plus, we have a provision for parents coming in with their kids. Agrees Anubala from Theatre workshop Go Bananas, "We keep the workshop very short, as we know that the attention span of a kid is limited. Our workshop starts at 11 am and ends at 1.30 pm."
Asserts Jolly from Fun Republic, "Though FR keeps holding long carnivals, our forthcoming kids' carnival would only have one "Kiddies' day out". We just want kids to have fun for some time and would not want to burden them with long activities." Rochak, an instructor with theatre group Manchtantra, says, "We conduct classes at Indira Holiday Home, Chandigarh, for just two hours a day. Otherwise, the kids start getting restless."
Argues Tanisha Bedi from Negi Outdoor, "We are holding adventure camps for kids in Ludhiana, Jalandhar, Amritsar, Panchkula and Chandigarh, where we teach excellent skills like trekking, rafting, river crossing, pitching tents and so on. It's a great learning experience for the kids and just lasts for five nights and six days."
So, most of these camps and courses insist that they run for a limited time span and refresh and educate the child. And to a large extent they are right. However, the major problem lies with the parents who want their child to go for it all. Comments producer Harish Amin, who will hold a summer filmmaking camp from June 10 in Chandigarh, "I personally believe that parents need to identify their child's special area of interest and focus on it."
Well indeed, the changing times have brought a refreshing whiff of opportunities for the kids. But, if too much is crammed into the holiday, it could take away the most beautiful moments from kids—the moments spent with their parents.

Breakups make men break down too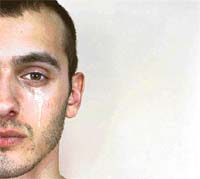 Unlike women, who cry on every small issue men just don't have tear glands,' is what used to be a popular belief until recent research suggested that British men are finally loosening their stiff upper lip and shedding a tear along with the ladies.
In a research carried out on gender equality by psychologist Donna Dawson, as many men as women admitted to crying in the past year, with more than half of men blubbing over a relationship breakup.
More than 10 per cent were driven to tears by their boss or fellow workers compared to 18 per cent of the women, while almost 23 per cent admitted touchy love songs had set them off.
Sentimental tunes had a tearjerking effect on over 39 per cent women, while splitting up was the top reason for female waterworks (77 per cent).
"It is as if men have suddenly realised that they have more reasons to cry than they originally thought, and that they are unaware that they may be crying at the same rate as women," Daily Mail quoted Donna, as saying.
"Perhaps this crying by men is done alone and never talked about - in fact it would probably be denied if asked - and so men would have no idea that their frequency of crying could match that of women in some cases," she added.
Donna further said that the research, for UKShallot.com, had shown men were now feeling "freer" to cry than they used to, which was better for their physical and emotional health.
"A man who feels freer to express his feelings will be more receptive to his partner's and children's moods and emotional needs, leading to greater and better emotional communication and less chance of a relationship breakup that causes the most tears in the first place," she said.
"Men it seems, for the first time, are finding it acceptable to cry over important things that affect them directly, eg relationship breakups, as well as those things that have a more sentimental, symbolic meaning such as love songs," she added.
— ANI