INTERVIEW
'Writing is therapy for me'
Chetan Bhagat of Five-Point Someone and One Night @Call Centre fame is a youth icon but he himself idolises Mahatma Gandhi. Ritusmita Biswas meets the acerbic writer for a tete-a-tete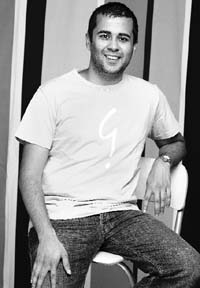 Chetan Bhagat: I try to create role models
Chetan Bhagat, 31, is an investment banker in Hong Kong by day but a writer by night. An alumnus of IIT, Delhi, his experience at the institute was the fodder for his first novel Five Point Someone which became an instant hit. He was also judged the Best Outgoing Student at IIM, Ahmedabad.
Excerpts from an interview:
People from diverse fields are now keen to write and are becoming successful too. What does it take to become a successful writer?
I really do not know. I believe I am still in the formative process and am searching for the perfect recipe to be a successful writer. Yes, to be a writer it is very important to have literary talent. Then it is a matter of putting in that streak of genuine effort.
Was your first novel Five Point Someone a conscious career decision or a call from within?
I believe writing is an art. It is only after you recognise your talent then it becomes a conscious career decision. The same applies in my case. When I realised that I have a certain amount of literary talent, I decided to take the plunge. I have loved writing since my first four-line joke that came out in the school magazine. I was in Class V then. Writing a book was always a dream, but I was worried my life would never have something so spectacular that I would have a story to tell. But hostel life in IIT was quite something and it touched me (and anyone else who has been there) like nothing else in my life. Maybe it was just the age, but it was very special. Hence, I got the subject of my first novel Five Points Someone.
Both your books have identified you as a youth writer. What is your opinion on present-day youth? Are they confused morally and cramped under peer pressure?
Yes, I believe that Generation X in India is highly confused, partly due to their age and partly due to circumstances. They do not know what they want to do with their lives and often have no one to look forward to. Through my writing I try to create role models whom people will look forward to.
How would you define your writing style?
My style is extremely informal. The idea is to write as people of college- going age talk. Hence, no flowery language, no tough words you dreaded in a dictation, no set rules. Yet it works, because it is the language of real people.
How do you react to criticism?
I generally do not react to negative criticism because it only amuses me. But positive criticism is always welcome as it helps me to flourish as a writer and rectify my flaws.
How has writing helped you to grow as a person?
It has made me much more confident. When I started I was unsure how my literary venture would be received. But now I have confidence enough to look forward to doing new books.
Will your next story too be focused on youth?
Yes, that is for sure. I am 31 and as long as I am young I will write youth stories. That is because I can write about our lives and issues which I can identify with. Writing is like a therapy for me.
What about your personal life? You stay with`85
My wife Anusha. Both of us come from typical middle class families. I have twin sons aged one and a half years.
Tell us about some of your favourites. Which is your favourite vacation spot, dress and food?
Though I hardly got any time in the recent years to take a vacation yet till date my most favourite place to spend a vacation is Australia. Nothing like jeans and a T shirt! I love to wear dresses that are casual and relaxing. As far as food goes, I love Thai food and sweets from Kolkata!
How do you relax and which books do you enjoy reading?
Yoga, watching movies and of course, writing is the best mode for me to relax. I love to read anything and everything. If a stranger comes and tells me this book is interesting I shall go ahead and read it. Mahatma Gandhi is my role model. He was an excellent journalist and a great writer.
Is there another side to you that readers don't know about?
Well, when I was very young I wanted to be a chef. I gave up because I saw some really overweight chefs and I was worried I would have a heart attack by 35. I still like cooking (and eating). Owing to yoga influences, I am turning mostly vegetarian but still like creating healthy, tasty dishes. I really like Govinda and some other tapori movies. These days I do enjoy movies and books with deep meaning but how can you be a Delhi boy and not like Govinda? — TWF