Bible trivia by NRI author
Frederick Noronha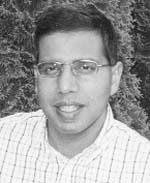 Parminder Summon
WHILE a section of Christians in India are up in arms over the film The Da Vinci Code, an Indian Christian in Britain has written an unusual book on the Bible with all kinds of trivia and titbits like the origins of Christmas carols.
India-born Parminder Singh Summon, who works for Cancer Research, UK, and has been an active Christian for two decades, believes "the greatest misconception about Christians is that they are humourless and boring".
So, in his new book Summon's Christian Miscellany: An Amusingly Informative Collection of Unexpected Facts, Curiosities, and Trivia, he sets about proving otherwise. Interestingly, Summon's book is also published by Doubleday, the same firm that published Dan Brown's The Da Vinci Code.
Summon whets your appetite by promising a whole lot of information: "How big is a Talent (the largest unit of weight in the Bible)? What is the Adulterer's Bible? What are the classes of angels? Who is the patron saint of the ugly?" The book says: "Christianity throws up so many issues and questions—this is an attempt to consider a few. (This book is) a useful reference source for quiz compilers (and) is a great way to expand your knowledge and a compelling diversion into the narrow byways of the worldmost popular religion." Summon, who has a bachelors degree in environmental studies and a masters in business administration from Leeds, has packed the 152-page, hardbound book with information and titbits about Christianity.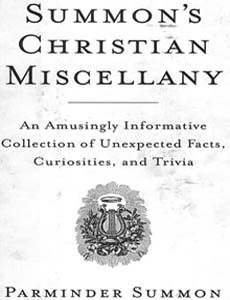 It contains information about unusual patron saints, Ten Commandments for the road (safety with a Christian touch), little-known trivia about the origins of Christmas Carols, the Christian link of early basketball, strange Bible versions, reformers within the religion, and more.
The book is described as a "collection of things you didn't know" about Christianity.
For instance, Silent Night was written by an Austrian assistant priest in 1818 after he learnt that the church organ was broken. So, he wrote three stanzas that could be sung by a choir to guitar music. Today, that happens to be the most recorded song of all time.
Summon tells you which is the shortest chapter in the Bible (Psalm 117), the longest (Psalm 119), and which lies exactly in the centre of the book.
Christianity has also had some unusual patron saints.
For instance, Blandina (for those falsely accused of cannibalism), Caedwalla of Wales (for serial killers, he killed the 'pagan' inhabitants of the Isle of Wight), and Clare of Assisi (for television, an image of the mass is believed to have appeared on her cell wall when she was too ill to attend the service).
The book also mentions about vegetarians of a Christian persuasion ("to support and encourage Christian vegetarians around the world").
Summon also cites the anonymously written Bible in Fifty Words.
God made, Adam bit, Noah arked, Abraham split, Joseph ruled, Jacob fooled, bush talked, Moses baulked; Pharaoh plagued, people walked, sea divided, tablets guided, promise landed. Saul freaked, David peeked, prophets warned, Jesus born. God walked, love talked, anger crucified, hope died. Love rose, Spirit flamed, word spread, God remained." — IANS