Food Talk
Currying flavour
The common diner has always taken delight in simple curries — mutton, chicken, fish and egg — says Pushpesh Pant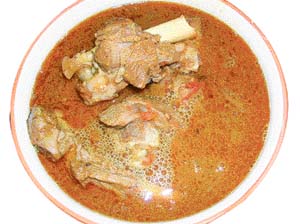 FOOD historians have by now established beyond doubt the origins of the word curry: it originates from the Tamil kari that indicates a dish vegetarian or non vegetarian cooked with spices and may have gravy or be quite dry. For us in the north, curry is synonymous with tari— substantial gravy—more often thin than thick.
Let fastidious gourmet quibble over qorma and kalia, salan and dum pukht, the common diner has always taken delight in simple curries—mutton, chicken, fish and egg. There was a time when Railway Station Curry gave tough competition to Dak Bungalow Roast but alas now it is more often encountered in cookbooks celebrating Anglo-India than on any dining table.
TARIWALA GOSHT
Recipe
Mutton 1 kg
Onions (medium-sized, finely chopped) 3-4
Tomatoes (medium-sized, chopped) 2
Garlic paste 1 tsp
Ginger paste 1½ tsp
Cumin seeds 1 tsp
Black pepper seeds 12-13
Black cardamom 4
Cloves 4
Bay leaf 1
Cinnamon sticks 1-2 (1inch)
Coriander powder 2 tsp
Red chilli powder 1 tsp
Turmeric powder 1 tsp
Oil 125 ml
Salt to taste
Green coriander for garnish
Method
Heat the oil in a pan and add onions to it. Fry on high heat stirring constantly for about 10 minutes and then reduce heat. Once the onions turn golden, add the cumin seeds, black peppercorns, cardamom, cloves and bay leaf, increase the heat for about two minutes. Add tomatoes and fry till oil separates. Now add the coriander, turmeric and red chilli powders along with the ginger and garlic pastes and salt. Add very little water and stir-fry for about five minutes. Add the mutton pieces and cook on high heat for about 15 minutes. Once the water evaporates cook on medium heat till the mutton becomes slightly brown. Add five cups of water and cook on medium heat till it becomes tender. Once the mutton is cooked there should be about two to three cups of gravy left, otherwise add some hot water and bring it to simmer. Garnish with green coriander.
Even when a native gravy dish is prepared, it is prefixed with an ethnic tag—Mangalore, Goa or Chettinad. Gone are the good old days when one could slurp over the Plain Jane tariwala gosht.
In an age when inflation had not hit double digit, the daal came free with the tandoori roti at the dhaba and no one was denied the request for extra tari to go with the last roti or mouthful of chaawal. When the times changed, the signs of hardship were first noticed when only the preferred clients, regulars and good paymasters alone were considered entitled to the extra ladleful of tari. Let's not talk about the present state of things. Believe it or not, there are roadside eateries that now charge the patrons for the extra tari! And, we have seen regulars lovers of meat with limited means who settle happily for a meal comprising just rice and tari — constraint to be content with just the boo when the boti is beyond the reach. This is the real magic of tariwala gosht. Even the thin gravy is an irresistible temptation with its palate-tingling seductions. Once again a most desirable option for the lean mean summer months that sap the energy and make the appetite sluggish.