Career HotliNE
Joining open school
Pervin Malhotra
Q I failed to clear my Class X (Compartment) exam in Maths. And because I am overage my school is not allowing me to appear for the exams. If I shift to NIOS, will I have to reappear for all the papers? Is NIOS given the same weightage as the CBSE?
— A. Singh
A To answer your last question first, we have three National Boards: CBSE, ICSE and NIOS and each State has its own Board (including State Open Schools). Other than that, a few universities (e.g. Jamia Millia) also act as Boards.
Although the mindset of people does not change overnight, study through open school or correspondence is considered equivalent by most Boards and universities in India and abroad. You can contact MHRD and AIU if you face any problems at the time of admission.
You can either appear directly for the exam as a private candidate from the CBSE. But it would be better if you enroll with NIOS.
Reason?
In case you fail to clear your exams in March 2007, you can again appear as a "Direct Candidate" for the Exams in Oct/Nov. The aggregate passing marks is 33 per cent.
You get five years (9 chances) to complete your Class X. You have the option of giving one paper at a time.
You can enjoy the privilege of taking an "on-demand examination." You can avail exemption for up to two subjects which you have already cleared in your previous attempt.
Contact your nearest NIOS accredited institute for prospectus or log on to: www.nios.ac.in or www.nos.org
Alternatively, you could also join IGNOU's six-month Bachelor's Preparatory Programme, which would make you eligible for admission to B.A, B.Com, BTS, BSW courses offered by IGNOU even without completing your Class X exams since you are above 18.
Degree in dietetics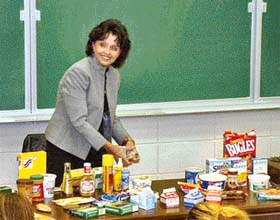 Q I have completed Class XII. I am now keen on becoming a nutritionist or dietician. Can you please suggest some universities offering courses in these fields?

— Rishi Verma

A Nutrition and Dietetics forms part of B.A and B.Sc Home Science courses, which are offered in almost all universities.

In Punjab, Guru Nanak Dev University, Amritsar; Maharshi Dayanand Univ, Rohtak, Ch Charansingh Haryana Agri Univ, Hissar, Panjab Univ Chandigarh; Punjabi University, Patiala offer BA (Home Sc)

Only a small handful of universities offer specific courses in Nutrition and Dietetics at the Bachelor's level (the rest are all at the PG degree and diploma courses).

For instance, Delhi University offers BA (Pass) in Nutrition & Health Education (only for female students) at three colleges (Daulat Ram, Aditi Mahila Mahavidyalaya, Bhagini Nivedita Coll) as well as Bachelor of Applied Sc (Hons) in Food Technology (Shaheed Rajguru College of Applied Sciences for Women).

Right track

Q I am studying for B.Sc (Physics). I need to know about Special Class Railway Apprentices Examination. Can you please tell me about the eligibility criteria and the admission procedure?

— Ashish Gulati

A The Special Class Railway Apprenticeship (SCRA) Exam is conducted by the Union Public Service Commission (UPSC) to recruit junior officers in the service of Technical Engineers.

The eligibility for taking the exam is a pass in plus two (Physics, Chemistry and Maths). The age requirement is 17-21 years, which is relaxable for certain categories.

The questions are approximately of plus two level and the test is conducted in two parts:

Part I: Consists of a written exam (3 papers of 200 marks each) adding up to a total of 600 marks)

Paper I: General Ability Test (English, GK & Psychological Test)

Paper II: Physical Sciences (Physics & Chemistry)

Paper-III: Mathematics.

The test can only be taken in English.

Part II: Comprises a Personality Test to assess your overall academic and extra-curricular performance, leadership and communication skills (1-hour, 200 marks). This test is only for those who have qualified Part I.

Upon selection, you will be sent for apprenticeship of 4 years at the Indian Railways Institute of Mechanical & Electrical Engineers, Jamalpur. After successful completion of training, you will be appointed as Assistant Mechanical Engineer.

Watch out for notification in all national dailies including 'Employment News'. For syllabus and other details log on to www.upsc.gov.in.

Ad(d)vantage finance

Q I am planning to do a MBA with specialisation in finance in the US, but I am also looking for some good options like MS or MA in financial mathematics.

— Kulbhushan

A Some of the Top MBA (Fin) courses in the US are offered at Kellog, Wharton, Harvard, Duke, Michigan, Virginia, Columbia, Cornell, Chicago and Stanford University.

NYU, University of Chicago, Stanford, Columbia and University of Toronto have some of the best programs in Financial Mathematics. Please check them out to see if their offering matches your requirement.

Actually, there are many programs which have a curriculum similar to MS Financial Mathematics. MS Computational Finance is one of them. A few others that you might want to consider are MS Quantitative Finance, MS Financial Markets, MS Mathematical Finance, etc. Check out the Carnegie Mellon, IIT Stuart and Polytechnic University websites. They have some good programs that you might find

interesting.

Dropping a year

Q I appeared for the Boards in 2005 but took a drop due to personal reasons. I want to apply to Delhi University. Can you please tell me do colleges discriminate between gap year and non-gap year students?

— Surinder

A This is the big question that crops up each year during admission season. The admission committee of Delhi University has suggested to various colleges that they should admit students with up to two gap years, provided they are genuine cases. No proof or evidence is asked for, claims the Dean of Student Welfare.

Typically, this happens in the case of students who did not seek admission because they were preparing for engineering or medical entrance exams or if they fail their college exams and are now seeking admission elsewhere.

Regardless, some colleges have their own policies and criteria and refuse to accept admission forms from gap year students.

Sometimes students enroll for a course and drop out if they don't like it or drop a year or two to prepare for competitive exams.

The writer is a noted career consultant

Please send in your query, preferably on a postcard, along with your full name, complete address and academic qualifications to: Editor, Jobs and Careers, The Tribune, Sector 29, Chandigarh-160030, or at careers@tribunemail.com