Games as work
Nikita Singh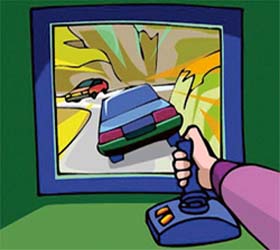 It's raining bullets left, right and centre. The pounding of your heart seems to grow louder than the deafening sounds of the machine guns. Skipping the landmines and ducking for cover, you finally arrive alive and safe in your own territory. The action, typical of a war-ravaged frontier, is being enacted right in your home. As living rooms the world over are being invaded by aliens, sky rocketing space ships, racing cars etc, people are witnessing a slice of the action of life in the fast lane.
A new report from interactive entertainment research firm, DFC Intelligence, predicts that the worldwide interactive entertainment market is expected to grow to around $42 billion in 2010.`A0 The interactive entertainment market consists of console video games, PC games, online games and dedicated portable systems.`A0"The upcoming launch of the Microsoft X-box 360 heralds a new generation of console systems that together should push the worldwide game industry towards the size of the global recorded music industry by 2008," says David Cole, President of DFC Intelligence.
Hollywood blockbusters like 'Star Wars', 'King Kong', and 'The Incredibles' have all been made into computer games. Not to be outdone, the desi film industry is now designing mobile games based on popular Bollywood films. From 'Rang De Basanti', to 'Sarkar', to even 'Home Delivery', there are 60-odd movies that have been converted into mobile games. "It all started with 'Sholay', which made it to the top of the download charts, setting a completely new record in Bollywood content download, with the game crossing the 1,50,000 downloads mark on GSM operators and 8,00,000 on CDMA phones," says Rajiv Hiranandani of mobile2win. "Indians are crazy about movies and music. Mobile content and gaming companies are now tapping this target audience," says Hiranandani. "Mobile gaming in India is a Rs 70-crore market today. Out of this, Bollywood constitutes nearly Rs 10 crore. However, the Bollywood segment is expected to touch Rs 30 crore in the next two years," he says. PTI
India's game for it
India's mobile gaming market will touch about $336m by 2009, while 220 million people will be playing games on phones by 2009, generating billions for mobile companies, according to market analysts, In-Stat/MDR. Mobile gaming has come a long way since 'Snake' was first deployed on wireless handsets in 1997," says Clint Wheelock, In-Stat/MDR's Director of Wireless research. "This level of interest clearly identifies mobile gaming as a niche opportunity for wireless carriers, application developers and content producers," he says.
India has more than a finger in this lucrative pie. It has emerged as a key one-stop destination for game development. Currently, online gaming constitutes around 14 per cent of the total video gaming segment. This is predicted to go up to a staggering 45 per cent by 2009.
Most Indian developers have set their sight on the global wireless gaming market — worth a staggering $550 million.
Play time
In most developed markets such as Europe, Japan and the US, the games industry generates more revenues than the box office. With the mounting number of US-based companies looking forward to Indians to satiate their demand, there is a huge opportunity waiting for India in the world market of the gaming industry. A typical game title today takes around 24 months to make and has a production budget of $ 4 -10 million. The game industry is under increasing pressure to reduce development time and the cost of production. Reason enough for major publishers and studios to look at outsourcing development. This is where the Indian game developers with their world-class quality and game development experience step in. India has excellent programmers and the rapid growth of the market is adding to the allure.
Placement prospects
The game industry recruiters require modelers, animators (2D and 3-D) programmers, game designers, level designers, game testers, user interface artist and various other specialised professionals such as creative director, technical director, producer etc.
A few years from now, the visuals seen in games will be indistinguishable from real life. The demand for such hi-tech games is increasing at such a phenomenal rate that people who will cater to this demand will also be paid exclusively. This industry is growing both in India and abroad, which further enhances opportunities for talented games developers here.
Interactive entertainment has definitely arrived. Where in the past people gravitated towards linear forms of entertainment, today's mainstream media environment revolves around the theme of interactivity. Game developers are thus always required to be at their creative best to constitute more advanced and matured software.
Training talk
Some of the institutes where gaming is taught are:
Arena Multimedia

Matrix

NID, Ahmedabad

Game EDU

Workstation, Mumbai
(The list is not exhaustive)