Now, placement agencies for defence officials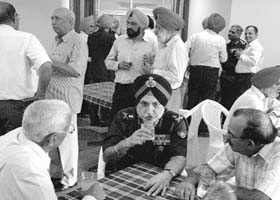 Sky is now the limit for retired defence personnel, when it comes to choosing a post-retirement career option.
The Defence Ministry has joined hands with placement consultants to help their skilled personnel. And the initiative has started showing results.
Most of the retired defence personnel can now opt for the corporate world, where they can do very well due to their strict discipline regime and result-oriented approach.
While Army already has its job portal apa.co.in since last year, the Indian Navy launched inpa.co.in, its placement website last week.
"We have very good and well trained people with expertise in many specialised areas. Now they will not face much problem for smooth transition to second career in corporate sector," say Navy officials.
"Corporate houses have jobs suiting to the resume of all types of employees in Army and Navy ranging from jawans to the higher officials and technicians. Besides, discipline is a unique attribute of these people which is liked most by the prospective employers," says R Sundar, of Timesjobs.com.
About two lakh Army personnel with expertise in various fields like telecommunication, computer, surviellence etc have already registered themselves on the site so far.
The portal of Navy will be of help for the sailors and officers who are retiring from their jobs after serving for 10 to 15 years in Navy, Navy Chief Admiral Arun Prakash says.
About 1,500 sailors and 150 officers retire from the Indian Navy every year.
"It is sort of showcasing the talents from Army and Navy to the corporates which are in look out of such personnel. The result is very good as these personnel are getting alternative career option," Sundar says.
He says the placement agencies can help the Defence personnel properly package their resume and get access to corporates.
There has been a significant change in skill development in the Defence wings with specialised areas getting more thrust, Admiral Prakash says.
"Today Army and Navy have the best technology in every areas. So the people get the best training in the specific fields," he says. — PTI