THE Jordanian-born leader of Al-Qaida in Iraq, Abu Musab al-Zarqawi, was killed in a US air raid on a Baquba safehouse the terrorist mastermind was using on Wednesday night.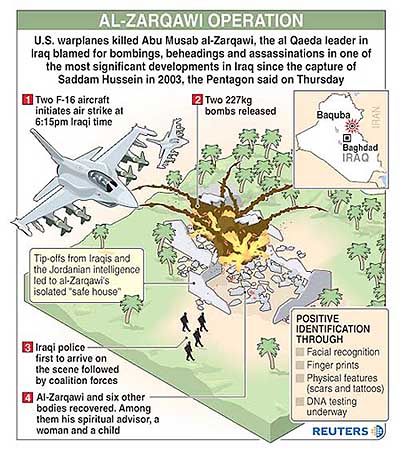 President George W. Bush on Thursday confirmed al-Zarqawi's death. "At 6:15 p.m. Baghdad time, special operation forces, acting on tips and intelligence from Iraqis, confirmed Zarqawi's location, and delivered justice to the most wanted terrorist in Iraq," the President said in a statement.
He had a $25 million bounty on his head. Al-Zarqawi's death gives Iraq a chance to "turn the tide" in the fight against the nation's insurgency, Mr Bush said at the White House.
"The ideology of terror has lost one of its most visible and aggressive leaders… Zarqawi's death is a severe blow to Al-Qaida," he said.
Later, U.S. military officials displayed a picture of al-Zarqawi taken after the attack and showed aircraft video depicting the strike.
In Iraq, U.S. Gen George Casey, the highest-ranking U.S. commander in the country, declined to provide many details about the air strike but said "all of these operations are the result of a long, painstaking process where tips and intelligence are received, processed and checked out."
"Tips and intelligence from Iraqi senior leaders from his network led forces to al-Zarqawi and some of his associates who were conducting a meeting approximately eight kilometers north of Baquba when the air strike was launched," Gen Casey said.
Gen Casey said al-Zarqawi and a key lieutenant, spiritual adviser Sheik Abd-Al-Rahman, were killed at an isolated safe house outside Baquba on Wednesday evening. In addition, four others died in the attack, the military said.
Al-Zarqawi personally led a campaign of beheadings, car bombings, assassinations and suicide attacks that claimed the lives of many innocent Iraqis and coalition forces in Iraq.
Osama bin Laden called this Jordanian terrorist "the prince of Al-Qaida in Iraq," Mr Bush noted. "He called on the terrorists around the world to listen to him and obey him. Zarqawi personally beheaded American hostages and other civilians in Iraq. He masterminded the destruction of the United Nations headquarters in Baghdad. He was responsible for the assassination of an American diplomat in Jordan, and the bombing of a hotel in Amman."
Through his every action, he sought to defeat America and our coalition partners, and turn Iraq into a safe haven from which al-Qaida could wage its war on free nations, Mr Bush said. "To achieve these ends, he worked to divide Iraqis and incite civil war. And only last week he released an audio tape attacking Iraq's elected leaders, and denouncing those advocating the end of sectarianism."
"Now Zarqawi has met his end, and this violent man will never murder again," the president said. "Iraqis can be justly proud of their new government and its early steps to improve their security. And Americans can be enormously proud of the men and women of our armed forces, who worked tirelessly with their Iraqi counterparts to track down this brutal terrorist and put him out of business."
Mr Bush noted that though al-Zarqawi was dead, "the difficult and necessary mission in Iraq continues."
"We can expect the terrorists and insurgents to carry on without him. We can expect the sectarian violence to continue. Yet the ideology of terror has lost one of its most visible and aggressive leaders," he cautioned. He described the death as "a severe blow to Al-Qaida. It's a victory in the global war on terror, and it is an opportunity for Iraq's new government to turn the tide of this struggle."