Countdown for India's lunar mission
Radhakrishna Rao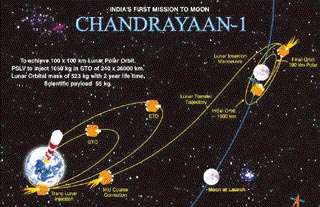 The conclusion of an agreement between the Indian Space Research Organisation (ISRO) and National Aeronautics and Space Administration (NASA) of the United States, for the inclusion of two US-made scientific instruments into India's unmanned lunar mission Chandrayaan-1 slated for launch in early 2008 by means of an augmented version of the four-stage Polar Satellite Launch Vehicle (PSLV) has led to the finalisation of the payloads to be lofted by Indian moon mission.
The two US instruments that will be included in Chandrayaan-1 are: Mini Synthetic Aperture Radar (MSAR) and Moon Mineralogy Mapper. The MSAR built by the applied Physics Laboratory of Hopkins University and funded by NASA is designed for mapping the shadowed, cold regions of moon for ice deposits. On the other hand, the Mineralogy Mapper jointly built by Brown University and Jet Propulsion Laboratory (JPL) will identify surface mineral composition of the moon and map the chemical composition of its surface.
It is my hope and belief that we extend the reach of the human civilisation throughout the solar system. The US and India will be partners on many more technically challenging and scientifically rewarding projects", observed Michael Griffin, the NASA Administrator. Griffin also said that the data from these two instruments would contribute to increased understanding of the lunar environment.
Interestingly, ISRO had received a total of 16 proposals for payloads from various parts of the world in response to its announcement of opportunity. Of these ISRO selected six instruments of which two were from the United States. The remaining include three developed by ESA (European Space Agency) and one from Bulgarian space agency. The ESA payloads to be included in Chandrayaan-1 are (a) low energy x-ray spectrometer from Rutherford Appleton Laboratory of United Kingdom to measure elemental abundance distribute over the lunar surface using the x-ray fluorescence technique, b) near infrared spectrometer from Max Planck Institute of Aeronomie, Germany to detect ad measure lunar mineral abundance, c) Sub Kev atom reflecting analyser from the Swedish Institute of Space Physics developed in collaboration with India to measure volatiles generated due to solar wind impacting on lunar surface and determine the surface magnetic field anomalies.
Chandrayaan-1 will also feature a radiation dose monitor experiment from the Bulgarian Space Laboratory.
The Indian payloads forming part of the Chandrayaan-1 mission are a) terrain mapping stereo camera having 5m spatial resolution ad 20 km swath, b) a hyper spectral wedge filler camera operating in 400-900 nm band with a spectral resolution of 15nm and spatial resolution of 80m and a swath of 20 km, c) a collimated low energy x-ray spectrometer using CCD (charged couple device) for measuring fluorescent x-rays emanating from the lunar surface, having a footprint approximately 20km; d) a high energy x-ray mapping instrument, employing solid state detectors having a footprint of approximately 40-km, e) solar x-ray monitor, f) a laser ranging instrument with a height resolution of about 10-m.
Chandrayaan-1 will also carry a moon impact probe which is conceived as a technology forerunner for future landing missions. The preliminary design review of the Chandrayaan-1 spacecraft has been completed and fabrication of payloads is proceeding space.
Similarly, work is in progress to qualify PSOM-XI, carrying 12.4 tonne solid propellant to be used as strap on motors in PSLV to launch. Chandrayaan-1 spacecraft. weighing 525-kg, the spacecraft have a mission life of two years and will carry out the physical and chemical mapping of the moon from 100-km lunar/polar orbit. According to Mr V.N. Goswami, Director of the Ahmedabad-based Physical Research Laboratory, a grants-in-aid institution under India's Department of Space, which is playing a key role in designing and developing the scientific payloads going into Chandrayaan-1, "the mission's main objective was to investigate the mineral and chemical distribution on the lunar surface. Our mission will be for the first time explore the topography of the moon."